EXHIBITION: ORIENTALIST PAINTINGS: MIRROR OR MIRAGE?
Venue: Islamic Arts Museum Malaysia, KL
Date: ends Oct 15
If you're looking for a history-filled day out at the art gallery, then this is an exhibition not to be missed.
The Islamic Arts Museum Malaysia (IAMM) in Kuala Lumpur is exhibiting over 100 paintings of Orientalist art from its vast collection, making it the biggest exhibition in Asia to feature paintings and artefacts that capture the essence of the Orient in the 19th and early 20th centuries.
Highlights of IAMM's Orientalist Paintings: Mirror Or Mirage? exhibition, which runs untill Oct 15, include renowned works by some of the most celebrated painters of the era, including Jean-Leon Gerome, Eugene Delacroix, John Frederick Lewis and the remarkable but rarely seen Ottoman polymath Osman Hamdi Bey.
The paintings are mainly from the 19th century, a time when it became possible for artists to travel to the "Orient", as the Middle East and North Africa were then called. The exhibition takes a thematic look at that vast region in a time of transition. The display is divided into eight sections that follow the artists' different creative callings.
Orientalist Paintings: Mirror Or Mirage? is one of the largest exhibitions ever undertaken at the IAMM, and the show is spread out over two galleries.
More info here.
Jonathan Vaultman's 'Cthulhu' (acrylic and china ink on canvas, 2023). Photo: @bytianxing
EXHIBITION: JONATHAN VAULTMAN'S 'BLACK WORK'
Venue: The Godown, KL
Date: ends June 17
French artist Jonathan Vaultman's Black Work – L'oeuvre au Noir at The Godown in Kuala Lumpur comprises 14 large paintings that are black, but also white and everything in between.
It is Vaultman's first solo exhibition in Malaysia. Curated by architect Huat Lim, it will be open for public viewing (noon to 7pm, daily) this weekend until June 17 at the main hall of The Godown. The exhibition is free as part of Le French Festival organised by Alliance Francaise.
Vaultman, who currently splits his time between Kuala Lumpur and Paris, says: "While I am by no means an expert in alchemy, I wanted to evoke this principle in a poetic and metaphorical manner in this exhibition. By simplifying the colour palette, I sought to emphasise the contrast and interaction between light and shadow, symbolising the alchemical journey from darkness to light."
More info here.
Singapore-based web comic creators of 'The Woke Salaryman' will be holding a workshop at the Comic Art Festival Kuala Lumpur 7 on June 4. Photo: The Woke Salaryman
EXHIBITION: COMIC ART FESTIVAL KUALA LUMPUR 7
Venue: The Starling Mall, Petaling Jaya
Date: June 3 and 4
This weekend, the Comic Art Festival Kuala Lumpur 7 (CAFKL7) is set to highlight the best of Malaysian comic art and more.
This creator-focused event - featuring over 200 artists - aims to celebrate the best of illustration and comic art culture, irrespective of language, style or origin.
The festival floor will feature more than 300 artist booths plus exclusive panel sessions by The Woke Salaryman, Robert the Otter, Mokumentary, Ernest Ng, Nixon Siow and Milly and a special book launch and signing of Afterlife: The Boy Next Realm with Malaysian artist Nadhir Nor.
Comic fans can also check out an art demonstration by guest artist Wishroomness and join the fun at the festival's various art-centric activities like the Speedpainter Showdown, Comic Worm, Comic-on-the-spot, and Life Drawing sessions, featuring Imran Syafiq from ASK Dance Company and Sangametra Yuiyuan Lam from Geethashankarandance as models.
More info here.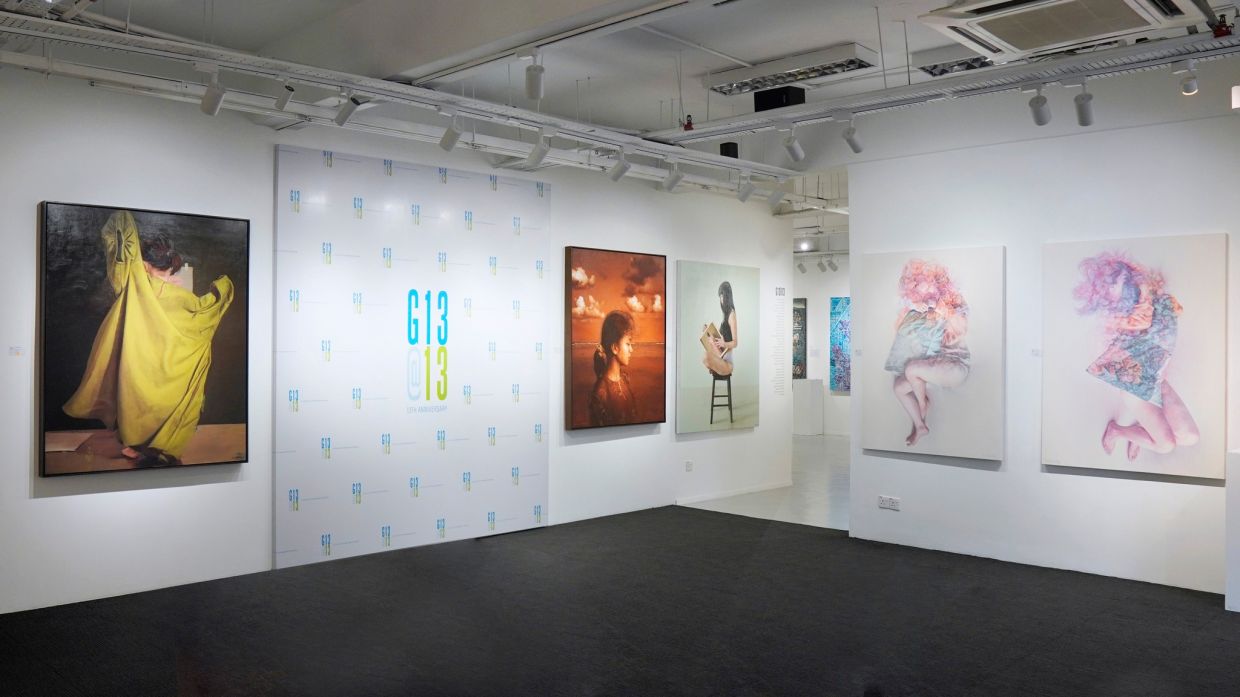 This Saturday is the opening of 'G13 @ 13', a group exhibition by G13 Gallery to celebrate the gallery's 13th anniversary. This exhibition showcases over 50 pieces of artwork by 35 local and international artists. Photo: G13 Gallery
EXHIBITION: G13@13
Venue: G13 Gallery, Petaling Jaya
Date: ends June 10
In Petaling Jaya, G13 Gallery is packing in the favourites with its G13 @ 13, a group exhibition celebrating the gallery's 13th anniversary.
The group exhibition featuring a whopping 34 artists across its roster - Adam Phong, Amy Nazira, Anisa Abdullah, Awang Damit, Cheong Tuck Wai, Fadilah Karim, Faizal Suhif, Faris Ridzwan, Gan Sze Hooi, Gan Tee Sheng, Haziq Syawal, Hisyamudddin Abdullah, Hug Yin Wan, James Seet, Juhari Said, Khairudin Zainudin, Khairul Arshad, Kow Leong Kiang, Kraisak Chirachaisakul, Najib Bamadhaj, Nik M Shazmie, Nik Mohd Shahfiz, Ping, Raduan Man, Rafiee Ghani, Shafiq Nordin, Sharifah Fatimah, Sittiphon Lochaisong, Suzlee Ibrahim, Syed Fakaruddin, Tajuddin Ismail, Wong Ming Hao and Yuki Tham. Make your take a few hours off your weekend schedule to soak in the variety at this show.
Since its inception in 2010, G13 Gallery has been showing a diverse range of art, including paintings, drawings, sculptures, prints and installation art with a mixture of various art genres. Throughout the last 13 years, the gallery also collaborated with over 240 local and international artists, which have shown potential, relevance, and depth in their artworks.
This anniversary group show serves as a testament to the gallery's commitment in presenting thought-provoking, innovative, and engaging art to the public.
More info here.
Bah Saluji and his vibrant watercolour paintings invites art lovers to reflect on our own relationship with the land and the urgent need for greater respect for indigenous rights. Photo: Gerimis Art Project
EXHIBITION: BIAR PETE DE BESUARA
Venue: Gerimis Gallery, Level 3, GMBB, KL
Date: ends Sept 30
Biar Pete de Besuara is an exhibition by Bah Saluji, a writer and illustrator of two Orang Asli children's books.
The title of the exhibition is Semai for 'Let the Maps Speak'. If an Orang Asli map had a voice, it would tell the story of a peaceful people living for countless generations in harmony with the rainforest.
Bah Saluji and his vibrant watercolour paintings showcase that idyllic life – but also today's harsh reality of the rampant encroachment of Orang Asli customary land. This exhibition invites us to reflect on our own relationship with the land and the urgent need for greater respect for indigenous rights.
The artworks displayed are a selection of the original artworks done by Bah Saluji for his second illustrated book with the same title. The book is being used as a strategic advocacy tool to open channels for indigenous and public awareness on Orang Asli land rights.
Proceeds from all his artworks will support efforts towards creating awareness of Orang Asli rights, specifically customary land rights, indigenous language, and preservation of Orang Asli traditional knowledge.
This exhibition is organised by Malaysian CARE and Gerimis Art.
More info here.
Subscribe now to our Premium Plan for an ad-free and unlimited reading experience!