There are sandbags stacked high in the foyer of the National Art Gallery (NAG) in Kuala Lumpur. No, they are not there to prevent flooding – this is Saiful Razman's installation Tugu Atas Bukit, part of the NAG's ongoing Singles showcase series.
In an ambitious career detour, the Perak-born artist has broadened his canvas by incorporating various forms of media and inviting diverse collaborators to create an immersive physical landscape that marries ancient folklore with the economic and social realities in his hometown of Kampung Changkat Jong, Teluk Intan in Perak.
Comprising sandbag installations, a large black and white photo-collage (of landscape photos of Changkat Jong) and a 25-minute single-channel video with audio, Tugu Atas Bukit is part of his ongoing investigation of changing landscapes.
"Tugu Atas Bukit is inspired by Kampung Changkat Jong's landscape/visuals as the region often plays around with haunted folk tales from the older generation. I took inspiration from a story about a so-called 'cursed hill' around Kampung Changkat Jong which was said to be cursed by a green entity made from leaves and rocks, Sang Kelembai," says Saiful, 42, who won the UOB South-East Asian Painting of the Year award last November for a minimalistic, monochromatic artwork inspired by self-isolation during the pandemic.
Tugu Atas Bukit is an extension of Saiful's video project, Rumah Saya Dan Angkasa, which was part of a collateral programme at the 2022 Venice Biennale in Italy. His work which was exhibited earlier this year in Venice looked at the ideas of ownership, property and detachment in our everyday life.
A general view of Saiful's 'Tugu Atas Bukit' installation project at the National Art Gallery in Kuala Lumpur. Photo: National Art Gallery
The quietly spoken artist had enough interview footage from elders in his kampung (village) in Perak and an overview of how to continue an oral documentation series. With a dose of fiction added into the equation for Tugu Atas Bukit, Saiful knew he needed a team to realise such a multimedia project.
"This time, I wanted to feature artwork across various media. Experimental video-making is something that I have always wanted to do. Tugu Atas Bukit starts with collective interviews and stories of the people from my hometown in Perak and expands into a rich collaboration of sound design, videography, photography, graphic art and set design," he says.
The collaborative process
As producer-director, Saiful's fictional narrative, which is based on the controversy of Changkat Jong, draws directly from community discussions behind the sale of the land and the schemes to stop this.
The work is also inspired by the novel Rentong (1979) by Datuk Shahnon Ahmad, which explores moral challenges related to Malay traditions and values.
According to a folk tale, the name Kampung Changkat Jong comes from a jong ship carrying a bride that ran aground on land when it was cursed by Sang Kelembai.
In the video, we see the story unfold: The land on the hill becomes increasingly barren as the years pass, and a land broker offers the villagers a lucrative price for the land to be converted into a Chinese cemetery. However, not everyone thinks this is a good idea and the village head must find a solution.
A scene from the 'Tugu Atas Bukit' short film, which accompanies the installation project. Photo: Handout
The Tugu Atas Bukit project sees the artist warming up to the collaborative process, with a line-up of creatives from film, music, art and theatre circles helping to put together this "gallery production".
"I'm used to working alone, painting alone in my studio. So this project was quite a new thing for me, it was a refreshing change to have input from various artistic fields," he says.
Saiful also credits his wife Nadiya Nisaa (a popular actress in the Malay film scene) for opening doors for him when it came to a crack production team and moral support.
The jump from creating "landscapes" on canvas to reintroducing such an idea through short film wasn't a bumpy one.
Saiful recalls "things just started rolling, with everybody involved understanding the unique nature of this installation work".
"The main format for Tugu Atas Bukit is an audio-based drama where the script was entirely made by our team and was then recorded by seasoned actors in a recording studio. This audio-based drama is also supported in a video-montage format through specific scenes from the script which highlighted a chilling rendition of such a haunting folk tale," says Saiful.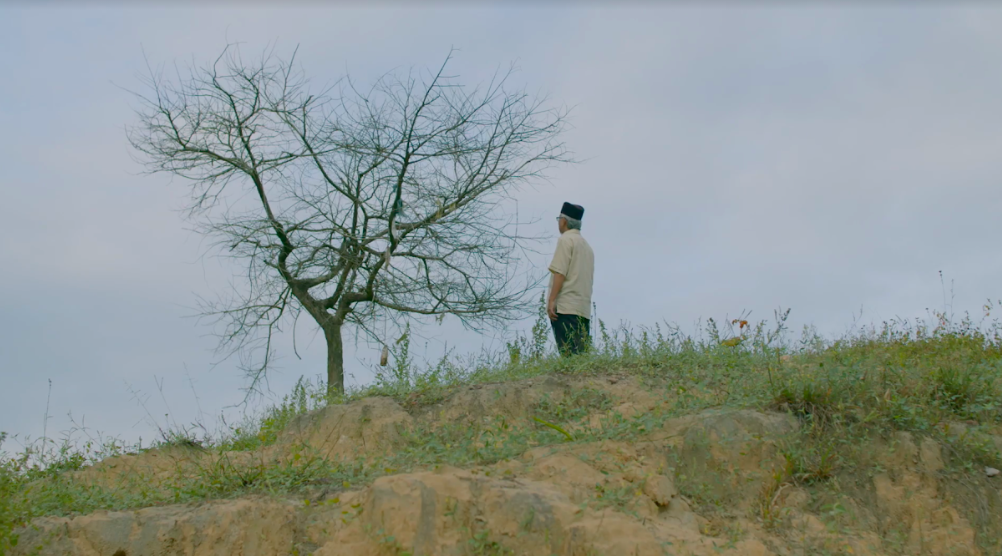 'Tugu Atas Bukit' started off as an audio drama, before visuals were added to the installation video work. Photo: Handout
"We also took a series of black-and-white photographs from the same location, Kampung Changkat Jong called 'Karya Single' where it focuses on background elements from the drama," he adds.
The short video's executive producer Faisal Mustaffa and production manager Nadiya worked closely with the artist, with production starting in March this year. The cast includes Namron, Mior Hashim Manap, Fathil Dani, Ameera Ramlee, Firdaus Karim and Nadia Aqilah.
"At the National Art Gallery, we took all three components of Tugu Atas Bukit and converted it into a multimedia art installation.
"The series of black-and-white photographs are arranged horizontally across the wall while the bottom part of Tugu Atas Bukit sees a mixture between various media outlets on a television such as sound design, videography, graphic art and set design from the drama," says Saiful.
Director of sound and music Mohsin Othman reveals that work started out as a standard audio drama, but it turned out as quite an experimental project, given the ambient mood and sound effects.
Saiful (seated, second left) is seen with the audio drama cast and team, which added a new dimension to the 'Tugu Atas Bukit' installation. Photo: Handout
"I'm glad it has been given a space at the National Art Gallery. Just like creative people in production who want to cut loose, I think there is an audience out there also ready to experience new projects," says Mohsin.
"Tugu Atas Bukit is a fine art project, but so many people involved aren't from the art scene. It shows you that with more dialogue and connections, we can find common ground to create fresh work ... people from art, film, theatre and others shouldn't be isolated from each other," he adds.
Tugu Atas Bukit has shown the strength of a collaborative effort, and Saiful hopes to take this installation work to art and film festivals or to even expand on it, given the artist's landscape conversations have now found a broader platform.
"I hope this multimedia art installation resonates with people, especially those who aim to do something similar in this format," says Saiful.
At the moment, visitors at the National Art Gallery can interact with the sandbags, or sit and ponder on the ethical dilemma of materialistic desires and our ties to culture, tradition and spirituality.
Tugu Atas Bukit can be viewed at the National Art Gallery in Kuala Lumpur until Dec 6. Free admission.
Subscribe now to our Premium Plan for an ad-free and unlimited reading experience!