Like many Malaysians, 32-year-old Elora Ong's love of food knows no bounds. Consequently, she has spent a considerable amount of her adult life trying out new restaurants, eating and cooking. And despite having a career in finance, she dreamt of one day owning her own F&B outlet.
In January 2021, Ong began setting the wheels in motion for her dream eatery, working alongside a business partner to discuss and conceptualise a restaurant. Soon, a tenuous plan began to emerge, one that eventually became reality in November 2021 when Ng opened her first eatery, Toast & Co in Cheras, Kuala Lumpur. The eatery focuses on a range of specialty breakfast toasts and croffles, alongside a selection of rice bowls and pastas.
"My partner really likes bread and pastries, so our initial plan was to aim for the office crowd, as we wanted to provide wholesome breakfast options for people to start their day. But then we noticed that all the areas we were focused on had very high rental rates so we broadened our thought process and targeted a more family-oriented market," explains Ong.
Ng is an avid foodie who has long dreamt of opening her own eatery.
The eatery took more than half a year to get off the ground because Ong was still working full-time then and could only get together to brainstorm with her business partner over the weekends and public holidays, which she used to test out recipe ideas and experiment. Needless to say, there was a lot of trial-and-error.
To put together the eatery, Ong also turned to another trusted source: Google!
"We went through quite a few social media platforms to find out about toasts from Korea, Japan and other street food to see what is in trend and what people like more. From there, we started mixing and matching and coming up with our own versions," explains Ong.
Ong says being a newbie food operator has not been without its challenges. Before the restaurant opened, she spent a lot of money buying croffle machines from all over the world to see which one worked best. On top of that, she didn't really have any contacts in the industry, so she ended up having to find suppliers via extensive Internet scouring.
But response to Toast & Co has been good and Ong says the eatery now thrives on a bustling morning crowd.
To test out the brand's offerings, first try the Chicken Katsu Toast (RM20.50). Here, couched between soft, pillowy bread, you will discover fried chicken katsu, mayonnaise, spicy sriracha, lettuce, scrambled egg and a cheese slice. The bread is the soft, tender heart of this formation and acts as a receptacle for holding all the other ingredients together. It isn't very firm or solid, but if you like your bread buttery soft and tenderly yielding, this is just the ticket. The chicken meanwhile is succulent and lightly crispy with a fiery soul that adds fire to this meal.
Up next, try the Crispy Cajun Shrimp Toast (RM20.50) which has the soft, cushiony bread holding together shrimp slathered in a creamy Cajun sauce. This is a toast that ticks all those "comfort food" boxes for seafood aficionados looking for a fuss-free underwater odyssey with a subtle spicy element.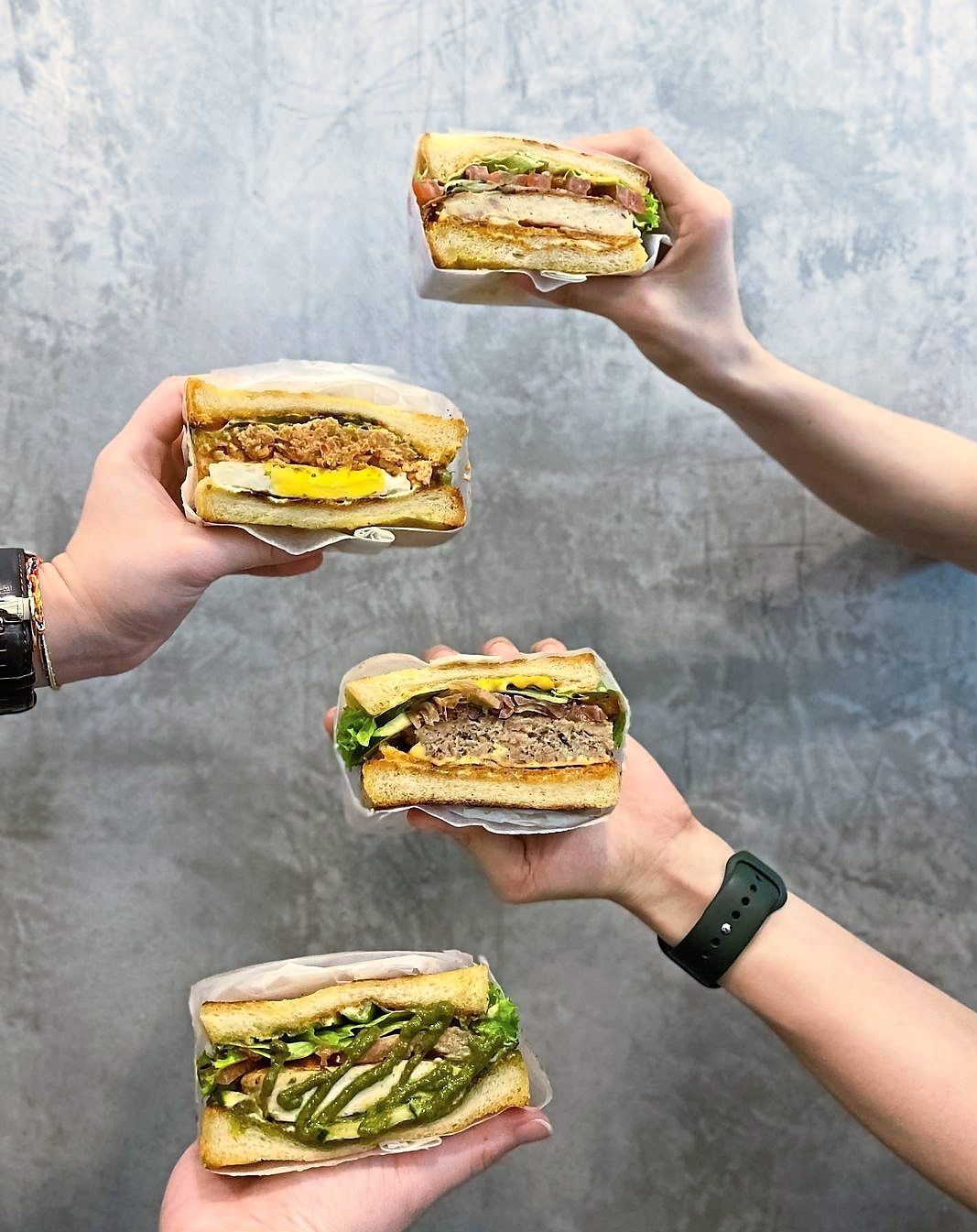 As its name implies, Toast & Co offers a range of interesting toast options.
Because the eatery is typically busy in the mornings but quieter the rest of the day, Ong quickly realised she had to expand the menu to include rice bowls, pastas and other side dishes if she wanted to attract more customers throughout the day.
The Mushroom Soup with Garlic Bread (RM14.50) for instance is an in-house best-seller that is filled with blended white, brown and shiitake mushrooms. As a consequence, this thick broth is packed with woody mushroom notes and is a singularly satisfying take on this classic offering.
Then there is the Carbonara (RM19.50). Ong says the sauce takes two to three hours to make and this shows in the final result, which is thick and creamy, with the added allure of the soft goodness of a runny egg added atop for extra lusciousness. The only caveat to this is that you must, must eat it while it is hot to the touch, otherwise expect a claggy mess.
The eatery also has a range of croffles (the hybrid love child of a croissant and a waffle) on offer and of these, you should definitely indulge in a Box of 2 (RM24), which is essentially a selection of two croffles of your choice.
From the options available, try the Berry Berries, which is essentially blueberry cream with berries atop a house-made croffle. The croffle itself is a thing of beauty with plenty of yield, slight chewiness and a crusty countenance. Overall, this is a meal that will satisfy those with a sweet tooth and fruity inclinations.
The Houjicha meanwhile offers a strong shot of matcha amid a canvas of croffle, in what is essentially a love-it-or-hate-it affair, depending on how fond of green tea you are.
The mushroom soup is thick and filled with mushrooms.
Moving forward, Ong says plans for expansion are already afoot. Toast & Co has already opened a second outlet in Puchong with a third one in the works in Petaling Jaya.
"We have noticed that most of the toast breakfast places are Instagram-able spots designed mainly for a younger demographic. So there aren't many family-oriented places for people to sit and chill, so we wanted to fill that gap in the market with larger spaces where families can sit together and start their days with good, hearty breakfast options," confirms Ong.
Order from Toast & Co through Beep Delivery or Oddle.
Subscribe now to our Premium Plan for an ad-free and unlimited reading experience!