Aloft Kuala Lumpur Sentral
Aloft Kuala Lumpur Sentral
Nook Restaurant is tickling taste buds with its National and Malaysia Day Buffet dinner. Indulge in local favourites including Nasi Lemak Kukus Pintu Gerbang Kampung Baru with ayam goreng berempah and "Goreng-Goreng Delights" of banana and mushroom fritters. The menu also has Roasted Chicken Kuzi, Kambing Masak Hitam and Tunjang Masak Minang. For a refreshing finale, make your own dessert using a variety of Malaysian-inspired ais krim potong, shaved ice and condiments. The buffet dinner is available until Sept 16, priced at RM148+ per person. For reservations, call 03-2723 1154/ WhatsApp 012-338 3095/ email kulal.b&f@alofthotels.com
Cafe Chef Wan
Cafe Chef Wan
The restaurant is serving its Nasi Lemak "Wan" Malaysia as a National Day tribute. Celebrity chef Datuk Redzuawan Ismail, or Chef Wan, has reimagined this Malaysian culinary treasure with a contemporary touch. His version features coconut milk-infused rice with Chinese Sweet and Spicy Chilli Tiger Prawns, Malay Sambal Sotong, Kadazandusun Wild Ginger Chicken Tuhau and Indian Pakora Crispy Fritters. This feast for two priced at RM66++ is available until Sept 17 at Cafe Chef Wan outlets except for Cafe Chef Wan Petit, and via takeaway and delivery. For details, visit www.cafechefwan.my
Four Points by Sheraton Kuala Lumpur, Chinatown
Four Points by Sheraton Kuala Lumpur, Chinatown
Quan's Kitchen presents "Fuiyoh Merdeka Magic Buffet" until Sept 16. Those born on Aug 31, 1957, can dine for free and those born on Aug 31 on any other year dine at only RM66+. Over at contemporary cocktail bar Jann, guests can indulge in two signature cocktails for RM66+ and a snack platter at RM66+ featuring Chinatown-inspired light bites until Sept 16. Lady Yi's Tea House is also serving Merdeka Magic Afternoon Tea from 2pm to 6pm daily until Sept 16. Guests can enjoy a "Buy One, Get One Free" promotion from Mondays to Thursdays at RM98+ per set. For reservations, 012-507 3327 or email dining@fourpoints.com
Kota Kinabalu Marriott Hotel
Kota Kinabalu Marriott Hotel
Kitchen@8's culinary team has curated a National Day Buffet Extravaganza featuring local favourites and international delights. Guests can also enjoy the hotel's set menu for two, with a specially prepared Nasi Lalap, a popular Tawau dish featuring fried chicken along with a medley of vegetables. For those seeking a blissful afternoon escape, step into The Lounge for delectable pastries, finger sandwiches and premium teas. Unwind at the Stylo Rooftop Bar and Terrace, where mixologists have crafted an array of cooling beverages to raise a toast to Malaysia's Independence. For reservations, call 088-286 888.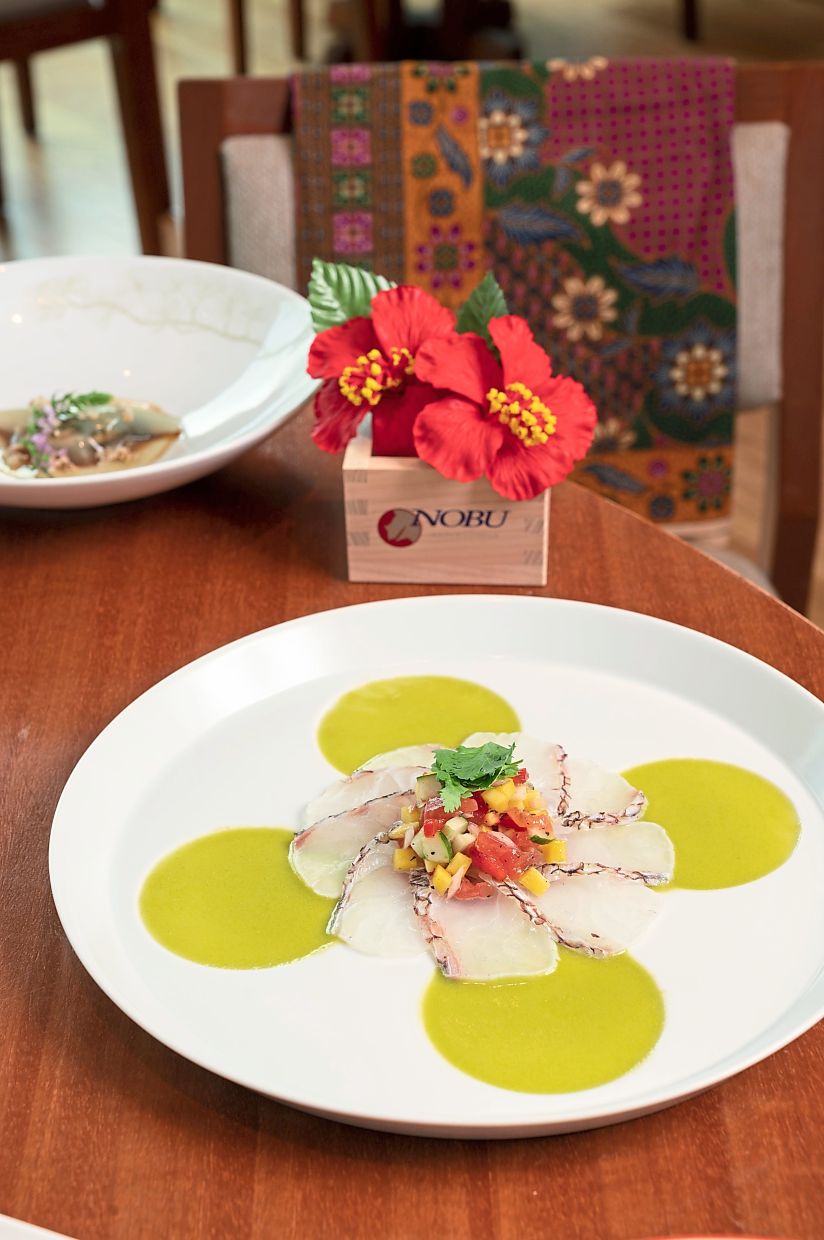 Nobu Kuala Lumpur
Nobu Kuala Lumpur
Flavours of Freedom Osusume is a National Day-themed menu with highlights like Red Snapper with Coriander Dressing, Penang Oyster with pickled pomelo, Sabah Slipper Lobster and Caviar with soba tostada and edamame hummus plus "Ma Lai Gao" dessert that intertwines Chinese sweet green tea sponge cake with a creamy onde-onde mochi and green tea ice-cream. The dishes are priced from RM50++ per item. The menu is available until Sept 17. For reservations, call 03-2380 0028, WhatsApp 019-289 5085 or email nobuklreservations@noburestaurants.com
Shangri-La Kuala Lumpur
Lemon Garden is hosting a Taste of Penang Buffet Dinner highlighting the northern state's unique flavours. Guest chefs from Shangri-La's Penang resorts will present oyster omelette, assam laksa, pasembur, char kuey teow and nasi kandar among others. Available until Sept 16, priced at RM198 nett from Tuesdays to Thursdays and RM258 nett from Fridays to Sundays. At The Lobby Lounge, diners can enjoy Taste of Malaysia Afternoon Tea at RM148 nett per set, until Sept 17 from 3pm to 6pm. For reservations, call 03-2074 3900 or email restaurantreservations.slkl@shangri-la.com
Sunway Resort Hotel
Sunway Resort Hotel
Sunset Terrace is offering a special international buffet of traditional Peranakan delights and premium barbecue selections. Highlights include Chicken Pongteh, Kapitan Chicken Curry, Sambal Steamed Okra, Cincalok Omelette and Nyonya Assam Prawn. The buffet dinner is available on Fridays and Saturdays until Sept 16, priced at RM228 nett per adult. For reservations, call 03-7495 2009 or WhatsApp 019-381 5568. Black Tap Craft Burgers and Shakes is offering two special treats priced at RM57 each until Sept 16. The Nasi Lemak Chicken Sandwich has crispy chicken thigh, fried egg, sambal aioli and pickled cucumber and carrot. The Jalur Gemilang CrazyShake incorporates colours of the national flag and local flavours. For reservations, call 03-7492 8000.
Le Meridien Kuala Lumpur
Le Meridien Kuala Lumpur
Latest Recipe is presenting a spectacular Merdeka Buffet Dinner celebrating Malaysia's remarkable culinary heritage. Highlights include Signature Sup Tetel (hearty beef soup with vegetables and potatoes infused with a dash of lime, crab curry), Roasted Lamb Kuzi and Baked Seabass with Green Sambal among some 200 dishes and live station counters. The promotion ends tomorrow. It is priced at RM208 nett per adult. For reservations, call 03-2263 7434 or email dining.reservation@lemeridien.com
Tony Roma's
Tony Roma's
The American ribs specialist is offering a Plate-Trio-Tic menu featuring a symphony of flavours. Trio Feast Platter A (RM163.90++) offers succulent Australian beef or lamb ribs, salmon with a creamy topping and salsa chicken. Platter B (RM189.90++) is a combination of Australian beef or lamb ribs, demi-glace Australian ribeye and salsa chicken. Available until Oct 1, each platter option includes a refreshing Coca-Cola tower. Guests can also enjoy single platter meals of BBQ 1/2 Chicken (RM48.80++), Australian beef or lamb ribs (RM99.90++), demi-glace ribeye (RM105.90++) or Pineapple Salsa Salmon (RM66.60++).
Subscribe now to our Premium Plan for an ad-free and unlimited reading experience!