Malaysia:
* Wan Junaidi: Anti-party hopping law takes effect on Oct 5
* US FAA restores Malaysia's air safety rating to Cat 1
* Covid-19 Watch: 1,244 new cases bring total to 4,845,109
* Budget 2023: Balance economic gap between urban and rural areas
* Budget 2023: Govt needs to focus on issues of high interest rates, unsold houses
* Bank Negara knew US$100mil 'Saudi donation' went into Najib's account, High Court told
* MetMalaysia issues heavy rain, thunderstorm warning
* Malaysia export volume index rises 7.7% on-month in August
* Non-halal 'lift' due to requirements by authorities, says local hotel
* Measures to rescue Malaysians from job scams among focus at Dewan Rakyat on Oct 4
* Prosecution in 1MDB case warns Najib's defence team not to conduct trial by media
* Court allows Najib to attend proceedings in civil suit against Tommy Thomas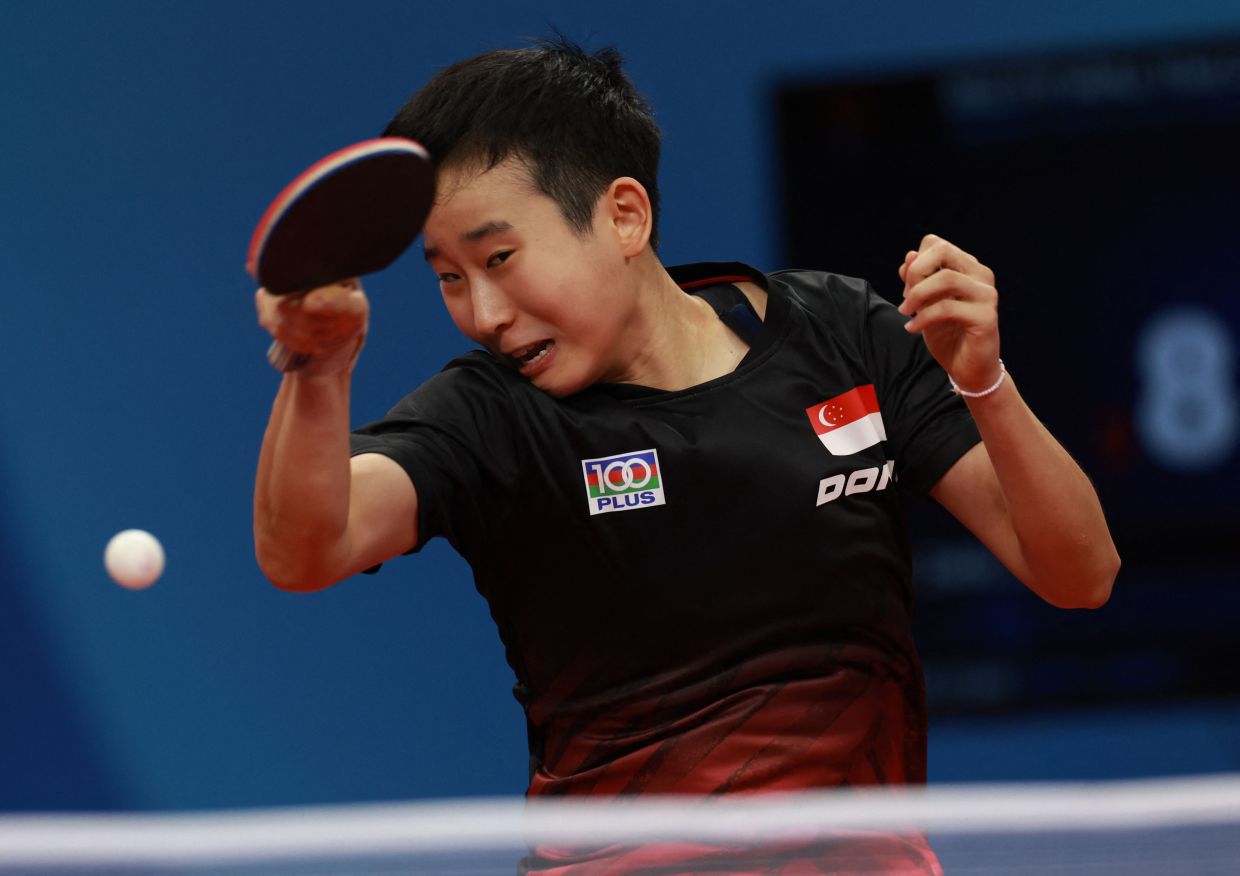 Singapore's Jingyi Zhou plays a shot against South Korea's Lee Zion during the World Team Championships Finals table tennis women's group match in Chengdu in China's southwestern Sichuan province. - AFP
Singapore:
* Ex-F1 chief Ecclestone faces fraud trial next October after failing to declare a RM2.1bil multi-million pound trust in Singapore
* Singapore warns of new variants of phishing scams offering tax refunds and involving tax evasion
* S'porean father and son duo jailed for graft involving ex-chief of Malaysian cargo airline
* Crackdown on massage parlours in Orchard Towers and other locations
* Scammers target S'pore Prime Minister in fake email scam
* Man in SG arrested after S$11,200 is lost in refund scam involving mobile phones and tablets
* Singapore home prices climb 3.4% even as interest rates rise
* Asian stocks, currencies gain as global sentiment improves
* Oil prices edge up ahead of Opec+ meeting to discuss supply cuts
Women weeps as the offers prayers in front of gate 13 at the Kanjuruhan Stadium in Malang, Indonesia, Tuesday, Oct. 4, 2022. Police said Tuesday that the gates at the soccer stadium where police fired tear gas and set off a deadly crush were too small and could only accommodate two at a time when hundreds were trying to escape. - AP
Indonesia:
* Tear gas, locked gates led to Indonesian soccer stampede, spectators say
* Indonesia police chief, others removed over soccer disaster; govt to probe other elite police officers over disaster
* Internal watchdog faults police use of tear gas in deadly Indonesia soccer riot
* Football tragedy: Family of victim buries a proud fan
* Soccer-UEFA games to hold moment of silence in memory of Indonesian stadium disaster victims
* Indonesia soccer body bans 2 club officials for life over deadly stampede
* Indonesia plans extension of palm oil export levy waiver to year-end
* Salesman, Indonesian maid remanded after murder of three-year-old boy in Johor
* 32 children died in Indonesia football tragedy, police chief sacked
* Asian traders track Wall St up as US data tempers rate fears
* Indonesia: Outgoing governor endorsed for 2024 election
* Indonesia inflation hits new seven-year high after fuel price hike / Indonesia's manufacturing PMI at eight-month high
Thailand:
* Thailand's economic recovery intact despite global slowdown, says central bank governor
* Police identify more suspects in cosmetics agent kidnapping case in Thailand
* Ritual piercings mark annual Taoist festival in Thailand
* Marathon downpour brings more flood misery to Bangkok
* Thai central bank says economic recovery likely intact
* Bangkok plans to keep temples and museums open until midnight
* Nuan a friendly feline among foreign ministers
* Thailand PM resumes official duties
Activists hold slogans as they condemn the killing of Filipino journalist Percival Mabasa during a rally in Quezon city, Philippines on Tuesday Oct. 4, 2022. Motorcycle-riding gunmen killed a longtime radio commentator in metropolitan Manila in the latest attack on a member of the media in the Philippines, considered one of the world's most dangerous countries for journalists. - AP
Philippines:
* Positivity rate of Covid-19 "very high" in Philippine capital, says health expert
* Philippine media groups demand protection after journalist's murder
* A more humane drug war: Inquirer
* Special formula sees 433 winners share Philippine Lotto jackpot of RM19mil
* Philippine radio commentator Percy Lapid shot dead in ambush
* Marcos' Singapore trip for F1 race 'productive', claims palace
* US and Philippines hold combat drills
* Marcos under fire for S'pore F1 trip
Vietnam:
* Vietnam reports 1,020 new Covid-19 cases and two deaths on Tuesday (Oct 4)
* Vietnam reports its first monkeypox case; patient is is a resident from Ho Chi Minh City who returned from Dubai
* Vietjet offers 20% reduction on international airfares every Monday
* Vietnam to impose temporary anti-dumping duty on some Chinese furniture
* Floods kill eight in central provinces
* Vietnam's eCommerce needs better legal framework
Cambodia's Prime Minister Hun Sen (right) and Cuba's Prime Minister Manuel Marrero shaking hands during a meeting at the Peace Palace in Phnom Penh on Tuesday (Oct 4, 2022). - AFP
Myanmar:
* Three dead and 17 missing as Malaysia-bound Myanmar Rohingya boat sinks off Bangladesh
* Myanmar won't be invited to Asean Summit this year: Cambodia
* Myanmar citizens among those granted 45 days of visa-free stay in Thailand
Cambodia:
* Cambodian Foreign Minister emphasises need to enhance Asean connectivity
* Wisma Putra needs more funds to better assist M'sian victims of job scams stuck overseas, says Saifuddin
* Cambodia's Angkor registers 20-fold rise in international arrivals
Laos:
* Lao govt urges public to continue staying vigilant against Covid-19
* Mekong countries mull ways to promote tourism
Brunei:
* Jail, caning for Brunei man who sexually assaulted teen
* ADB forecast for Brunei unchanged; economic growth target remains at healthy 3.6 per cent
A young girl worshipped as an incarnation of Goddess Durga, sits next to the idol of Hindu Goddess Durga at a pandal during the Durga Pooja festival in Kolkata on Tuesday, October 4, 2022. - AFP
AseanPlus:
* Why China's motherhood question looms over the country's long-term future
* Apple iPhone exports from India doubling in boon to Modi's plan
* China's youth say no thanks to work as 'soulless robots', even amid bleak job prospects
* Xi decade reshapes China's military, and the region: Report
* 7YO twins from Puchong pass piano Grade 8, enter Malaysia Book Of Records
* Kim Jong-nam's next of kin urged to collect items from Malaysian cops
* Hong Kong allows airline crews to leave hotels on overseas trips
* Never-before-seen Beatles footage released in Japan
* N. Korea fires mid-range ballistic missile that flies over Japan
* China likely to boost oil products exports into early 2023
* Australia's central bank raises rates by smaller-than-expected 25bps
* Popularity of cryptocurrency plummets among millennials in 2022
* These new features aim to improve the results of your Google search
* Australian wins world's best barista title with honey-hibiscus coffee creation
* Matrimonial sites in India devise ways to beat dating apps
* BoJ discusses inflation risks in subtle shift during debate
* Asia's factories paint uneven recovery picture
* HK financier wins ruling against ex-CEO over US$769mil loans
* Chinese property stocks watched as banks urged to offer funding
* Solomon Islands says it will not 'choose sides' between US, China
Subscribe now to our Premium Plan for an ad-free and unlimited reading experience!