This year marks the first live physical Computex in almost four years, the last being in 2019.
The technology trade show has long been the venue for the industry to debut emerging technologies and explore new trends, but it was put on extended hold due to Covid-19.
With its comeback, the event once again took place at the Taipei Nangang Exhibition Center in Taiwan.
Keynote speakers included executives from industry titans like Nvidia, Acer, and Qualcomm, while the expansive exhibit halls featured a thousand exhibitors from 26 nations.
Over 400 tech startups from 24 countries participated in the InnoVEX 2023 section of this year's exhibition.
Computex 2023 attracted over 30,000 attendees from more than 126 countries.
Your game, your world
Nvidia, a leader in graphics technology, kicked things off by showcasing its Avatar Cloud Engine (ACE) technology at a keynote held a day before the trade show started.
ACE is a collection of artificial intelligence (AI) models meant to make NPCs (non-player characters) more intelligent with better conversation skills and personalities that develop over time to enable developers to craft unique gaming experiences for each player.
Huang says everybody's gaming experience will be a unique one with ACE.
Its president and CEO, Jensen Huang, showcased a demo that was entirely AI-powered, featuring animations, voices, and lines generated by ACE.
Huang says: "We have a service that includes pre-trained models that game developers can come and modify and enhance for your own application, for your own story, because every game has a different story."
He adds that the demo was developed in partnership with Convai, a framework and avatar toolmaker.
"All of the facial animations were completely done by the AI.
"We have made it possible for all kinds of characters to be generated; they all have their own domain knowledge.
"You can customise it so that everybody's game is different, and look how wonderfully beautiful and natural they are," says Huang during the Nvidia keynote at Computex 2023.
Part of ACE is Nvidia NeMo, a large language model that can be used for generating character backstories and personalities that match a game's setting.
Computex 2023 attracted over 30,000 attendees from more than 126 countries.
Other models include Riva for speech recognition and text-to-speech, which makes real-time voice conversations possible, and Omniverse Audio2Face, which generates facial animations for characters based on the provided voice.
"This is the future of video games – not only will AI contribute to the rendering and synthesis of the environment, it will also animate the characters," Huang added.
The same keynote also saw the introduction of other Nvidia server-related offerings, with the company intending to further empower generative AI in the cloud space with its DGX GH200 enterprise Superchip, Grace Hopper Superchip, graphics processing server HGX H100, and MGX modular architecture.
Huang also unveiled Nvidia's first full-reference robotics stack, the Nova Orin.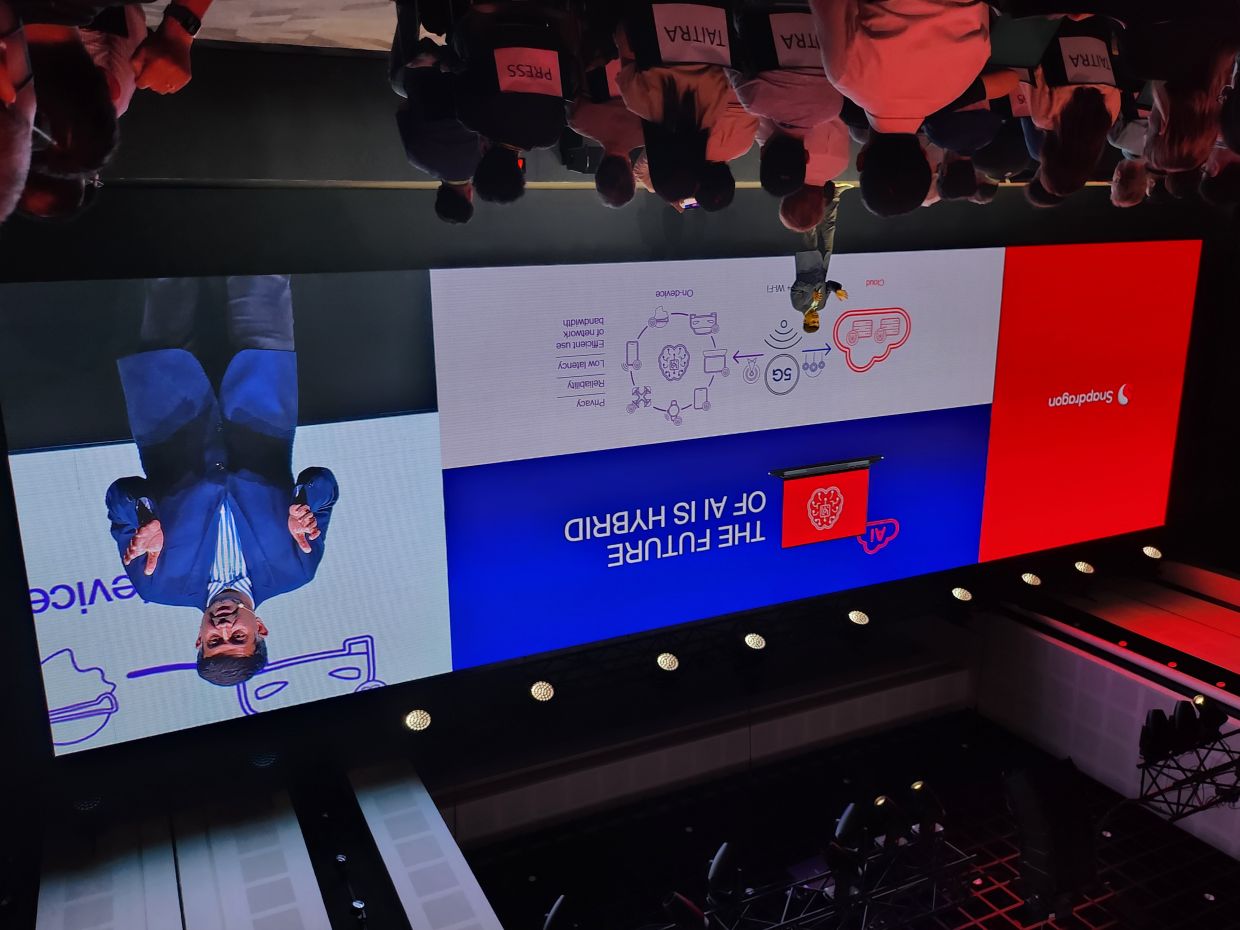 Kondap predicts that the future of AI will be hybrid.
Nvidia wasn't the only company investing in AI. Qualcomm's senior vice president and general manager of compute and gaming, Kedar Kondap, predicted that the future of AI will be hybrid.
"As AI continues to scale and reach into every part of our lives, so will the computing infrastructure that is needed to support these massive generative AI models.
"Up until recently, generative AI training and inferencing have been constrained to the cloud.
"As the technology develops, the future of AI will be hybrid, with processing being distributed between the cloud and edge devices.
"Which is no different from how traditional computing evolved from mainframes and thin clients to desktops and even smartphones in all our hands.
"Having on-device artificial intelligence will allow generative AI to reach its full potential, making it more powerful and efficient," he says.
Kondap further explained that the cost per generative AI query is expected to be 10 times higher compared to traditional searches.
With AI running locally on the device, data doesn't have to be transmitted to the cloud, reducing the burden on data centres and saving energy.
User privacy is another factor in the push towards on-device AI, which would allow all sensitive information (especially corporate data) to be stored locally while leveraging AI.
The third day of Computex saw a keynote from semiconductor producer NXP's executive vice president and general manager of secure connected edge, Rafael Sotomayor.
Sotomayor discussed the development of edge computing and also touched on smart homes.
Sotomayor says the smart home market is too fragmented.
"Smart homes – it's a really fascinating market, and at the same time, frustrating.
"There's going to be about two billion smart connected devices shipped to homes by 2027 – two billion annually.
"So the home is no longer a static space, it's an ecosystem that is providing worth, convenience, efficiency or a more pleasant living environment for the user.
"Every year, devices come into smart homes, and they have more features, more capabilities, more sensors; it's just a dynamic, innovative market.
"And despite that innovation, we still don't have a smart home. We have connected homes, but the users have to download three or four apps to control their devices in their homes.
"Very likely, those devices are running different wireless protocols – the consumer deserves better," Sotomayor says.
In order for homes to become autonomous, he elaborated, all the smart gadgets must speak the same language and use the data they collect to make decisions.
Companies targeting the smart home market, however, are focused on closed systems with a walled garden approach that he believes is misguided because "they ignored the power of a vibrant open ecosystem".
Gadgets galore
Meanwhile, on the show floor, Asus Republic of Gamers (ROG) gave Computex attendees first-hand access to the upcoming Ally handheld, due for a Malaysian launch sometime in July, along with peripherals like the Raikiri Pro controller and a charging dock with HDMI output.
ROG Alley Windows handheld gaming console.
While ROG touts the handheld as having twice the performance of the competing Valve Steam Deck, its booth focused more on the design process of the Ally.
It showcased a teardown of the handheld console, boasting that it managed to lower the weight to just 608g.
ROG's booth also featured the Raikiri Pro controller, previously announced in January, for both the Xbox and PC.
Its top OLED display is the most striking feature, as it can be personalised with animations and status indicators and used to instantly switch settings.
ROG's Raikiri Pro controller boasts a customizable OLED display.
Also on display was the Acer eKinekt BD 3, a stationary desk bike that lets users exercise as they work.
As the user pedals, the kinetic energy is converted into electricity, with one hour of constant cycling at 60rpm generating 75 watts that can be used to charge laptops and other devices.
However, Acer has yet to disclose the release date or pricing.
The company also had a section dedicated to its previously launched SpatialLabs series of laptops and displays, which adds stereoscopic 3D to titles like Octopath Traveler 2, Kena: Bridge of Spirits, and Bright Memory: Infinite.
The Cooler Master Dyn X features motorised haptic feedback for a realistic racing experience.
Over at the Cooler Master booth, the Dyn X racing simulator rig with motorised haptic feedback for a more immersive experience in racing games was the main attraction.
Attendees had the chance to race in the F1 22 video game, all while being jostled about by the electromechanical actuators.
The other factor that makes this rig stand out is the support for 14 different racing positions for a specific type of vehicle, be it Formula 1, Nascar, or even a semi-truck.
The Dyn X will be launching sometime later this year with an eye-watering US$25,000 (RM115,000) price tag.
The Orb X gaming PC battle station has a built in recliner.
Next to it was Cooler Master's Orb X, an egg-shaped gaming pod that will also be available sometime this year for about US$15,000 (RM70,000).
It essentially functions as a recliner and monitor mount combo, capable of supporting up to three 24in displays or a single 34in model.
It comes with built-in 2.1 surround- sound speakers.
Keyboards of all types
Keyboard manufacturers featured prominently at the show, with Ducky showcasing what can only be described as a wall of keyboards.
The company's booth had its newly launched Project D keyboard, expected to hit markets in the third quarter of this year.
Project D is Ducky's first foray into the enthusiast custom keyboard space and will be sold as a kit (case, printed circuit board, switch plate, gaskets, dampening foam, and stabilisers), leaving users to pick and choose their own set of switches and keycaps.
The keyboard includes a full aluminium chassis, gasket mounting (which uses silicone or rubber grommets instead of screws to mount the circuit board), dampening foam, and alternative plate materials such as FR4 (high-density fibre material) and POM (polyoxymethylene) plastic.
POM plastic and FR4 are desired for their different sound signatures and stiffness or flex in the typing experience.
Another keyboard manufacturer, Varmilo, previewed its Shine Kara keyboard, featuring a plastic case and keycaps with a piano-esque aesthetic. The company has yet to reveal the launch date for it.
The Zalman booth was also home to the Korean enthusiast keyboard designers from KLC Playground, which showcased its upcoming prebuilt keyboard, the Nori Spring Rider.
The Nori Spring Rider is said to bring premium features to a lower price bracket, including a sound profile tuned without additional acoustic foam, an improved typing experience, and Bluetooth and 2.4GHz wireless connectivity.
It will be available globally on Drop sometime in June for US$179 (RM820), but buyers may have to pay a steep shipping fee.
There's also the option to wait for it to make an official appearance in our region via Mecha.store to save on shipping.
Frosty tech
With the return of Computex this year, G.Skill, which specialises in high performance memory, had a booth that was home to two popular competitions: the Overclocking (OC) World Cup and the OC World Record Stage.
PC mods of all kinds were on display as they struggled to keep an overclocked Intel Core i9 13900K CPU cool with liquid nitrogen while ensuring that the temperature didn't drop too low and degrade performance, which required blow torches.
G.Skill's booth also had custom-built PC rigs, including a transparent pyramid spewing out fog from the liquid nitrogen being pumped in to cool it.
Other themed builds include an Alien-inspired face-hugger, a volcano leaking lava, and a water-cooled beer fountain complete with a keg dispensing actual beer for attendees.
Cooler Master, on the other hand, had a pair of PC builds in the shape of sneakers, which it plans to offer for sale sometime this year. So sneakerhead PC enthusiasts may want to keep an eye out for it, though there is no word on pricing yet.
Subscribe now to our Premium Plan for an ad-free and unlimited reading experience!