Innovations in technology have improved people's lives in many ways, but the industry itself has often been criticised for not progressing enough to allow women to thrive.
In 2020, a female executive at Pinterest filed a lawsuit accusing the company of perpetuating a culture of discrimination and misogyny.
In a Guardian report, former Pinterest chief operating officer Francoise Brougher claimed that the company had marginalised and silenced women, excluding them from decision-making processes.
This is ironic considering that Pinterest's website states that women make up 60% of its global audience.
Pinterest eventually settled the lawsuit with a US$20mil (RM89.5mil) payout and pledged to invest US$2.5mil (RM11.2mil) into efforts focusing on "advancing women and underrepresented communities in the technology industry".
Last year, Google agreed to pay US$118mil (RM527.9mil) to settle a gender discrimination lawsuit in which former employees, including software engineer Kelly Ellis and Holly Pease, who has held a number of technical leadership roles, accused the company of paying women less and blocking their career progression by assigning them to lower job levels compared to their male counterparts.
As part of the settlement, Google pledged to provide "substantial programmatic relief" to prevent future harms and ensure that women will not be paid less than men for similar work.
Career challenges
March 8 is International Women's Day, and this year's theme is DigitALL: Innovation and Technology for Gender Equality, with the #EmbraceEquity hashtag as its campaign, since equal opportunity alone is not enough to foster true inclusivity.
It emphasises the need to cater to the needs of people based on their circumstances, instead of expecting one solution to fit all.
On Twitter, Dr Naheed Dosani, founder of Canada's Palliative Education and Care for the Homeless, explained the difference between equality and equity as: "Equality is giving everyone a shoe. Equity is giving everyone a shoe that fits."
According to the UN Women portal, women's lack of inclusion can come at a great cost.
Its Gender Snapshot 2022 study found that women's exclusion from the digital world has cost low- and middle-income countries US$1 trillion (RM4.48 trillion) in gross domestic product over the last decade.
This loss is expected to grow to US$1.5 trillion (RM6.72 trillion) by 2025.
Lim says women, especially those in leadership positions, face significant challenges due to gender bias and stereotypes. — Palo Alto Networks
Lim Suk Hua, Palo Alto Networks Malaysia country manager, acknowledges that, locally, women in the tech industry, especially those in leadership positions, still face significant challenges related to gender bias and stereotypes.
"Despite the progress that has been made, there are still societal and cultural norms that limit opportunities for women in tech," says Lim.
She says that even though Malaysia has about equal numbers of men and women in STEM-related tertiary education enrollment – 45% of engineering students are women and 61% of science, math, and computer science students are female – the numbers from the World Bank 2021 report do not mean that there are more women in STEM-related jobs.
"According to the Kadar Penyertaan Tenaga Buruh Siswazah 2020 (Graduate Labor Force Participation) report, the Malaysian female workforce in the digital economy only stands at 35%," she adds.
Margaret Woo, client services director at TDCX Malaysia, cites similar figures.
"Women comprise 55.1% of Malaysia's workforce, but only 35% of roles in the digital economy are filled by women.
"This gender disparity can be attributed to several factors, including the societal perception that tech may not be a suitable career option for women," she says.
To help women progress in the tech sector, the industry needs to disassociate itself from deep-rooted perceptions about leadership, says Woo. — TDCX
Woo adds that in order to help women participate and progress in the tech sector, the industry needs to strive to disassociate deep-rooted perceptions on leadership.
"Specifically, the masculine traits that some women may not identify with. Such biases could also affect women's ability and willingness to lead authentically due to certain feminine traits not being viewed favourably in a leader," she shares.
She adds that companies can help by training their employees to overcome their own perceptions.
"Initiatives such as regular internal campaigns to raise awareness of unconscious biases and promote a more inclusive workplace culture among females at all levels, including the rank and file, will go a long way in promoting diversity and inclusion," Woo says.
The tech industry, which plays a significant role in innovating products and services, has to promote a vision that can benefit a broader society and not just one segment.
According to Adilah Junid, director for legal and government affairs at Microsoft Malaysia, this includes acknowledging the value of diversity and inclusion, respecting the different perspectives that women can bring, and recognising the role that women play in the family and the responsibilities often held by women in areas such as caregiving.
"With this in mind, I would love for the tech industry to be a role model for creating an empowering work environment to enable women to thrive," she says.
Pushing for progress
There is a concerted effort being made by businesses in Malaysia to expand opportunities for women working in the technology sector.
Hong says that women must overcome their own negative perceptions, such as thinking they cannot advance at work due to family responsibilities. — HP Malaysia
HP Malaysia channel sales director, Hong Mee Mee, says measures the company has taken include implementing DEI, which stands for "diversity, equity and inclusion" as part of its hiring process."In terms of talent acquisition, we seek to have an average of 40% female candidates for all open positions.
"Every application must also be reviewed fairly, and hiring managers must complete diversity training before any requisition," she explains.
Adilah shares that Microsoft is aiming to encourage more women to join the cybersecurity field, including by holding webinars to raise awareness among female university students about career opportunities in cybersecurity.
According to a World Bank report on women and cybersecurity in 2022, women accounted for only two out of every 10 cybersecurity professionals on the global stage.
In addition to equipping women with digital knowledge and encouraging them to join the tech workforce, measures such as a flexible work programme could help greatly.
"As a woman, I have personally benefited from such a programme, as it has provided me with the flexibility to work from home and balance my personal and professional responsibilities.
"I believe that this type of flexibility is critical for women in tech, who often face unique challenges when it comes to balancing work and family," Lim explains.
Hong concurs, saying that flexible work arrangements are a crucial measure to help more women stand out in the workplace.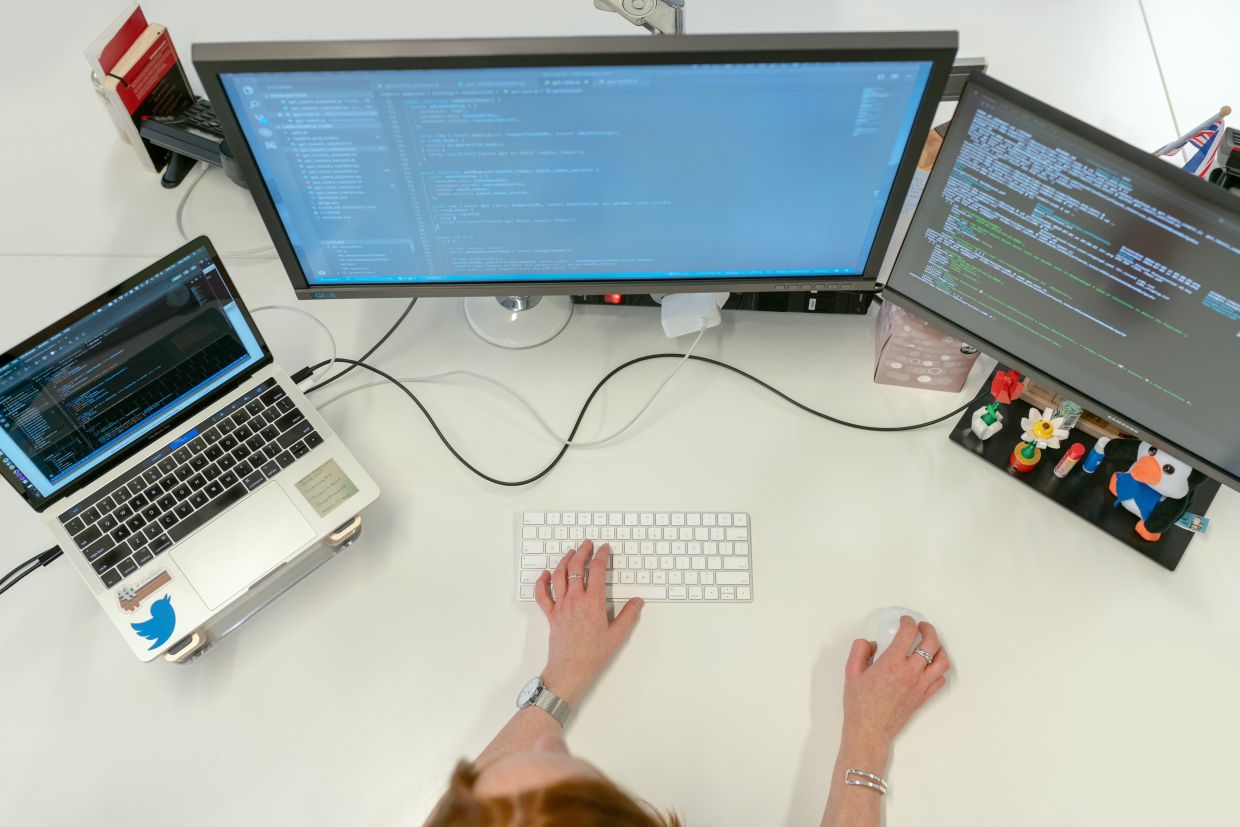 According to a World Bank report on women and cybersecurity in 2022, women accounted for only two out of every 10 cybersecurity professionals on the global stage. — Photo by ThisisEngineering RAEng on Unsplash
She credits technology for making it possible for people to choose how and where they want to work.
"Technology has shown that hybrid work is possible, allowing me to spend crucial time with family and provide learning tools for my children.
"Today's advancements have not only changed the way we work, but have greatly improved the inclusivity and accessibility of tech," she says.
Malaysia has also seen other initiatives, such as a career comeback programme by Talentcorp, an agency under the Human Resources Ministry, to encourage women to return to the workforce, which Lim is in favour of.
"As a mother of two, I find this programme practical – it encourages women to re-enter the tech workforce, especially after their pregnancy," she says.
Conscious choices
Lim says challenging biases is a shared responsibility that requires people to be aware of their choices.
"Our company emphasises the importance of being conscious of inclusion and diversity.
"Starting from the top, we believe that everyone should take responsibility for challenging biases and creating a safe space for everyone to speak up.
"By being conscious of inclusion, everyone can hold themselves and their team accountable for the progress in these areas and continue to work towards a more equitable and diverse workplace," she adds.
Lim hopes to see more companies introduce training for overcoming biases as part of measures to improve the workplace environment.
"Ultimately, I still believe that it is 'unconscious bias' that is perpetuating gender inequality in the tech workplace.
"Tech companies in Malaysia should conduct training programmes and awareness campaigns to help employees recognise and overcome their biases," she says.
Adilah encourages more women to work in cybersecurity, a field that is primarily male-dominated. — Microsoft Malaysia
Adilah says Microsoft regularly shares its diversity and inclusion-focused work with employees.
"We believe transparency fuels accountability, and accountability builds trust," she says, adding that, based on available data, representation of women at the company has grown by at least 1% percentage point every year since 2018.
Adilah adds that for the first time last year, women made up more than 30% of the company's core workforce.
Woo says she would like to see more initiatives in the country to encourage females to pursue a career in STEM, especially at an earlier stage of their education.
"This would not only drive greater interest in STEM-related courses but also broaden the accessibility of careers in technology for women.
"Such efforts would also enable companies to harness an untapped source of talent.
"More women in Malaysia's workforce would benefit the entire nation by making a significant contribution to the country's digital economy growth," she says.
Hong adds that it's also crucial for women to overcome their own perceptions, including that they cannot progress at work due to reasons like having to care for a family.
"In my experience, I've noticed that many women lack the confidence needed to take on a leadership role in the workplace.
"I think it's imperative that women realise their full potential, gain self-confidence, and seek out equal opportunities inside their own organisations," she says.
Meanwhile, Lim says women shouldn't let anyone make them feel like they don't belong in the tech industry and hopes to see them grow by investing in their own development.
"Find a leader who can guide and support you on your career path. Stay up-to-date on industry trends and developments.
"Invest in your professional development by attending conferences, taking courses, and pursuing relevant certifications," she says.
Adilah recommends starting by finding a mentor or building a network of trusted allies.
"It will help tremendously to have a mentor you can get guidance from and strong allies to support you and offer a sanity check, share feedback or provide affirmation in those moments when you may doubt yourself," she says.
Subscribe now to our Premium Plan for an ad-free and unlimited reading experience!