There isn't a day that goes by without us hearing or reading about how the government is ramping up efforts to introduce 5G.
So much so that GSMA, the mobile communications industry body, projects that by 2025, 5G will account for 20% of total connections in the country.
The GSMA annual report on digital societies in Asia Pacific also shows that Malaysia will be ahead of its counterparts like Thailand, India and Indonesia in this aspect in five years time.
"Malaysia is making good, steady progress. We are encouraged by the steps that Malaysia is taking from the government point of view in terms of establishing a vision for 5G to be the catalyst for economic transformation," said GSMA head of Asia Pacific Julian Gorman.


Gorman believes that Malaysia is making good, steady progress when it comes to the implementation of 5G nationwide. — SAMUEL ONG/The Star
"Malaysia is one of the fastest growing countries in terms of things like leadership of digital citizenship by bringing government services online, and having more people using them. These are very encouraging signs towards building a digital society," he added.
Gorman also commended Communications and Multimedia Minister Gobind Singh Deo for establishing the National 5G Task Force which consists of 113 members, including telcos, service providers, academicians, ministries and government agencies.
The Task Force is expected to provide a comprehensive report on a number of issues, including proposing solutions to resolve regulatory impediments and measures for consumer protection in Malaysia, by the end of this year.
The government is also rapidly deploying 5G testbeds across the country, and some use cases of 5G include smart city applications, drone monitoring for public safety, and smart IoT (Internet of Things) campuses for education.
Guess what else benefits from good Internet connection? eSports, of course. Back for the sixth year, the Selangor Cyber Games 2019 will be held in Central iCity in Shah Alam, Selangor, from Oct 26 to 27.
The two-day event will see players competing in Dota 2, PlayerUnknown's Battlegrounds Mobile, Fifa 20, and Tekken, for the RM215,000 cash prize pool.
Registration for Selangor Cyber Games is now open at www.selangorcybergames.net and will close when all the slots are filled.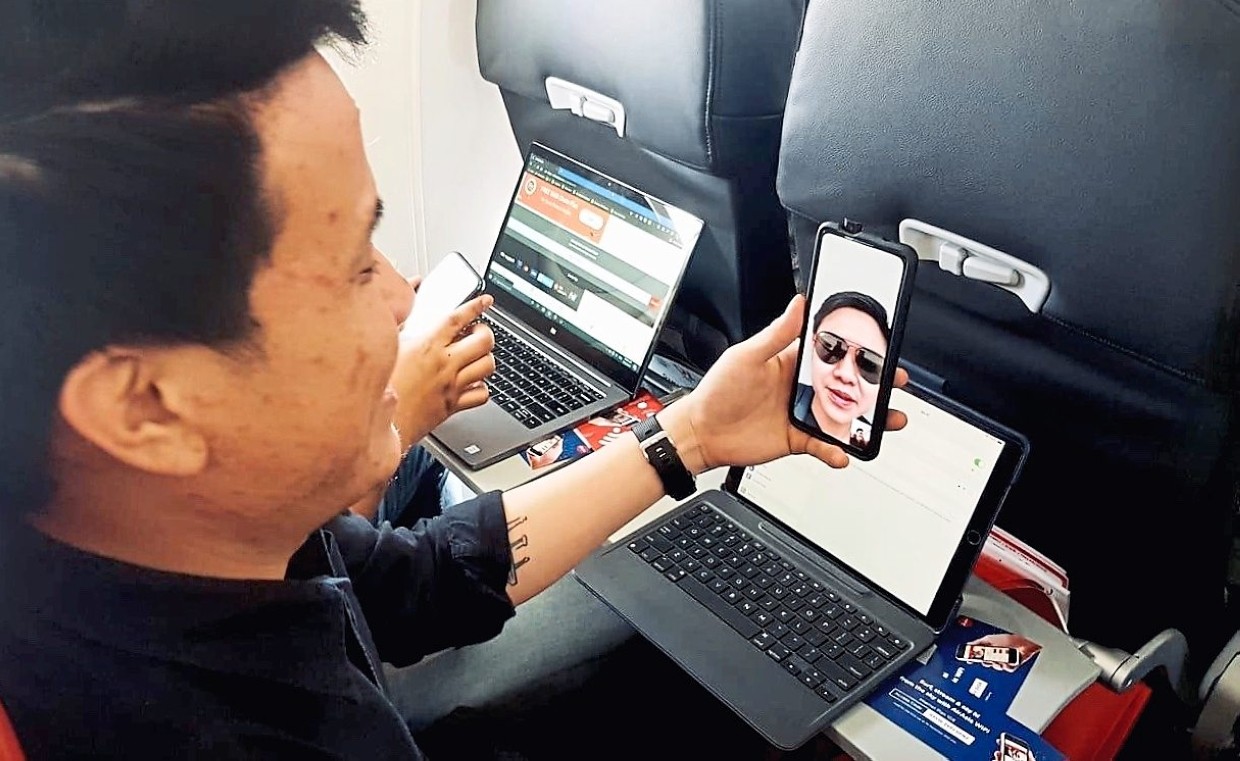 AirAsia now supports high-speed inflight WiFi to its customers flying on six of its aircraft. — AirAsia
For those who want to play videogames not just on the ground but even when they're flying, AirAsia has got that covered.
The airline now offers high-speed in-flight WiFi to its customers flying on six AirAsia Malaysia (AK) aircraft and two aircraft by AirAsia Thailand (FD).
These aircraft have been equipped with Inmarsat Ka-band platform, GX Aviation, which will gradually be rolled out to the rest of the fleet.
According to AirAsia, Ka-band offers better Internet experience beyond basic broadband, supporting real-time video, music streaming and more. Today is the last day guests travelling on these aircraft will be offered 10MB free data to test the service.
Of course, what is connectivity without security? Celcom Axiata Bhd announced its partnership with CyberSecurity Malaysia to exchange information on threats, which can be used to improve cyberattack readiness and prevention measures.
The organisations signed a Memorandum of Understanding to jointly develop telecommunications security capabilities, as well as explore opportunities in the field of IoT security.


Facebook is leading a band of tech giants to weed out extremist content on its platforms. — AFP
Speaking of security, Facebook is leading a band of tech giants to weed out extremist content on its platforms, and jointly work on a forum to handle crises on a global scale.
According to Reuters, Facebook said that the forum would fund research on how best to prevent incitements to violence online, as well as on ways to reduce the effects on social media when attacks occur.
The forum is a voluntary effort by tech companies to police themselves, with non-governmental groups heading the advisory board.
It will also see governments of the United States, France, Britain, Canada, New Zealand and Japan playing advisory roles, along with UN and European Union experts.
Join our Telegram channel to get our Evening Alerts and breaking news highlights