Some of China's most popular bubble tea recipes are being sold online – although sceptics are questioning their authenticity and usefulness.
Originally from Taiwan, bubble tea – a tea-based drink with milk, sugar, chewy tapioca balls and other flavourings – has become a craze among young people on mainland China.
With prices ranging from 40 yuan to 176 yuan (RM23.75 to RM104), recipes from the country's hottest bubble tea chains – including HeyTea, CoCo and A Little Tea – can be found at online shopping site Taobao, owned by Alibaba, which also owns the South China Morning Post.
A report in Sunday's Beijing Youth Daily said all the sellers claimed their recipes were genuine. One of them, Gao Zeyu, said in the product description that he had print and electronic versions of recipes from more than 12 drinks chains.
Gao, whose product page promised monthly updates with new recipes, was also offering employee handbooks from HeyTea, CoCo and The Alley – three of China's most popular brands.
"I hope I can help more people realise their dream to open up their own shops, with the recipes that I have exchanged with my seven years of time," Gao said, in the seller's notes on the product page, which showed about 2,800 positive reviews, with most buyers praising the recipes as "detailed" and "easy to understand".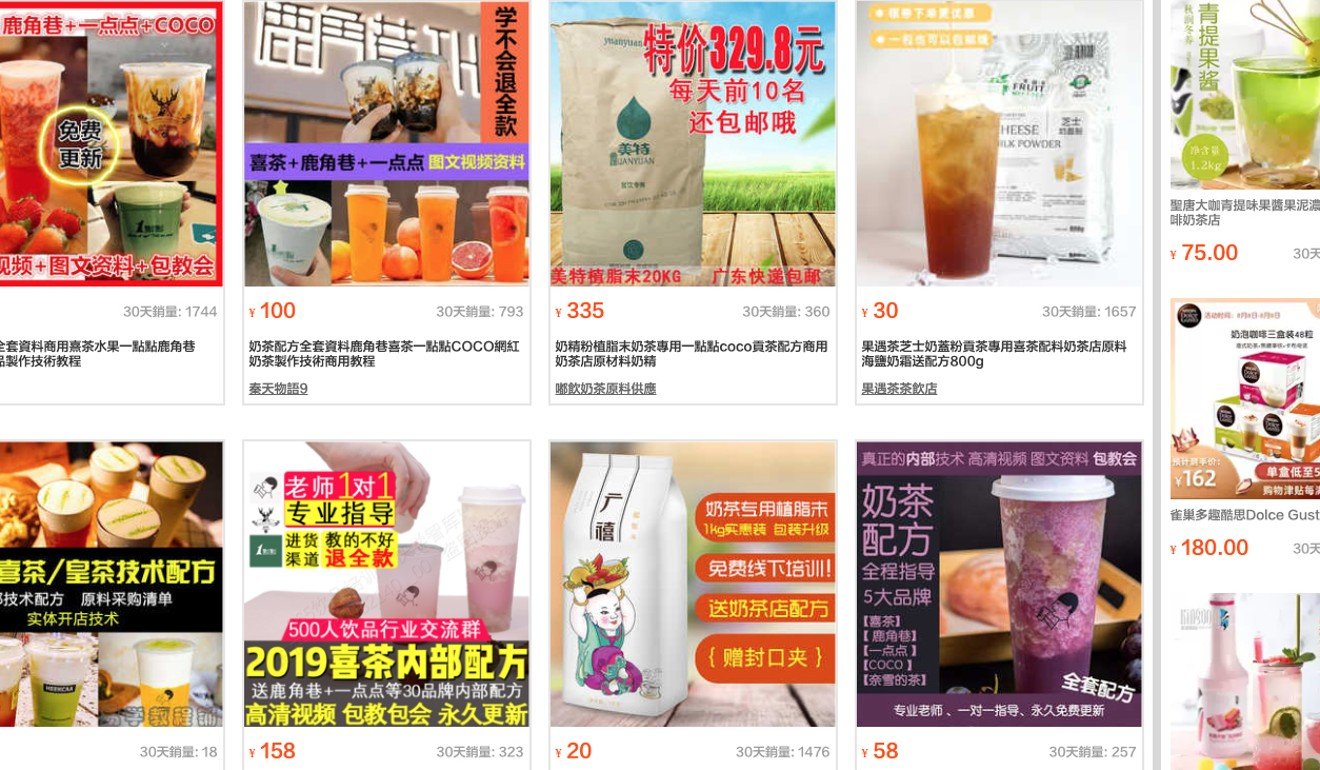 Another seller told Beijing Youth Daily that some customers just wanted to make themselves a drink at home, while others were bubble tea shop owners who wanted the secret recipes of the most hyped and lucrative brands in the market.
An unnamed employee of one bubble tea brand said recipes and equipment were only available to franchisees and they would not legitimately be sold online. "The key to making bubble tea is the ingredients. It doesn't work if you only have the recipe," the employee said.
If the recipes are genuine, the sellers may face legal action, according to Han Xiao, a lawyer at Beijing Kangda Law Firm. Han told Beijing Youth Daily the recipes could be regarded as trade secrets.
China's bubble tea market is flooded with hundreds of thousands of players, operating around 410,000 shops in the country as of 2018 – up 74% from the previous year, according to a report by Meituan Dianping, China's biggest online food delivery platform.
For top brands like HeyTea, monthly delivery orders from a single store could reach 3,000 to 5,000 drinks, online tech media platform Pandaily reported last year.
Users on China's Twitter-like platform Weibo were sceptical about the usefulness of buying bubble tea recipes online, without the associated brand names, equipment and ingredients.
"Even if the recipes are real, you cannot sell the beverages at the same price, as what's most expensive is the brand name," one Weibo user said.
"[CoCo] made their materials in-house – they made CoCo equipment, CoCo sugars," another commenter said. "You cannot replicate their taste." – South China Morning Post
Join our Telegram channel to get our Evening Alerts and breaking news highlights