Just hours after Malaysia Airlines tweeted that it had lost control of flight MH17 from Amsterdam, Internet security company Trend Micro Inc came across some suspicious tweets written in Indonesian.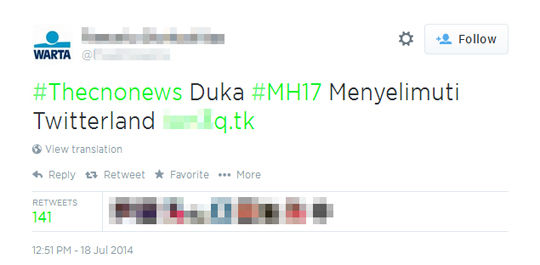 The URLs in the tweets, once clicked by users, lead to malicious domains, linked to malware. Cybercriminals always ride the bandwagon of tragic news and incidents.
In the past, we've seen several scams and threats that leveraged news of typhoon Haiyan, the Boston marathon, and 2011 tsunami/earthquake in Japan among others.
We expect that as soon as more details of the MH17 crash unfolds, cybercriminals will launch other attacks that may possibly lead to personal information theft and system infection.
Did you find this article insightful?