An artist's impression of Residensi ZIG's type D unit.
UEM Sunrise Berhad's newest development in Kiara Bay is set to be KL's trendiest address
WHEN it comes to creating the ultimate living experience, UEM Sunrise Berhad has hit the bullseye.
Their latest project Residensi ZIG is a seamless blend of urban sophistication, holistic living, and natural beauty.
This new property, slated to be completed in Q4 of 2027, is located in the well-integrated township of Kiara Bay in Kuala Lumpur, less than 14km north of the city centre.
Ringed by rolling hills and anchored by a tranquil lake, these apartments are the latest phase of Kiara Bay and the brainchild of Mega Legacy (M) Sdn Bhd – a joint-venture between UEM Sunrise Berhad and Melati Ehsan Group.
Sanctuary in the city
At Residensi ZIG, residents can enjoy time outdoors where there are gardens, pools for both kids and adults, and a jogging path.
Kepong – one of KL's earliest townships with a history dating back to the 1860s, is a mature neighbourhood, and sitting within this area is Kiara Bay, an award-winning lakeside township developed by Mega Legacy (M) Sdn Bhd.
Occupying 29.5ha of land, Kiara Bay was built on an urban livability concept, leveraging its natural surroundings to enhance the lives of residents with abundant tranquil, green spaces and a range of amenities that foster community gatherings and active lifestyles.
It is also one of the few developments in the capital that is built around a stunning natural lakeside.
Residensi ZIG – the latest phase in the development of Kiara Bay – was designed with this eco-ethos in mind, incorporating biophilic architecture into its construction.
Many elements of this philosophy – a concept that connects buildings and their surrounding spaces with nature and people – are evident all around the property.
Stretching across 1.3ha of land, Residensi ZIG boasts a slew of environmental features including a herb garden, large lawns, garden swings, a meadow, and a 400m meandering jogging track that mimics the form and flow of nature.
Plush living spaces
Units are designed to fit the needs of different residents.
Residensi ZIG has 1,126 units extended over three towers consisting of 57 storeys each. With five layouts to accommodate the varying needs of different households, residents have a wide range of options:
> Type A (450sqft / 42 sqm): Studio unit perfect for young couples or singles who will enjoy the comforts of its snug space.
> Type B (898sqft / 83sqm) and Type C (998sqft / 93sqm): Families with children can look forward to these three-bedroom, two-bathroom units.
>Type C comes with a study room.
> Type D (1,135sqft / 105sqm) and Type E (1,198sqft /111sqm): Residensi ZIG's most coveted units. Both Type D and Type E are four-bedroom, two-bathroom apartments with the luxury of an additional 13sqft urban yard – perfect for al-fresco breakfasts and dinners.
Irrelevant of which unit suits a resident's needs, the developers have added a bonus feature – a move-in ready, fully furnished ID package that turns the apartment into a chic, cozy home.
This new address is also part of UEM Sunrise's Happy+, a residential product series that categorises its offerings into five segments catering to diverse homebuyer lifestyles and life-stages needs.
The goal is to enhance the customer experience and incorporate innovative features into future products – an initiative resulting from years of extensive research and a deep understanding of customer behavior, with the aim of establishing a distinctive product identity.
Under the umbrella of Happy+, Residensi ZIG falls under the RISE series – properties positioned as attainable starter homes that prioritise practical living in a setting that emphasises simplicity, recreation, and convenience.
The RISE series is designed to cater to the dynamic needs of a diverse set of homeowners, from singles and couples with double incomes with no children, to young working adults, and first-time buyers seeking social connectivity, peaceful surroundings, and active lifestyles.
Thanks to its innovative, eco-centric architectural design, Residensi ZIG distinguishes itself from conventional living spaces.
Some of the well-thought-out, unique features, include open-plan living areas, urban yards that make efficient use of space, serving as places to relax or hang out clothes, and enhanced, spacious balconies that can be transformed into study areas, lounges, or extensions of the living area.
Holistic living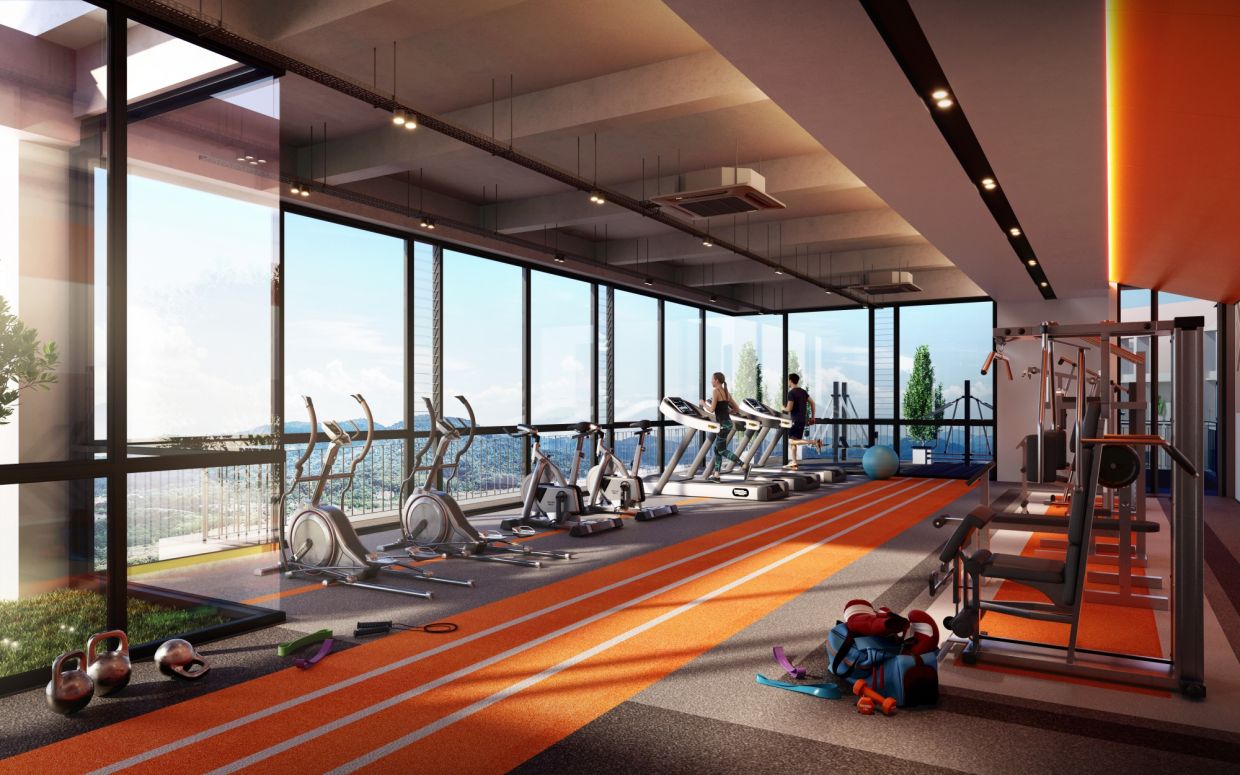 Residents can work out while taking in panoramic views at Residensi ZIG's gym – the Sweat Out Deck.
One of Residensi ZIG's biggest assets is its communal spaces that cater to residents of all ages and interests.
Nestled on Level 8 of the property is the recreation podium. This space, where residents can roam around the meadow, herb garden, and lawns, is also replete with yoga decks, exercise stations, sundecks, and pools for both adults and children, among other amenities.
The 35th and 37th floors are where residents will find music pods, dedicated gaming rooms, as well as study and seminar rooms.
The main attraction lies on Level 55 where residents can enjoy the Celebration Sky Deck – a place for gatherings and functions, equipped with barbecue facilities. On the same floor, residents can opt to work out at the Sweat Out Deck gym, use the sports court, or practise yoga.
Whether enjoying celebrations with family at a party or working out a sweat, there's a guarantee of sweeping vistas of the township.
Since Kiara Bay is also situated adjacent to the highly popular Kepong Metropolitan Park, homeowners of Residensi ZIG can also enjoy the great outdoors with activities like fishing, kite flying, and cycling at this beautifully manicured 95ha park.
Location, location, location
The Celebration Sky Deck at Residensi ZIG is equipped with BBQ pits.
Residensi ZIG's abundant, modern amenities, eco-centric design, chic apartments, and scenic settings are not the only draws.
Its strategic location and accessibility are prime reasons for the tremendous interest in this new development.
The entire township is easily accessible via major highways, roads, and networks that connect it to major hubs, including KLCC, Damansara, Sentul, Setapak, and Gombak via the Middle Ring Road 2 (MRR2), Duta-Ulu Klang Expressway (DUKE), Jalan Kuching, Persiaran Putra Bayu, the Putrajaya Mass Rapid Transit (MRT) line, and KTM Komuter line.
The advantage of its location also lies in the various amenities around this mature township, where medical centres, places of worship, shopping malls, educational institutions, and tourist attractions are all within close proximity.
For homeowners at Residensi ZIG, The Beat is a mere seven-minute walk away. This cool space is home to more than 22 retail outlets including crowd-favourites like Inside Scoop, Yin's Sourdough, Starbucks, French-Japanese eatery Miam Miam and Richeese Factory among others.
Within The Beat, residents will also find a football field for recreation and sports. Homeowners won't have to worry about getting their kitchen stocked either, as Village Grocer is slated to open its doors at The Beat in December 2023.
Live life BIG
With its abundant indoor and outdoor spaces for relaxation, recreation, and nature, along with numerous amenities and spacious, comfortable homes set amidst tranquil settings, Residensi ZIG was designed to be more than just a roof over one's head. This new development is set to redefine the way urbanites live.
Subscribe now to our Premium Plan for an ad-free and unlimited reading experience!