IN an increasingly disconnected world, it is more vital than ever for residential developments to nurture a sense of community.
Having shared spaces where people come together can help bridge differences and foster ties that would ultimately create a better quality of life for all.
That was Sime Darby Property's vision when it conceptualised the landmark Cantara Residences in its award-winning township of Ara Damansara in Selangor.
Its name, which derives from the Arabic word for 'bridge', is a nod to its unique architectural feature – a 168m-long, double storey, living Sky Bridge that links four 23-storey blocks.
The development has now received global recognition, as Cantara Residences won World Silver under the Residential Mid Rise category at FIABCI's World Prix d'Excellence Awards 2023.
This followed its earlier win in the same category at the FIABCI Malaysia Property Award 2022 recently in March. Both accolades are a testament to its distinctive design and premise.
When Cantara Residences was completed in May 2020, it earned an entry to the Malaysia Book of Records for 'The Longest Residential Sky Bridge' in the country.
Sime Darby Property sees the FIABCI World Prix d'Excellence Awards as a significant milestone for the company and one that speaks volumes about its longstanding dedication to excellence, sustainability and innovation.
It underscores the company's commitment to delivering high-quality and innovative residential developments that cater to the needs and preferences of modern home-buyers.
Additionally, it is also a testament to the work that TEAM Sime Darby Property put into creating world-class projects that raise the benchmark of residential developments globally and elevate the standards of design, construction and sustainability.
Recognised at the FIABCI World Prix d'Excellence Awards 2023, Cantara Residences was designed with sustainability in mind, demonstrated by its innovative outlook to home living.
Elevated premise
Cantara Residences arose from a confluence of ideas to create a distinctive, innovative, sustainable and marketable product that stood out against the township's many conventional buildings.
It was envisaged to become an iconic landmark for Ara Damansara, with the design addressing concerns of shared spaces and social needs in modern society while offering a multiplicity of indoor and outdoor spaces specific to the Malaysian context.
The goal was to create an urban resort living destination surrounded by a lush environment emulating Malaysia's tropical forests. However, there were some height constraints to be addressed.
Ara Damansara is located under the flight path of planes from the nearby Sultan Abdul Aziz Shah Airport (Subang Skypark Terminal), hence any structure is subjected to a maximum height limit of 122m by the Civil Aviation Authority of Malaysia (CAAM). This forced architects to get creative in maximising the permitted gross floor area.
They decided to create an extraordinary living experience by designing a cantilevered 'Living Sky Bridge' that currently houses 24 units of the development's overall 888 serviced residences.
These became some of the most sought-after units once Cantara Residences went on the market.
The project has since sold out. Additionally, the Sky Bridge's Level 18 rooftop was also designed to be a recreational area that connects the community.
There is lush landscaping and several wellness facilities. While construction was costlier and more challenging than conventional structures, the Living Sky Bridge gave the development a higher property value, asset value proposition and marketability.
Sustainability was another key factor. Cantara Residences was designed and built with a variety of environmentally-friendly features so that it may achieve the Green Building Index (GBI) Gold certification.
This includes photovoltaic panels, regenerative lifts, LED lighting with sensors for common areas, rainwater harvesting for landscaping and sustainable building materials.
Distinctive design
Cantara Residences' four towers are laid out in a staggered position so residents enjoy better privacy in every unit.
These are sized between 646sq ft and 2,077sq ft and are oriented to face true north and south. It effectively minimises heat generated by direct sunlight and mitigates the heat island effect common in urban high-rises. Sliding louvres on corner units provide extra shade while the use of low-emissivity glazing all around reduces ultraviolet (UV) light penetrating interior spaces.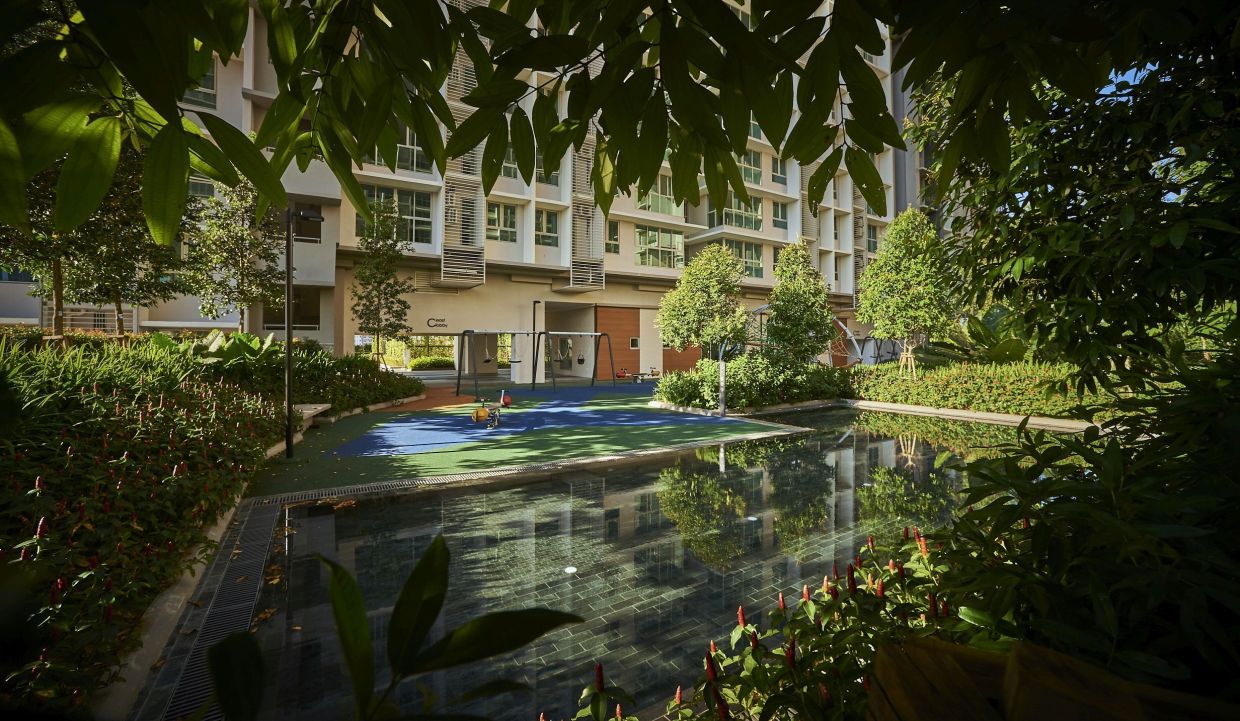 Riding the wave of the global sustainability movement, Cantara Residences features 3.2 acres of common facilities set within a refreshing urban forest.
The 3.2 acres of shared facilities at Cantara Residences are also surrounded by a revitalising urban forest, which has helped to increase the number of greeneries by 200% since the start of development.
These greeneries are spread across the Sky Bridge's rooftop as well as the resort-styled podium on Level 6, where the infinity pool, sauna, steam room, Jacuzzi, aqua gym, reflexology path and multi-purpose hall are located.
Cantara Residences, which also has 13 retail units on the ground floor, was designed and built using cutting-edge techniques to ensure safety, durability and comfort.
The use of Industrialised Building Systems (IBS), Starken autoclaved aerated concrete (AAC) bricks and reinforced lightweight concrete wall panels not only made construction greener and more efficient, but also gave the finished structure similar strength to conventional buildings whilst having less impact on site surroundings.
Building Information Modelling (BIM) solutions were also crucial as they provided the design team with clear views of the physical and intrinsic properties of the development in 3D.
This allowed structural, architectural, mechanical, electrical and plumbing aspects to be visualised and potential problems identified, long before the first brick was laid.
Despite the intricacy of Cantara Residences' design, it obtained a QLASSIC score of 82% in August
2020. This further underscored Sime Darby Property's commitment towards quality and reaffirms its status as one of the country's most reputable developers.
Ideal location
Residents enjoy good connectivity as Ara Damansara is a mature township situated near major expressways and vast networks of rail lines, affording easy access to various parts of the city.
Cantara Residences is also a transit-adjacent development (TAD), being just 500m from the
Lembah Subang LRT station. The Ara Damansara and Lembah Subang LRT stations are also nearby.
Other amenities in the vicinity include Sime Darby Medical Centre Ara Damansara (3km) and the Subang Skypark Terminal (5km). The Kuala Lumpur city centre is within 13km.
Advancing forward
Today, Cantara Residences has become an iconic landmark that enhances the Malaysian urban skyline. It is a priceless legacy to be admired and enjoyed by generations to come.
Sime Darby Property remains committed to developing this award-winning Ara Damansara township, guided by its Purpose to be a Value Multiplier for People, Businesses, Economies and the Planet.
Its Vision is to Advance Real Estate as a Force for Collective Progress in Harmony with the Planet's Resources. Winning the FIABCI World Prix d'Excellence Awards reflects Sime Darby Property's dedication towards excellence and innovation in all its projects.
Keep an eye out for Sime Darby Property's upcoming launch this year. It will be another freehold with purely residential title development in Ara Damansara.
The low-density project with three- to four-bedroom layouts will suit buyers from all walks of life. It has good access to the neighbourhood's retail offerings and is within walking distance to Lotus's Hypermarket and Oasis Square.
Get first-hand information by scanning the QR code on this page.
Subscribe now to our Premium Plan for an ad-free and unlimited reading experience!