Get kicking with fun-filled activities at JB City Square
WITH our population of 33.2 million Malaysians, there's no shortage of football fans out there.
Whether you have a budding professional in the family or a rookie looking for avenues to play, you can ignite your passion for the sport when you visit Johor Bahru City Square Mall for their Football Fest 2.0 this year.
From now until June 25, shoppers who spend a minimum of RM100 in a maximum of two (2) receipts at JB City Square can redeem game stamp cards and promotional vouchers, or RM300 in a maximum of three (3) receipts can redeem two game stamp cards, cash vouchers and an exclusive gift too. Alternatively, you can pay RM15 at the Football Fest Event Area to join in on the fun.
Shoppers can participate in the kids football field, FIFA esports video game, under-the-table football, foosball (table football) and strike-for-goal games to collect stamps.
Once you collect all the stamps, you'll be eligible to join the JBCS Football Fest 2.0 Lucky Draw for some gifts including a grand prize of a RM5,000 travel voucher for you and your plus one.
The strike-for-goal game will put your accuracy to the test.
JBCS Kids Football Competition 2.0
For all the young footballers between seven to 12 years of age, this is the time to shine as an ace on your team of five.
Visitors can watch and cheer for budding pros as they compete in the JB City Square Kids Football Competition when the competition kicks off with the preliminary rounds on June 3 and 10.
Prizes for these fun and adrenaline-boosting matches include attractive merchandises, cash vouchers, trophies and medals for the teams that make it to the podium.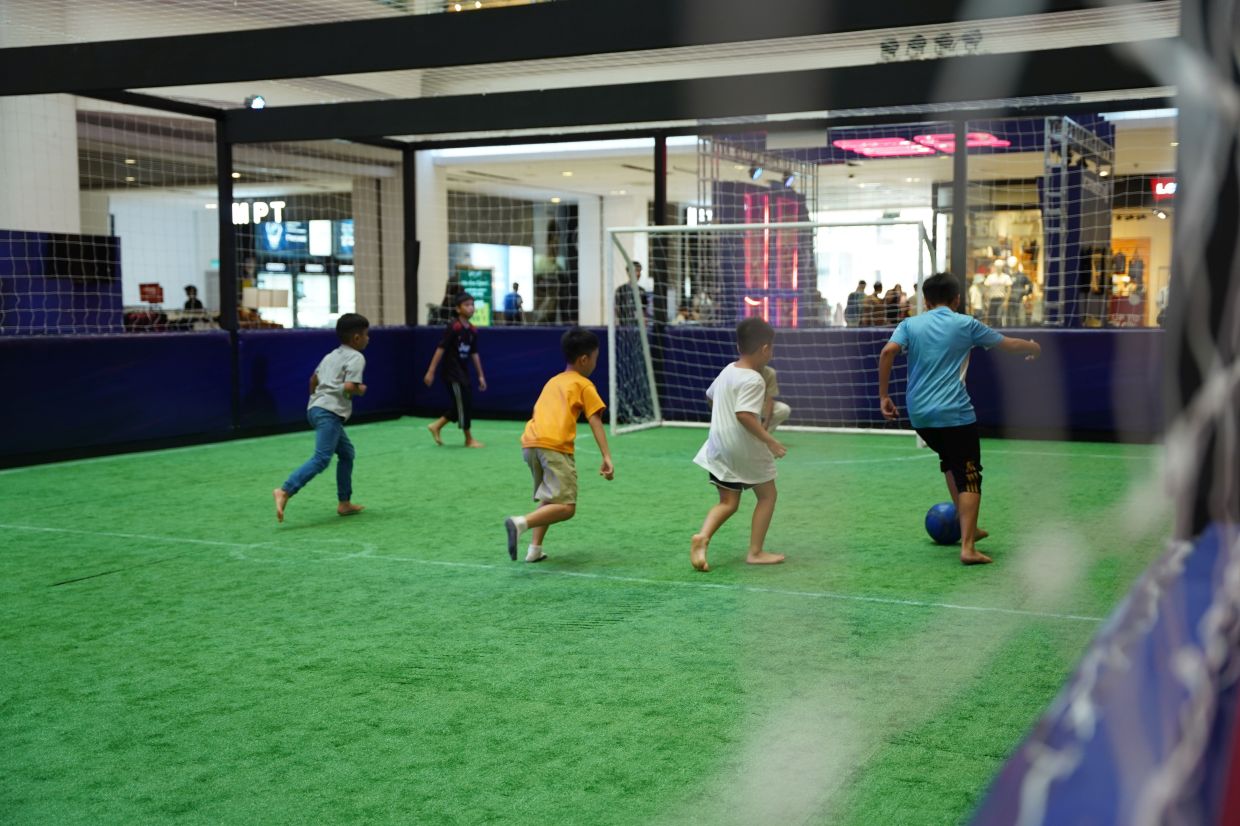 Young football fans can take to the field and play in friendly matches.
Get coordinated
That's not all that's happening at JB City Square. If you have good footwork, why not try out the soccer juggling battle?
This contest is divided into three categories, with three winners from each category:
> Category A (under 12 years old)
> Category B (under 18 years old)
> Category C (above 18 years old)
Prizes for winners include JBCS cash vouchers and mini football.
The soccer juggling battle is only available for one day on June 24 at 1pm so be sure to come early and limber up.
Find your favourite team's jersey at the Instagram-worthy spots at JBCS Football Fest 2.0.
Unleash your creativity
From now until June 18 too, there will also be a 'design a jersey' contest open to all shoppers.
To join, simply download the template from their official Facebook page. Then all you have to do is print the template out and get your creative juices flowing by using any medium to design your jersey.
Don't forget to send your jersey photo to Johor Bahru City Square's Facebook Messenger between now and June 18 to stand a chance to be announced as a winner on June 26, after the voting period ends.
The top voted design will stand a chance to win JBCS cash vouchers, mini football and a Vans bag.
Don't wait any longer to flex your footwork or to have an enjoyable family outing at Johor Bahru City Square. Visit the official Facebook page for more information.
Subscribe now to our Premium Plan for an ad-free and unlimited reading experience!