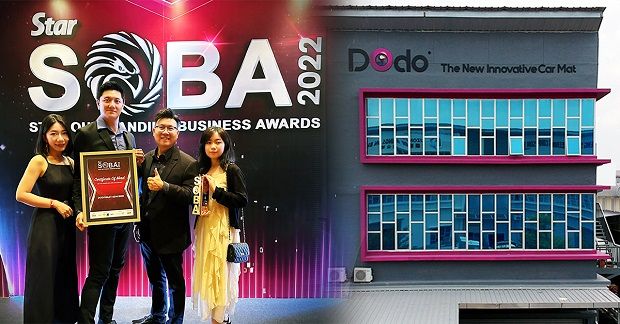 (From left) regional sales manager Amelia Tan, business development manager Theirry Tan, digital advertisingmanager Augustine Lim and social media manager Neicia Foong.
Dodomat Sdn Bhd's win shows its successful e-retail leverage
AS the recipient of the Meritorious Award for the Best in e-Retail in SOBA 2022, Dodomat Sdn Bhd has won many of its loyal customers over with its double-layer car mats.
This Malaysian company then positioned its business towards e-retail platforms such as Shopee, Lazada and its own website (www.dodomat.com.my) in order to reach its customers.
This move allowed it to reach a wider audience and offer products and services to customers who prefer online shopping.
Established in 2017, the company made a name for itself as a leading purveyor of high-quality dual-layer car mats in Malaysia and beyond, replacing the traditional car mat in terms of safety and durability.
It received the Asia Automotive Award 2019 and Asia eCommerce Award 2022 for its innovative product design and customer-focused approach.
With a focus on customisation, innovation and customer satisfaction, Dodomat has established itself as a trusted and reliable brand in the automotive industry.
The company's core product— the double-layer car mat— is designed to offer maximum protection to car floors using durable materials that are resistant to wear and tear, spills and stains.
The mats are also easy to clean and maintain, making them a popular choice for car owners who want to keep their vehicles clean and well-maintained.
Dodomat's car mats have the unique quality of a customisation option, which allows the company to custom fit over 1,000 car mat models.
This makes it possible to create a bespoke solution for any type of vehicle in the market, which is an instant hit with car enthusiasts and owners alike.
Customers can choose from a range of colours to create the perfect car mat for their needs.
This level of customisation has helped Dodomat to stand out in a crowded market and attract a loyal customer base.
Besides just having online retail for the mats, the company also engages in direct sales to customers through its sales team, who are trained to provide excellent customer service and support.
Dodomat's commitment to quality and customer satisfaction has helped it to establish a strong reputation in the industry.
The company's manufacturing processes utilise the latest technology and equipment to ensure that its products meet the highest standards of quality.
Furthermore, the company is always looking for ways to improve its products and services to meet the evolving needs of its customers.
Winning the SOBA 2022 Best in e-Retail Meritorious Award is another feather in the cap for this reputable and reliable company, as it strives to offer suited solutions for car mats in Malaysia.
In addition, its focus on innovation and customer satisfaction has helped it to establish a strong brand in the automotive industry and position itself for continued growth and success in the future.
Subscribe now to our Premium Plan for an ad-free and unlimited reading experience!