UNIVERSITI Teknologi Petronas (UTP) and its partner universities in Indonesia have reaped the benefits of a relationship borne out of openness, trust and expedient decision making.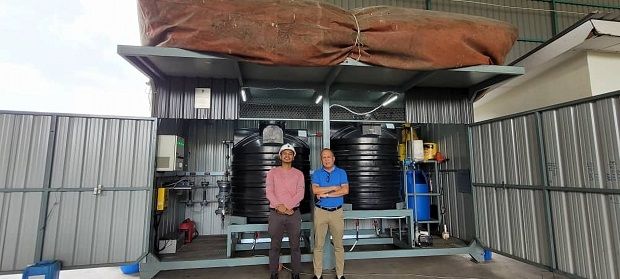 i-Adac, an integrated anaerobic digester and aerobic composter, converts organic waste into biogas and compost. It was developed in conjunction with UTP-Universitas Muhammadiyah Surakarta collaborative research.
UTP's collaboration with partner universities and research institutions in Indonesia, forged through its Indonesia-Malaysia Industrial and Institutional Initiatives (IMIII) in research and innovation, has reached a tangible milestone with two projects currently at the pre-commercialisation stage.
IMIII country project manager Dr Muslich Hartadi Sutanto says the two projects, Preditack and SimonKori – which were respectively developed by UTP and Universitas Ahmad Dahlan – will undergo field-testing in Malaysia and Indonesia.
Both projects harness the technologies of IR4.0 for the agriculture sector, which is a critical economic sector for both countries.
Preditack is an IOT-enabled device for scanning, forecasting and immobilising golden apple snails – a notorious pest found in paddy fields.
SimonKori, on the other hand, is an automated monitoring and control system for hydroponic agriculture.
"We will be field testing Preditack in Indonesia and SimonKori in Malaysia sometime this year. We're working together to achieve this, and this speaks of the win-win nature of the IMIII," says Muslich, adding that the goal is to enhance and upscale the innovations to include predictive analytics to optimise costs and improve yields.
The beginnings of the IMIII can be traced to January 2017 when UTP hosted a visit from Universitas Pertamina Indonesia, whereby the two universities discussed ways in which they could work together.
By August 2017, UTP deputy vice chancellor research, innovation and commercialisation Prof Ir Dr Mohd Shahir Liew had formed a task force to develop a strategy for the prospective collaborations.
It was from here that strategic partners – namely universities, research institutions as well as industry – were identified.
At the strategic meeting with the Muhammadiyah Higher Education Council.
UTP's partner universities under the IMIII include Universitas Pertamina, Telkom University and Muhammadiyah Universities, while government institutions and industry players include the Directorate General of Oil and Gas Indonesia and Pertamina, Indonesia's national oil and gas corporation.
At the strategic meeting with Universitas Muhammadiyah Surakarta.
"The key activities under this partnership are aligned under research, academic and student collaborations. The partnership explores subject areas such as infrastructure, oil and gas, telecommunications, digitalisation, science and the humanities," says Muslich, adding that IMIII has 161 ongoing and completed collaborative projects.
"We average two publications per project and include the participation of one postgraduate student and two undergraduates."
More collaborations underway
In hailing the progress of the IMIII, Muslich is quick to point out that much of the success of UTP's collaboration with its partners in Indonesia is the result of the trust, openness and expedient decision-making of all parties.
"We complement each other, and because we're in it for the long-haul we are focused on mutually beneficial outcomes.
"We want to capitalise on technology to develop solutions that will benefit both Malaysia and Indonesia," he adds.
With two projects currently on the cusp of commercialisation, UTP is eager to advance other research projects to the next stage.
A recently inked letter of intent with Universitas Muhammadiyah Surakarta for a three-year research and commercialisation initiative in sustainable energy and smart community is another key turning point for UTP's partnership with Indonesia.
It is expected to be a shot in the arm for future collaborations between the two institutions.
On top of this UTP has also inked agreements for double-degree programmes with several Indonesian universities, including Institut Teknologi Sepuluh Nopember, Surabaya and Universitas Pertamina.
Under this programme students from these universities will complete their degrees at UTP; the maiden batch commenced their stint in 2021.
UTP hosted a one-semester credit transfer programme for 13 students from Indonesian universities last year with funding support from the Indonesian Education, Culture, Research and Technology Ministry.
Over the course of the programme, the students conducted research and drafted research publication articles, with one later joining UTP as a postgraduate student.
"Even though the pandemic did not put the brakes on our collaboration, we are expecting the pace of our collaborations and engagements to pick up in 2022," says Muslich.
The Indonesian initiatives have potential to grow laterally and vertically in academics, research, and technological advances.
It is hoped that the medium term would be to collaborate in the energy sector, digitalisation, healthcare analytics, and nexus of research products beyond technology readiness level three.
The impetus arising from collaborative efforts can be expanded into student exchange, faculty exchange, and academic venture. As a big economy in the Asian region, Indonesia is poised to grow significantly in the education and research sector.
Subscribe now to our Premium Plan for an ad-free and unlimited reading experience!