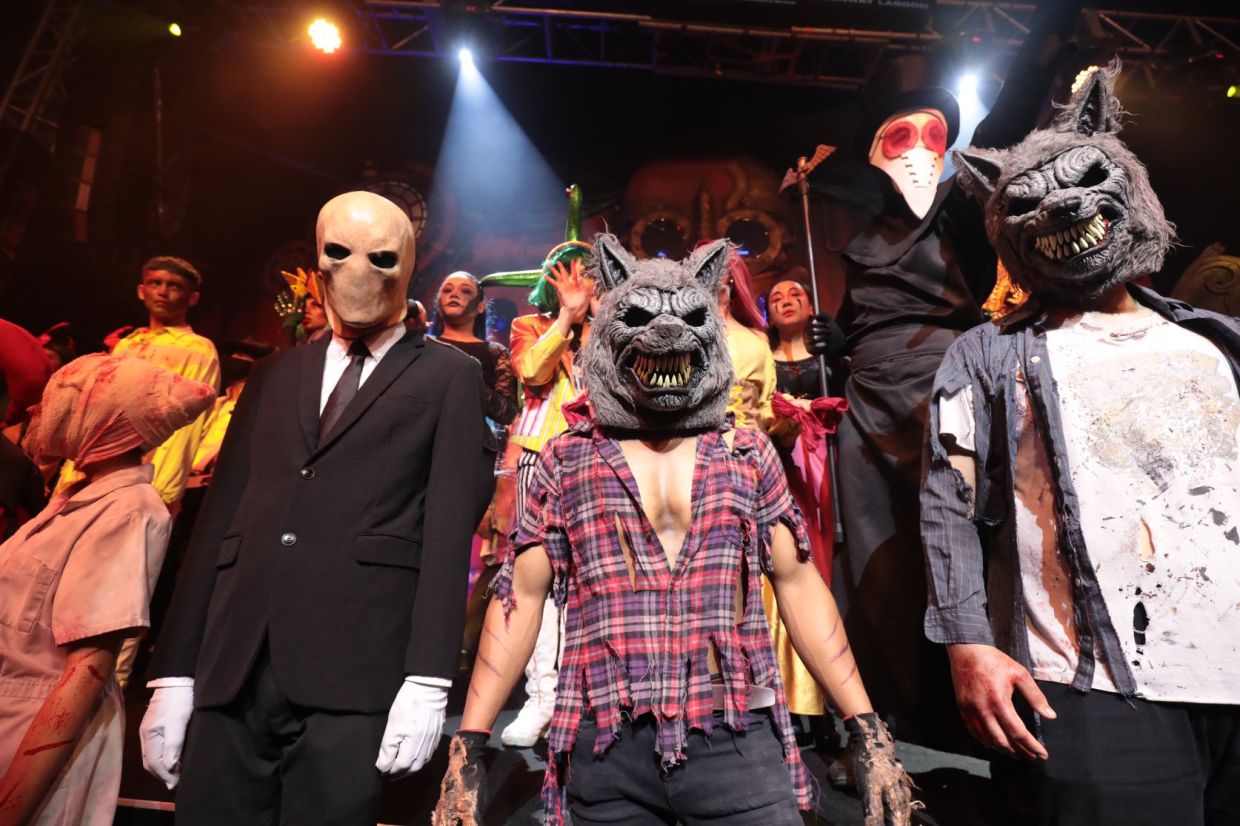 Are you scary enough to be part of Sunway Lagoon's Nights of Fright 8 crew?
Sunway Lagoon's Nights of Fright 8 is back serving up a frisson of excitement.
AFTER two years of hiding in the shadows of the Covid-19 pandemic, Nights of Fright 8 (NOF8) is back at Sunway Lagoon with the spookiest, scariest and most spine-tingling line-up of frights from Sept 30-Oct 31.
It is said that The Fear Festival will only come alive every Friday, Saturday and Sunday for 16 nights at the theme park in Selangor with an array of attractions to terrify thrill seekers starting with the premiere Opening Fright on Sept 30.
Nights will be full of terror (from 7.30pm to 11.30pm) with eight haunted houses, one haunted theatre, two scare zones, 11 thrilling rides and three show stages.
Not acting alone, Sunway Lagoon's iconic and multi-award winning scare fest will be curated and produced by The Sudden Impact! Entertainment Company chairman and global creative director Lyton V. Harris.
Producing and promoting shows, attractions and content spanning four continents, The Sudden Impact! Entertainment Company's diverse range of venues include Madison Square Garden in New York City, Warwick Castle in England and Madame Tussauds in London, New York, Las Vegas, Amsterdam, Shanghai and Hong Kong.
The award-winning company has played and toured in theme parks in Australia, the US, Canada, Mexico, Hong Kong, Indonesia and, you guessed it, Malaysia.

Sunway Lagoon's Nights of Fright 8 serves up a galore of gruesome delights for fans of the macabre.
Hop on board the spooky train
Worldwide we have seen thrill seekers take on the spookiest attractions.
A quick search on YouTube would have you find brave souls – and celebrities alike – venturing into haunted houses.
You would think that these encounters would not be funny, but thanks to GoPro cameras, The Tonight Show's Jimmy Fallon and comedian Kevin Hart's fright turned to delight for some viewers.
Braving what was dubbed New York's scariest haunted house Blood Manor, the duo's petrified antics made for entertainment.
However, this isn't the first show to bank on a haunted house's comedic value. The Ellen DeGeneres Show executive producer Andy Lassner reigned supreme for years.
At the theme parks' fear festival you would have your fair share of entertainment with eight haunted houses to explore and they mean serious business as it is strictly for people aged 13 years and above.
Set to scare your socks off, whether you're a superfan in for a ghoulish culinary experience or a courageous sceptic, the theme park's spooky advice is to never wander alone.
Choose from an array of different themes to pique your interest such as 99 Doors: Possession in the Penang Plantation, Blood Shed 2, Horrorwood Studios, The Hotel Deville, Lucha Libre in UV3D, Lycan: The Werewolves of London, ScarytalesTheater, Sharknado Alive!, The Harvest and Zombie Hunter.
You are invited to extend your blood-curdling experience with Sunway Lagoon's thrilling packages.
Whether you're an adventurous traveller or you simply can't get enough of the theme park's spine-chilling activities, you can optimise your ghastly nightmare and book an exclusive, once-in-a-lifetime staycation.
Pick between its Howl-o-ween package at RM239, Fangtastic package at RM839 and the Full Moon package at RM939 from Aug 17.
This section of NoF8 looks like a proper slaughterhouse. Enter at your own peril.
Be part of the scare team
Now if facing your fears is not for you but you love to be the one scaring instead, well, Sunway Lagoon has a job for you. It will be hosting auditions for you to stand a chance to "be part of the fear" and join one of the scariest shows in Malaysia and get paid too.
If you have experience or are skilled in acting, dancing, singing, things musical, cheerleading, parkour, gymnastics, stunts, sporting activities, juggling, ultimate frisbee or cosplay, head over to Sunway Lagoon Tribal Council via the Surf Beach entrance from now till Sept 4 (9am-5pm) to audition.
You would need to be at least 17-years-old, Malaysian and don't forget to bring a photocopy of your IC with you.


For more information on the spookiest fest in town, visit https://sunwaylagoon.com/nof8/. Tickets and packages are sold online at the Sunway Lagoon's e-store at RM118 per admission from Aug 17. Alternatively, follow Sunway Lagoon's social media for updates and share your fang-tastic pictures with them.
Subscribe now to our Premium Plan for an ad-free and unlimited reading experience!