Amri daydreaming about becoming a famous guitar player.
KUALA LUMPUR: PETRONAS has released its Malaysia Day film titled 'Rai' – a story depicting the spirit of friendship and unity, bound by iconic songs of yesteryears.
Amri and Maniam remain friends on their last day of work.
Set in 1986, the film follows Amri and his friend, Maniam, who have moved to Kuala Lumpur to fulfil their duties as PETRONAS employees.
This exciting relocation sees the two friends participate in the Pacific Asia Travel Association (PATA) conference which coincides at the same time and place with the late Sudirman Arshad's momentous public concert in Chow Kit. There, Amir falls in love at first sight with Su Lin, a dance performer for the concert.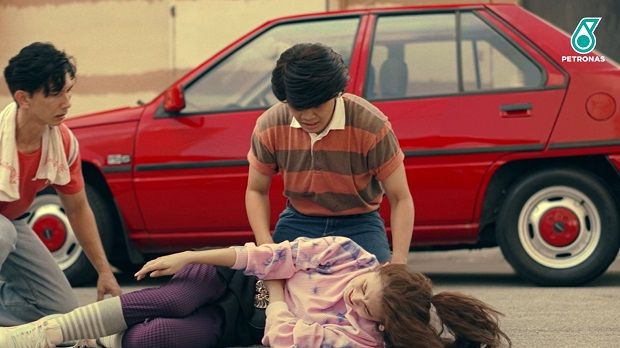 Amri and passersby rushed to help an injured Su Lin.
However, an unexpected course of events changes the trajectories of their lives.
"Our Malaysia Day film is inspired by the nostalgia and melody that continue to unite people across generations and cultures in Malaysia," said PETRONAS general manager (group strategic relations and communications M. Fazli Ibrahim.
"Embodying the festive theme for 2023, 'Roots of Our Future', this film centres on the shared history and heritage which have united Malaysians throughout the years.
"We are also pleased to launch this film in conjunction with PETRONAS' 49th Anniversary. For us, this nearly five-decade milestone shares the same spirit as the Malaysia Day film, where past success lays the foundation for future progress," he added.
Malaysians of all races came together to enjoy Sudirman's concert.
The film also features the song 'Warisan' by Sudirman, courtesy of Sony and Universal Music.
Watch 'Rai' with family and friends on PETRONAS' Facebook page and YouTube channel.
Subscribe now to our Premium Plan for an ad-free and unlimited reading experience!