PETALING JAYA: With the current economic challenges, the 5.35% dividend by the Employees Provident Fund (EPF) for 2022 is considered good for contributors, say economists.
Sunway University Economic Studies Programme director Prof Yeah Kim Leng called it laudable given last year's challenging local and international financial as well as capital market conditions.
The Russian-Ukraine conflict and spikes in inflation and interest rates weren't of help either, he said.
ALSO READ: RM145.5bil in EPF withdrawals made since 2020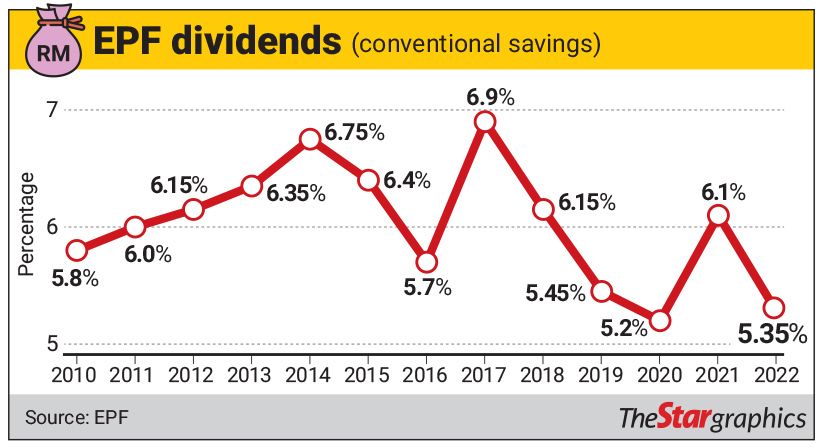 CLICK TO ENLARGE
"Though lower than last year's 6.1%, the 5.35% is above earlier expectations that were close to 5%," said Prof Yeah.
"The performance is also respectable as the fund had to adjust its portfolio to meet the large withdrawals allowed as part of the Covid-19 pandemic support packages," he said in response to EPF's announcement yesterday.
The EPF declared a dividend rate of 5.35% for conventional savings, with a total RM45.44bil payout, as well as 4.75% for syariah savings. This amounts to RM5.7bil in payout.
ALSO READ: When wages go up, so will EPF's funds, says CEO
In total, EPF will be paying RM51.14bil to contributors.
As for unhappiness among contributors over the dividend rates, Prof Yeah said it is not surprising for them to compare EPF returns with other pension funds as such funds are typically more conservative and earn lower but have more stable returns.
"By contrast, funds that generate higher returns entail taking higher risks. Therefore, many growth funds are earning much lower returns because of the financial market downturn in 2022 as evident by the nearly 20% decline in the Global MSCI (Morgan Stanley Capital International) benchmark," he pointed out.
ALSO READ: Low wages must be addressed, 81% of active EPF members earn RM5,000 or less
Economist Datuk Jalilah Baba said EPF's dividend rate still exceeded many pundits' expectations.
"People will still receive payouts, which is a good sign. Perhaps it may not be what was expected but even I expected it to be around 4.5% to 5%.
"Based on EPF's calculations, they can still afford to give people money, so it is good news for contributors. On the average, this is considered stable.
"If people were to compare, say with 2017 with its 6.9% dividend rate, you also have to look at the economy at the time because now the situation is totally different and filled with uncertainties.
ALSO READ: COMPETITIVE RETURNS AMID TOUGH INVESTMENT CLIMATE
"As such, the scenario has to adjust to the collection they have," she said.
Meanwhile, corporate executive P. Suganya, 37, from Subang Jaya, Selangor said if EPF continued to give lower rates than previously, Malaysians might have to set aside their savings for other investment schemes as they might not have enough EPF savings for their retirement due to the volatile market.
However, she said most Malaysians could not afford to set aside part of their income for investments due to the high cost of living as well as the anticipated recession.
"This is worrying and the EPF is a fixed and reliable investment most Malaysians rely on. And the contributions are automatic and accounted for," she said.
ALSO READ: EPF's assets under management drop for first time since 1985
"EPF has to be cautious in its investments in the current volatile market since the fund cited this as a reason for the lower gross investment returns," she added.
Facebook user T. Gopal Thirumalai commented that even though people were worried about the shrinking size of the funds in EPF, it was important to know that good fund managers would get rid of low-yielding investments, shares and assets that actually give better returns.
"When high returning funds are no longer available and your fund size keeps increasing every month, what would you do with excess funds, month after month?
"On top of that, unlike instruments with fixed dividends, when you invest in shares, you cannot predict future returns.
"A share with historical high returns can become the opposite during uncertain times.
"At that time, you decide on what to do," he posted on the social media platform.
Subscribe now to our Premium Plan for an ad-free and unlimited reading experience!