PETALING JAYA: More than 30 locations nationwide have been identified as landslide hotspots and with the current continuous rain, the potential for landslides is even higher.
The Mineral and Geoscience Department Malaysia said the continuous rain during the northeast monsoon, which is expected to last until March next year, is the main reason why areas with slopes exceeding 25° are at risk of erosion.
"This current monsoon phenomenon can result in the potential for landslides being higher – especially in settlement areas with slopes exceeding 25°, paths on hillsides and river basin areas in some eco-parks," it said in a statement.
CLICK TO ENLARGE
The department added that the hotspots are in Pahang (Cameron Highlands, Fraser's Hill), Selangor (Bukit Antarabangsa-Hulu Langat, Kuala Kubu Bharu), Kedah (Gunung Jerai, Baling), Penang (Tanjung Bungah, Paya Terubong), Negri Sembilan (Genting Peras, Jalan Seremban-Simpang Pertang), Perak (Ipoh, Kledang), Terengganu (Aring-Kuala Berang-Kenyir), Kelantan (Lojing - Gua Musang), Johor (Gunung Pulai), Sarawak (Miri, Kapit, Bau) and Sabah (Kota Kinabalu, Kundasang, Sandakan), among others.
The areas are under constant monitoring by the department and relevant agencies, it said.
The Energy and Natural Resources Ministry and its agencies, which include the department, have also been evaluating, supervising and implementing landslide risk reduction programmes throughout the country.
"A total of 25 eco-parks, which are tourist attractions, have been identified as potentially threatening with the occurrence of debris flows mapped.
"These areas have been installed with an early warning system while community-based disaster risk management has been set up involving local residents and agencies at the district level," the department said.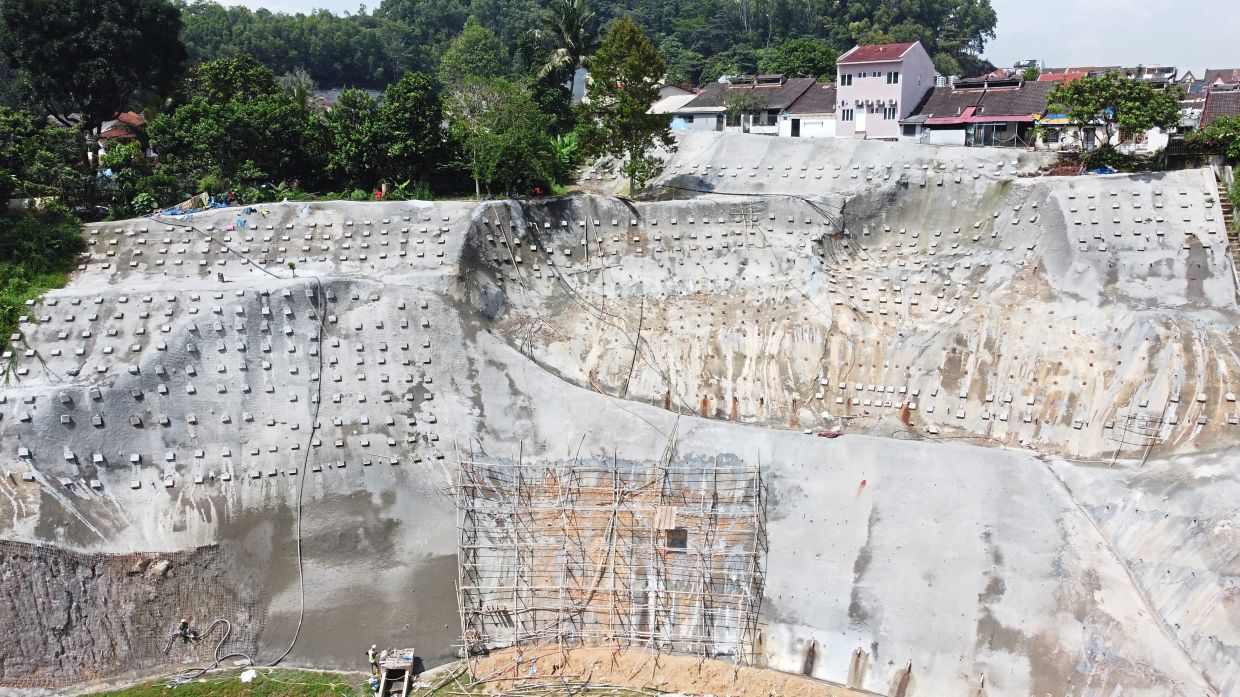 The Malaysian Institute of Public Works personnel helping to rehabilitate landslides at Taman Mega Jaya in Ampang, including shoring the areas with concrete. — IZZRAFIQ ALIAS/The Star
Under the programme, local residents are trained to improve their level of preparedness against landslides.
The department said it is also working with local authorities to map slope hazards and risks.
"The department is committed to delivering early information related to landslide geological disasters including working hand in hand with other technical agencies under the National Disaster Management Agency to develop a network of early warning systems, including public awareness to reduce the risk of loss of life and property damage," it added.
Last month, the Meteorological Department said the northeast monsoon phase will persist until March next year.
Subscribe now to our Premium Plan for an ad-free and unlimited reading experience!