YANG di-Pertuan Agong Al-Sultan Abdullah Ri'ayatuddin Al-Mustafa Billah Shah and Her Majesty Raja Permaisuri Agong Tunku Azizah Aminah Maimunah Iskandariah were among hundreds of dignitaries who were invited to attend the coronation of Britain's King Charles III recently.
Like many spouses of heads of state, the Raja Permaisuri Agong has no stipulated role in the Federal Constitution.
Tunku Azizah accompanies the Yang di-Pertuan Agong to official functions and state visits, as well as hosting visiting heads of state and their spouses.
Her Majesty had previously revealed to an English daily that her outfit for the coronation of King Charles and Queen Camilla was crafted by none other than the inmates of the Penor Prison.
Tunku Azizah speaking at Istana Negara, Kuala Lumpur, to announce details of the Malaysia's Heritage Crafts exhibition organised as part of London Craft Week. ‒ Kamarul Ariffin/The Star
The bright yellow "tenun" modern kurung, designed by Tunku Azizah herself, was initially created to be worn during Sultan Abdullah's coronation as the Yang di-Pertuan Agong in 2019.
But it was deemed unsuitable for the event, following the passing of her father-in-law, Sultan Ahmad Shah Al-Musta'in Billah in May of the same year.
Their Majesties' photos at the coronation went viral on social media as well as on various international media platforms.
Tunku Azizah said that her outfit has so far been limited to official photo sessions.
Her Majesty has been known as a long-time proponent of the Royal Pahang weave, which is created by inmates of the Penor and Bentong prisons in Pahang.
Her Majesty meeting a student artist who had his artwork displayed at the corridors of Istana Budaya during the royal concert. - CHAN TAK KONG/The Star
Tunku Azizah is a staunch promoter of the traditional silk weaving technique of Tenun Pahang Diraja.
Through Tunku Azizah's efforts and encouragement, inmates at the Bentong and Penor prisons are learning to weave and are being equipped with job skills for when they get released.
As the wife of Sultan Abdullah for more than 30 years, Tunku Azizah has won the affection of the people of Pahang and Malaysia as a whole.
During times of crisis, Tunku Azizah – who is known for her humility – would roll up her sleeves and prepare food for the people.
Her Majesty had shown compassion and was on the ground to provide food to flood victims during a challenging period at several temporary evacuation centres (PPS) in Kuantan, Pahang.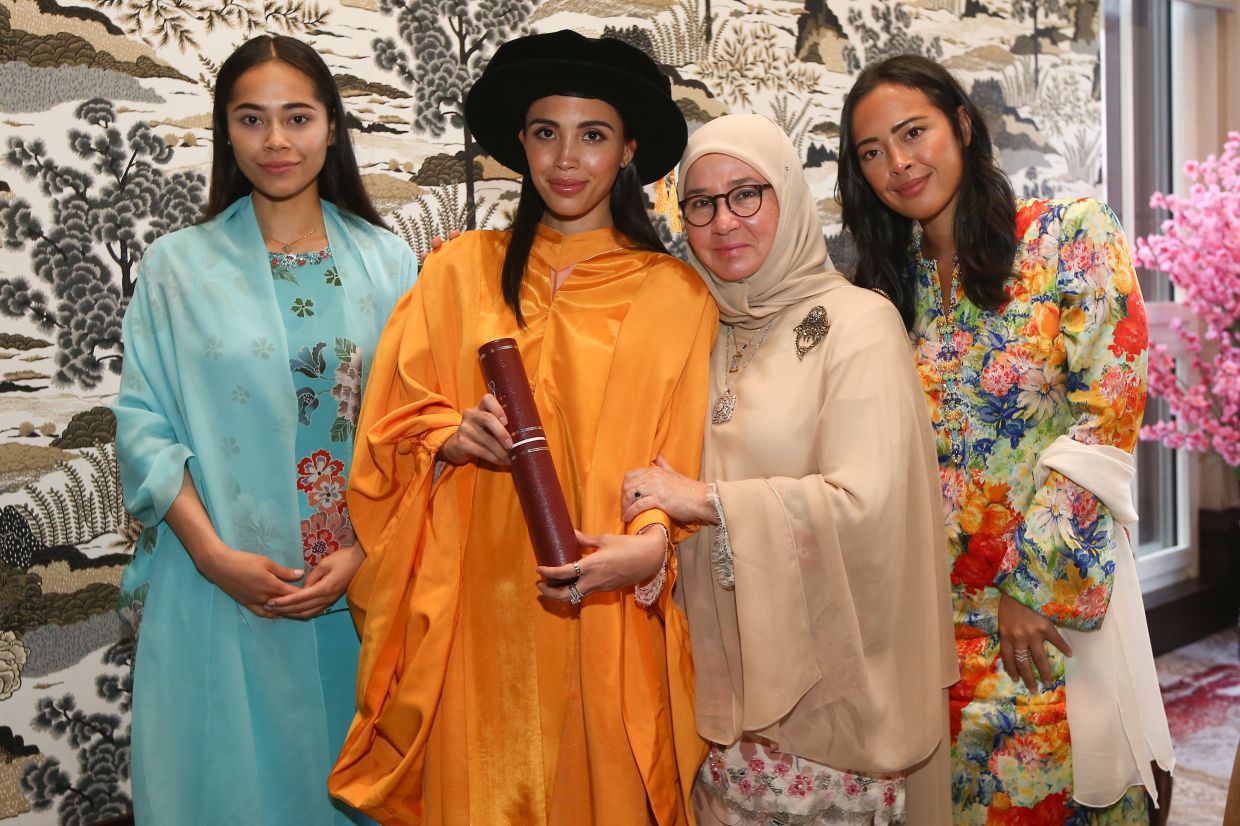 Her Majesty and Tengku Puteri Iman Afzan (third and second from left, respectively) being flanked by Tengku Puteri Ilyana (far left) and Tengku Puteri Ilisha Ameera (far right). - IZZRAFIQ ALIAS/The Star
The Queen had even cooked for the frontliners battling the Covid-19 pandemic.
Tunku Azizah was born at Istana Bukit Stulang in Johor Baru on Aug 5, 1960, to Almarhum Sultan Iskandar and Almarhumah Enche' Besar Hajah Khalsom Abdullah.
Tunku Azizah's brother Sultan Ibrahim Ibni Almarhum Sultan Iskandar is the Sultan of Johor.
Tunku Azizah studied at Sekolah Taman Kanak-Kanak Tunku Ampuan Mariam, Sekolah Rendah Perempuan Sultan Ibrahim and Sekolah Tun Fatimah, Johor Baru.
Her Majesty married Sultan Abdullah in March 1986.
Tunku Azizah visiting the London Craft Week exhibition in Belgrave Square, in May 22. - Bernama
Tunku Azizah is known to be passionate in various fields of the arts, with cooking being one of her favourite activities.
Like the Yang di-Pertuan Agong, the Raja Permaisuri Agong is not allowed to hold any appointment carrying any remuneration and shall not actively engage in any commercial enterprise.
The Parliament, however, is legally required to provide a Civil List of the Yang di-Pertuan Agong which shall include provision for an annuity to be paid to the Raja Permaisuri Agong.
Tunku Azizah is active in social and charitable movements.
Her Majesty is the vice-president of the Girl Guides Association of Malaysia and also the founder of the Tunku Azizah Fertility Foundation.
Subscribe now to our Premium Plan for an ad-free and unlimited reading experience!