PROPERTY developer NAZA TTDI Sdn Bhd donated a kidney dialysis machine and other equipment worth RM69,000 to the Persatuan Dialisis Touch (PDT), a non-profit charitable dialysis centre in Kota Damansara recently.
NAZA TTDI chief operating officer Eng Kim Leng presented the equipment to PDT president Andrew Ng and hoped it would help the centre cope with the rising number of end-stage renal failure patients.
"NAZA TTDI's commitment to community support will still continue despite the global economic challenges.
"We hope that this contribution will meet the needs of the poor dialysis patients," he said.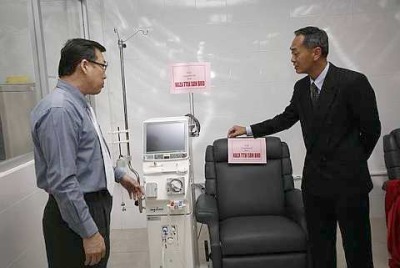 Eng said one of the company's major charitable events was its Charity Golf Tournament that netted more than RM1mil this year.
The collection, which had been donated to more than 180 charitable bodies recently, brings the total collection so far from the event to RM3.2mil since its inception in 2003.
Ng said PDT depended on public support to fund its operations and thanked NAZA TTDI for its contribution.
"With the new equipment, we now have a total of 12 dialysis machines to help save 66 patients' lives.
"Many such patients could not afford the high cost of haemodialysis treatments at private hospitals or private dialysis treatment centres.
At PDT, with government subsidies, a patient will only be charged RM60 per dialysis session," Ng added.