A difference in cultures is no hindrance for pupils at a Tamil school in Johor Baru in terms of learning and performing zapin, a traditional Malay dance.
SJK(T) Masai teacher Khasturi Ramalingam, who oversees the school's cultural arts club, said zapin had long been part of its extra-curricular activities, along with Indian dance and drama class.
She said when the school was selected as a cluster school a few years ago, its niche was Tamil language, zapin and badminton.
"Unfortunately, the Covid-19 pandemic put a stop to this.
"When things resumed later, we found it difficult to restart the zapin activities as the previous teacher in charge was transferred to another school and we were without proper dance trainers," she said.
However, it all changed when Khasturi received a telephone call from Radio Televisyen Malaysia (RTM) in Johor last year, requesting for the school to perform in the Zapin Permata Jauhar programme.
"I had mixed feelings at the time.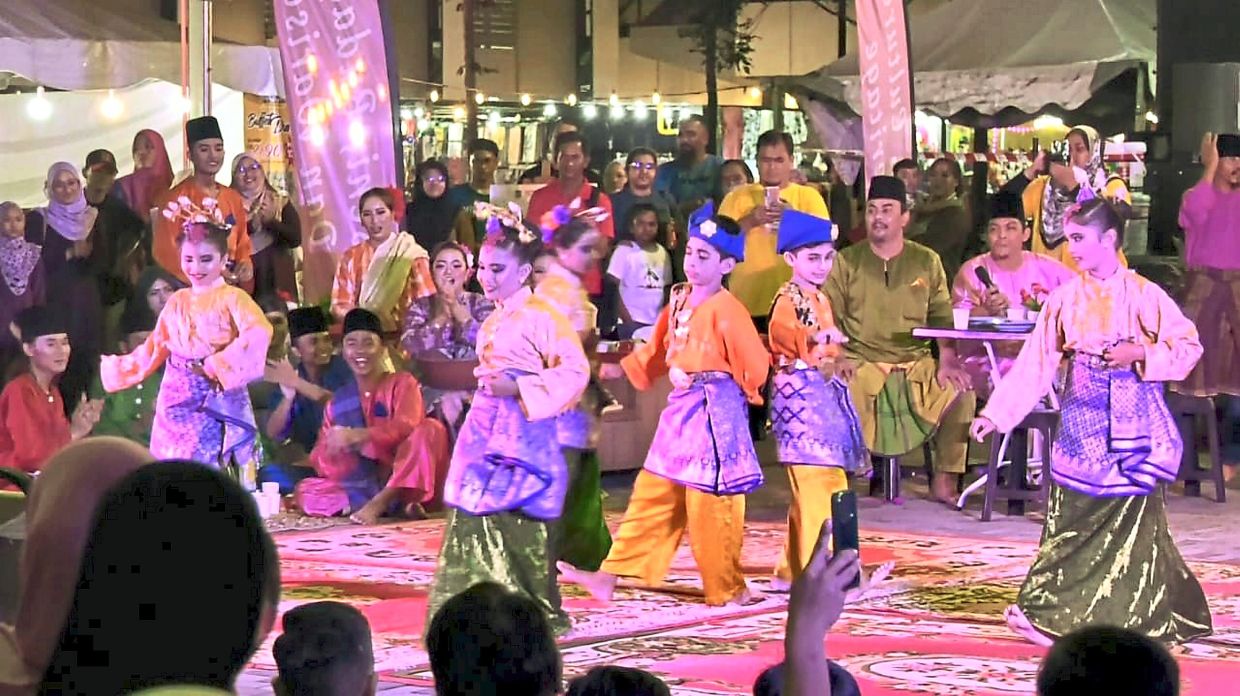 SJK(T) Masai's team of zapin dancers performing at Zapin Yok! @B5 competition in Johor Baru.
"While it was too good an opportunity to pass up, our dance team had been stagnant and I did not have any experience in teaching zapin.
"Luckily, RTM agreed to our request for a dance trainer.
"With less than two weeks to prepare, we dove into it and held an audition to pick out 12 pupils from Year One to Three," she said.
She added that more than 70 pupils showed up for the trial.
"Not only were the pupils excited to learn something new, the parents were supportive too – they learned to apply the children's makeup and style their hair to suit the performance, besides shopping for costumes and accessories.
"The performance was a success and the programme actually reignited the school's interest in the dance.
"We have been having regular lessons and practice sessions.
"We sent a team of eight pupils aged seven to nine to compete in the Zapin Yok! @B5 competition recently," she said, adding that the school had a designated studio for the pupils' practice sessions.
"Although we only got a consolation prize, I advised my pupils not to be disheartened but to observe how others dance and make it a learning experience.
"Next year, we aim to participate in more competitions and I hope the school will continue to pursue excellence in zapin," said Khasturi, who believed that the dance taught students valuable qualities including respecting elders and responsibility.
She said SJK(T) Masai was also doing well in other areas — winning a gold award at the recent Hong Kong English Drama competition and being crowned champion at a national-level drama competition in Bahasa Malaysia.
Persatuan Penggiat Zapin Negeri Johor president Ab Razak Rahmat encouraged more schools, private corporations and the public sector to participate in and promote the traditional dance.
"Events such as Zapin Yok! , organised by Johor Corporation Foundation in collaboration with the state's national culture and arts department, was not merely a competition but a platform to strengthen the audience's knowledge about the arts.
"More than 15 variations of the dance were showcased including Zapin Kores, Zapin Tanjung Labuh, Zapin Batu Putih, Zapin Dayung, Zapin Lenga and Zapin Aur; where each has its own unique characteristics," he added.
Subscribe now to our Premium Plan for an ad-free and unlimited reading experience!