THEY live next door to each other in a high-end condominium in Jalan Ampang, Kuala Lumpur.
Everything was peaceful until one of them decided to get a dog.
The dog's barking annoyed the next unit's owner so much that the two neighbours started quarrelling all the time.
They decided to take the matter up with the Federal Territory of Kuala Lumpur Strata Community Mediation Centre (PMKSWPKL) as they were not able to come to a compromise.
Each brought their own lawyers along for the mediation to argue their cases.
In another dispute, an apartment owner had divided his 900sq feet unit into 20 cubicles.
Each cubicle could fit a single mattress, an air-conditioning unit and electrical socket to connect equipment to the power supply.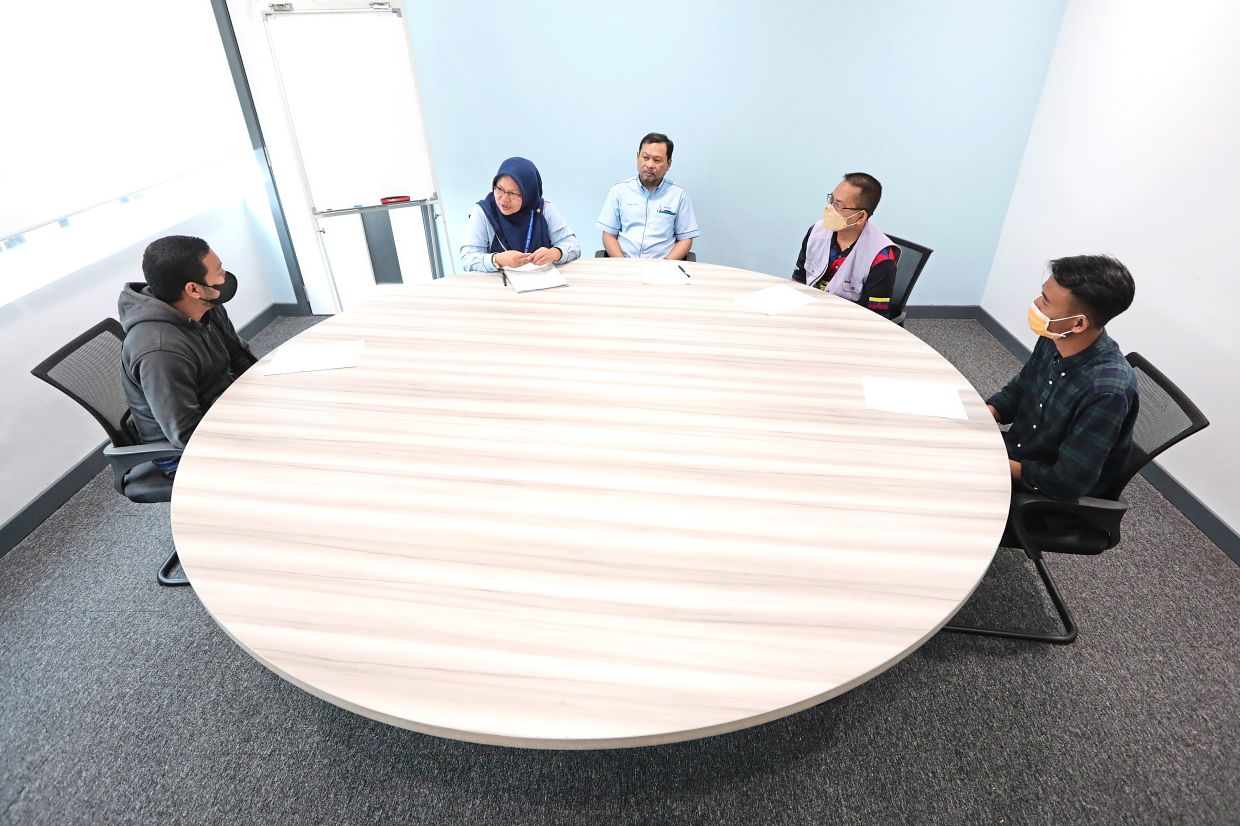 Mediators and staff members showing how a mediation session is set up with the opposing parties. — Photos: YAP CHEE HONG/The Star
As a result, the circuit breaker often tripped because it was overloaded.
Following complaints, the joint management body (JMB) conducted an inspection and discovered the unauthorised partitioning of the apartment into cubicles for rental.
Converting residential units into cubicles was against the condominium's house rules.
Another case involved an apartment owner who turned his home into a mini zoo with over 40 animals.
Following complaints, the management found dogs, cats, tortoises and birds among other animals, kept in cages in the apartment.
The owner, a retiree, was living alone and claimed that keeping all the animals was a hobby.
He refused to remove the animals.
All three cases were brought to the mediation centre by the JMB for a solution.
Settled through mediation
The PMKSWPKL is a strata community dispute resolution centre of Kuala Lumpur City Hall (DBKL).
It is parked under its Commissioner of Buildings (COBKL), a unit under the Property Management and Valuation Department.
Here, disputes between residents and JMBs or management corporations (MCs) are brought for a resolution.
Mediation centre head Mohd Azuan Ahmad said since it was launched in 2018, they had received over 5,000 complaints.
"We are proud that we have successfully mediated 1,186 cases so far.
"At the very least, even if we fail to settle disputes at our level, we have at least educated people on the etiquette of strata living," said Mohd Azuan.
CoBKL is the only one in the country which has a mediation centre.
(From left) Mediation centre assistant manager Ramli Adam with mediators Wan Ahmad Saidi Wan Zainuddin, Fadlilawati, Mohd Azuan, Mohd Zainuddin, Lee Peng Wai, Mohd Rafiq Ratna Abdullah and Khairul Salleh Hasan at the PMKSWPKL office.
It currently has six mediators who are trained in handling disputes.
The meetings conducted are private and parties, including mediators, are required to sign a non-disclosure agreement (NDA) as mandated by the Strata Management Act 2013 (Act 757).
Most of the complaints received were about non-payment of maintenance fees, condo management, public nuisance and problems arising from shared spaces.
If the matter cannot be resolved during mediation, owners and JMBs can take the issue to the Housing and Strata Management Tribunal (TPPS), which is under the purview of the Housing and Local Government Ministry.
The decision of the tribunal is final and is deemed to be an award of the court.
It can be enforced accordingly by the party to the proceedings as per Section 120 (1)(b) of the Strata Management Act 2013.
Section 123 of the Act states that any person who fails to comply with an award commits an offence and shall, on conviction, be liable to a fine not exceeding RM250,000 or jailed not more than three years or both.
And if parties still fail to find a resolution at the TPPS, they can seek redress in a civil court.
In fact, there have been instances whereby cases won at the tribunal level had to be brought to the courts as the party who had lost the case still refused to abide by the rules.
"We get a lot of cases involving residential unit owners who have an outstanding maintenance and sinking fund bill," said Mohd Azuan.
He added that the highest amount they had to deal with was a unit owner who owed some RM240,000 in maintenance fees to the management.
Mind the house rules
Disputes also arise due to the lack of knowledge about stratified property house rules.
"It is crucial for those living in stratified units like condominiums to get acquainted with their own house rules.
"Each condominium scheme has its own house rules which have been endorsed at annual general meetings (AGMs).
"Those rules must be followed," Mohd Azuan said.
Centre mediator Fadlilawati Masran said those who complain about having to pay a 10% penalty fee for outstanding maintenance charges could not gripe about it if it was part of the house rules.
"This is why we advise residents not to take the AGM for granted.
"Participate in the meetings and exercise your right to vote for the rules and regulations.
"If you find some of the rules are not to your liking, then get people to support you and make a motion to disallow it.
"The only exception is the Third Schedule of the Strata Management Act whereby owners must pay the fees to the JMB to manage and maintain the common properties in the development.
Fadlilawati recounted a case involving usage of a swimming pool.
"The unit owner brought in outsiders to use the pool, which was against the condo scheme's house rules," she said.
Apart from ignorance of house rules, there are also disputes about noise pollution like residents banging on their neighbour's walls or dogs barking.
Sometimes, unwelcome smells such as belacan during cooking and the burning of joss sticks can also cause friction among neighbours.
"Things can get so ugly that residents will start throwing rubbish or splashing water at each other's units, making the situation worse.
"Sometimes, the problems they face could be a personal issue," she added.
Mohd Zainuddin Amran, another mediator working at the centre, said they have encountered cases of failed mediation where parties would just sell their unit and move out when issues are not resolved.
"It can be challenging living in a high-rise block but people need to learn to be civilised and respect one another's space and culture," he added.
PMKSWPKL is located on 13th Floor, Menara PT 80, Lorong Bonus 4, off Jalan Masjid India.
For details, call 03-2603 7060 or 011-5950 6400 (Mohd Azuan Ahmad/Ramli Adam).
Alternatively, email pmkswpkl@dbkl.gov.my
Subscribe now to our Premium Plan for an ad-free and unlimited reading experience!