PLANS are afoot to set up a cultural street in the old part of Kajang to put the heritage-rich town on tourists' radar.
Kajang assemblyman Hee Loy Sian said he was looking at suitable locations such as Jalan Sulaiman and several back lanes for the cultural street which would house traders and craftsmen.
"As the plan will involve taking up an entire road, we are still discussing suitable locations as well as the funds needed.
"There are a lot of unique crafts and souvenirs such as rattan furniture and local delights made by Kajang and Hulu Langat folk which can be among the unique offerings in our cultural street.
"Having such a space would help enliven Kajang town," he said, during a press conference at the Kajang RE:Ignite programme held at Tin Hong Tze Temple and Shen Sze She Yar Temple along Lorong Mendaling, Kajang.
Kajang RE:Ignite featured a bazaar selling goods made by local folk, craft workshops, heritage tours as well as an exhibition of Sungai Langat.
Organised by Kajang Heritage Centre, Hulu Langat Community Resource Centre and Hee's office, the two-day event in July attracted around 3,000 visitors.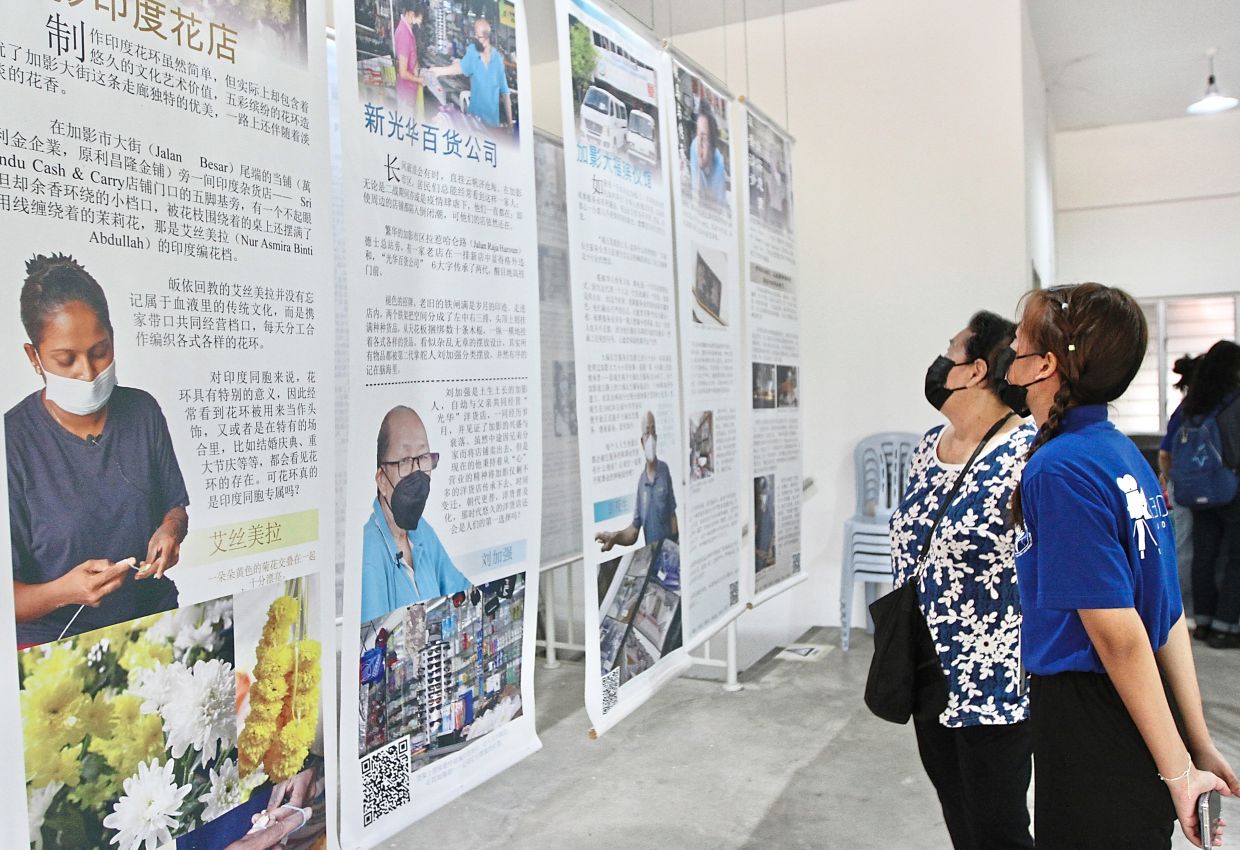 Participants checking out the exhibition on Sungai Langat by New Era University College.
Highlighting attractions
Hee, who is also state tourism, environment, green technology and Orang Asli affairs committee chairman, said response to the inaugural event aimed at putting Kajang on the tourism radar was very encouraging.
"Once the cultural street is set up, it can be made into a point of interest in Selangor's tourism roadmap.
"We are also looking at including Balakong and Semenyih in the roadmap.
"Tourists can travel via the MRT, get off at Kajang station and visit the cultural street before heading to industries in Balakong and stopping by Semenyih to enjoy durian.
"These are just some of the activities that will attract people to Hulu Langat and more importantly, act as a catalyst to boost Kajang's economy.
"There are fewer generational businesses in Kajang and we hope this can help bring them back," he said.
Hee also revealed that he was eyeing a larger space for the Hulu Langat Community Resource Centre.
"We hope the abandoned Satay Gallery can be repurposed for the resource centre.
"We are still discussing with Kajang Municipal Council on this as the area experiences flash floods.
"But there are plans in place to prevent further flooding," he said.
As for Kajang overall, Federal Government funds for flood mitigation measures will be released soon.
"Kajang is unique as about 10 rivers and tributaries flow into Sungai Langat.
"Hence, there is high volume of water, so one of the measures include installing four sabo dams upstream of Sungai Langat."
Sabo is a Japanese word for dams designed to slow down water surges from high ground as well as trap logs, huge rocks and debris.
Lee showing the end product using the century-old printmaking machine.
Documenting history
Hulu Langat Community Resource Centre person-in-charge Lee Teng said the Kajang RE:Ignite was not only aimed at staging more activities for Kajang folk but also showcasing the history and heritage of the old part of the township.
"This is why we have rattan and ketupat-making workshops to give visitors a glimpse into the processes.
"We are also glad to showcase a century-old printmaking machine that is still functional," he said.
Lee said the resource centre was planning to have another activity in the fourth quarter of this year to showcase traditional Malay food.
"We aim to collaborate with vendors and promote traditional recipes which have been handed down from generation to generation.
"Ultimately, we want people to be exposed to different cultures in our multiracial community," he said, adding that Kajang folk could also look forward to a grand Chinese New Year celebration next year.
New Era University College (NEUC) in Kajang also took the opportunity to debut its exhibition, The Sungai Langat, a project involving diploma and degree students from its Media Studies Department.
They documented the history of the river as well as the community living and working near Sungai Langat which flows through Kajang town.
NEUC media studies lecturer Elca Lin Siew Chin said the students spoke to old-timers like florists and food vendors to capture Kajang's tangible and intangible heritage.
Visitors to the event playing Kajang On Board.
Board game fun
Sustainable X, a non-governmental organisation, also showcased their board game – Kajang On Board – at the event.
The bilingual game gives players an opportunity to explore Kajang attractions with the ultimate aim of helping to create a sustainable tourism model to drive Kajang's economy while preserving its culture and heritage.
Players are required to complete missions while learning about iconic structures, popular foods and the history of Kajang.
"The board game comes with a booklet detailing the history and origins of different points of interest.
"We feel that in-depth local tourism starts with understanding the values of the people.
"We hope to enable players, especially families, to learn about Kajang and encourage them to travel here," she said.
Kajang On Board was one of the Top 10 winners of Tourism Selangor's competition last year.
The board game is available for pre-order, priced at RM120.
For details, go to www.facebook.com/PersatuanKomunitiLestari
Subscribe now to our Premium Plan for an ad-free and unlimited reading experience!