Colombo, the city of my birth in Sri Lanka, stands as an intoxicating mosaic where stories of ancient dynasties meld with the rhythm of the modern era. To many, it's a city teeming with life; to me, it's a heartfelt reunion, a journey back to where it all began.
Every heartbeat of the city resonates with tales that feel as old as time, yet pulse with contemporary life.
Walking into the Colombo Rowing Club felt like stepping into a sepia-toned photograph from another era. The serene Beira Lake whispered tales of legendary rowers, as if every oar stroke over centuries had left its mark on the tranquil waters. The club's legacy, a silent witness from 1864, stands strong, offering an ambiance where the past and the present don't clash, but embrace.
While the watery ballet of rowboats was a sight to behold, the club's gastronomic offerings served as a bridge between epochs. Their kitchen didn't just churn out dishes, it curated narratives. Each bite, a mélange of the island's rich heritage.
The Royal Colombo Rowing Club.
In the middle of this kaleidoscope, the city reveals an unmissable gem – the Ministry Of Crab. Housed in the historic Dutch Hospital Complex, the place isn't just an eatery, it's a gastronomic pilgrimage. The wizard behind the curtain, Dharshan Munidasa, transforms crustaceans into celestial experiences. The dishes, especially the audacious "OMG Crab", are more than mere food. They're a symphony of flavours, each telling tales of the sun-kissed island, its azure waters, and its bustling markets.
With each mouthful, I felt the embrace of the city, a delightful tango of spice, zest, and fervour.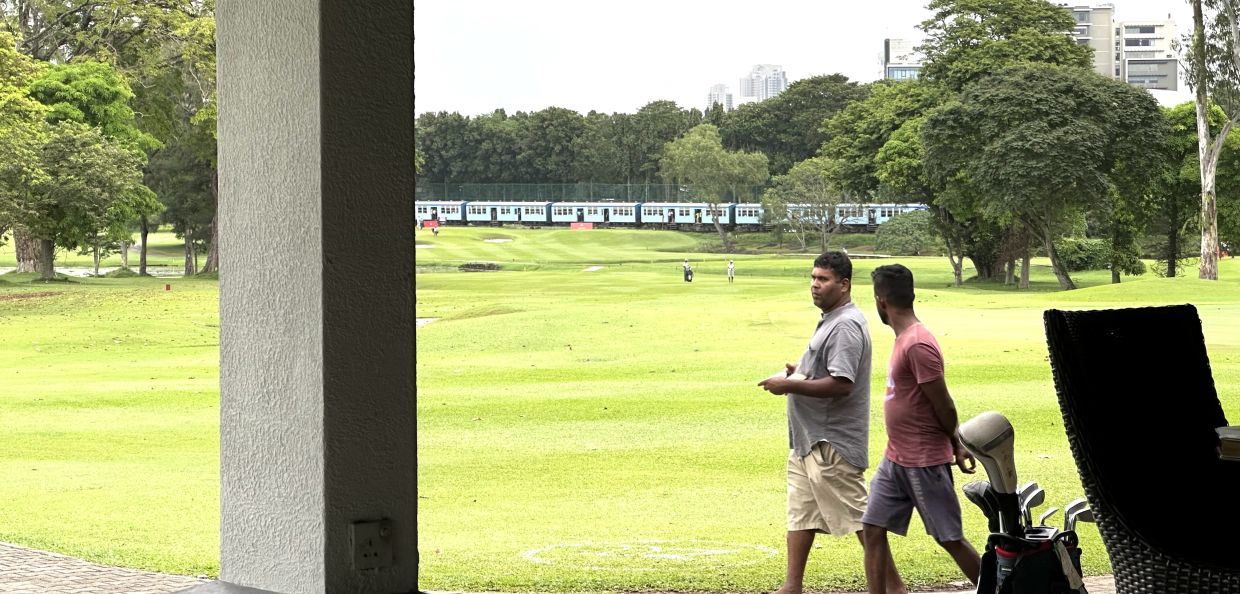 The Royal Colombo Golf Club – a train actually runs through it!
Yet, for those who crave tales whispered through the winds, the Royal Colombo Golf Club stands as a time capsule. Its sprawling greens are not just well-manicured landscapes but narrative pages chronicling epochs
The club's fairways hummed with yesteryear tales, while the city's silhouette played the perfect backdrop, creating a canvas where history waltzed with the present.
My conversations with Selva, my caddy, in the lilting notes of Sri Lankan Tamil, only deepened my journey, connecting me to memories long forgotten.
The Lotus Tower in Colombo, Sri Lanka.
As daylight gracefully gave way to twilight, there was one final chapter waiting to be explored – the fabled "Chinese rolls". Though named "Chinese", these rolls are unabashedly Lankan. They encapsulate the island's unique ability to weave foreign influences into its own fabric, resulting in a tapestry rich in flavour and tradition.
Born from the fusion of Chinese immigrant flavours with local culinary flair, these deep-fried delights became emblematic of the city's multicultural soul. At Perera and Sons, with a freshly brewed cup of Ceylon tea to accompany, the roll wasn't just food, it was history wrapped in a crispy layer, filled with tales of trade, migration, and culinary evolution.
Sri Lankan Raksha Masks - Used to ward off evil.
Immersed in the amber glow of Colombo's evening, with the delectable roll in hand, I could sense the layers of the city unfurling. Its ancient spirit, its colonial footprints, its vibrant contemporary pulse, and its dreams of tomorrow all converged in that singular moment. To label Colombo merely as a city would be an understatement. It's a living anthology, each street a chapter, each aroma a verse, each sound a chorus.
Returning to Colombo isn't just a trip for me; it's a homecoming. The city's stories, its flavours, and its people are not just familiar tales but an intrinsic part of my being. As my journey neared its end and the skyline dimmed in the rear view, my spirit was not just filled with memories, but with stories, tastes, and an ineffable bond forged with the city's soul.
And though miles might soon separate us, the echoes of Colombo's tales would forever reverberate in the chambers of my heart.
The views expressed are entirely the writer's own.
Entrepreneur Abbi Kanthasamy shares with us the tales and adventures of his many business travels in this new travel column, Bizcations.
Subscribe now to our Premium Plan for an ad-free and unlimited reading experience!