About a year ago, one of my columns talked about making cocktails with wine as a base. While some of the drinks I made at home were decent, I was still curious about why wine, which is one of the most consumed alcoholic beverages in the world, isn't utilised more in cocktails and bars.
According to Stephens, Penfolds believes there is a certain 'synergy between wine and cocktails'. — Photos: HandoutWhen you think about wine-based cocktails, the most common ones are the Sangria, wine coolers, wine spritzers, and maybe the New York Sour. Then there are the sparkling wine or champagne-based cocktails like the Kir Royale, Mimosa, French 75 and so on.
Earlier this week, Penfolds brand ambassador for Asia, Sam Stephens, was in the Klang Valley for a series of events, one of which was a wine cocktail masterclass held together with award-winning Malaysian bartender Osmund Bernard.
During the masterclass at Baijiu bar in Kuala Lumpur, Stephens introduced a group of Malaysian bartenders to some of Penfolds' wines, while Osmund demonstrated how to make different styles of wine cocktails.
According to Osmund, there are a few benefits to using wine as a base in cocktails. "With wine, you can create lower ABV drinks, or lower the cost of your drinks," he explained, adding that it also lessens wastage as you can use opened bottles of wine for cocktails as well.
The fact that low ABV cocktails are on the rise now can also be a factor in more wine-based cocktails coming into the market, though not a major one, Stephens reckons.
"I think it does help to have wine instead of spirits in a cocktail. With spritzers and drinks like that, you are definitely looking to cater to more of a daytime crowd.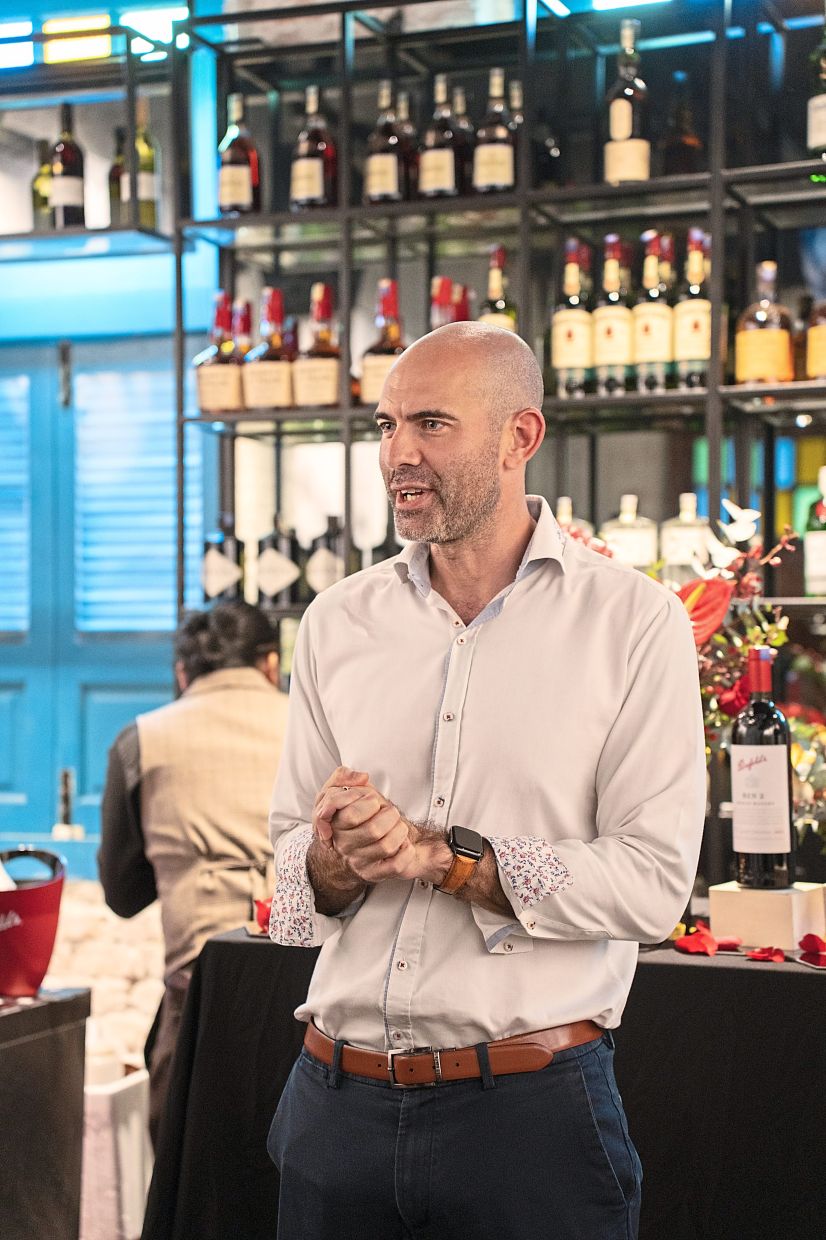 Stephens is the brand ambassador for Penfolds in Asia."Or maybe you're at a table for lunch and want a cocktail but not necessarily something with 45ml of spirits in it. So there is definitely a market for it out there, not just for wine-based cocktails but lower ABV ones," Stephens said.
"Or maybe one could have a glass of wine and a cocktail afterwards. It's just another way for people to try something tasty and made with high quality ingredients, but not something that's too heavy or high in alcohol."
The type of wine you use is also important though, and the reason classic wine cocktails like the New York Sour and even the Sangria tend to use red wine more than white, is down to the heavier flavours in the red wine, says Osmund.
"Many bartenders also tend to be less familiar with how to play with the flavours of white wine," he added.
"When I do wine cocktails, I like to bring out the original flavours of the wines itself into the cocktails," he said. "For instance, with lighter white wines, you get floral, light, fruit flavours, so I prefer to make lighter drinks. If you want to mix it with spirits, I would use with white spirits more."
It also depends on the crowd you want to cater to, he said, adding that ladies tend to prefer white wine cocktails.
Osmund demonstrated how to make different styles of wine cocktails.He doesn't really get deep down into the varietal of grapes with cocktails, because some cocktails have more robust flavours that might kill off the more delicate flavours in the wine, so it's better to use more entry-level or cost-effective wines for cocktails.
According to Stephens, Penfolds has experimented with wine cocktails in a few different markets, as they believe there is a certain "synergy between wine and cocktails".
"It's not just about wine-based cocktails – you can have a wine like Penfolds Max's on the menu which you can also use in a cocktail. It just shows that people can be innovative and creative with it," he said.
While they definitely want bartenders to consider Penfolds wines as another potential quality ingredient that can bring a different dimension to their cocktails, Stephens stressed that it's not something that the brand would be going big on.
"We're not going to be turning ourselves into a cocktail brand. It's just something we will support in the right places, especially if we see someone doing something really innovative," he said.
"Innovation has always been at the heart of Penfolds' philosophy, and it's interesting to see how people are expressing our wine. But it's not something that we would focus all our attention on, but more about trying to showcase our wines in places that may be less traditional."
---
Michael Cheang still prefers his wine on its own but wouldn't mind pairing it with a cocktail as well. Follow him on Facebook (fb.com/mytipsyturvy) or Instagram (@MyTipsyturvy).
Subscribe now to our Premium Plan for an ad-free and unlimited reading experience!