Timing determines a lot of the things that happen in our life, and that could not be truer for chartered accountant and corporate advisor Michael Chan.
One day in March 2012, Chan and his wife Arlene were walking along the verandahs of Jalan Pasar (formerly known as Market Street) in Ipoh, Perak, when an intriguing colonial shophouse situated opposite the street caught their eyes.
With a passion for salvaging and preserving old heritage buildings, the couple promptly proceeded to find out about the building's owner.
"Out of curiosity to know what's inside, we asked around and got to know that it was available for sale. We managed to arrange for a viewing the following week," recalled Chan, 56.
Upon entering the building, and subsequently revisiting it a few times, they fell in love with the place – its courtyards, louvred windows, timber staircase and ornate baluster – although the building was in bad shape at that time.
The facade of the Arlene Terrace before restoration work began.
"Having explored its interior, we were fascinated by its old-world charm and mesmerised by the architectural design and layout, fixtures, fittings and elements.
"On the exterior were ornate columns and pilasters, timber and iron doors with custom-built iron tower bolts, tall louvred shutter windows with fanlights, baluster and iron bar-grilled windows, and vintage air vents.
"These are some of the design elements found in the early Straits Eclectic architecture-styled shophouse," Chan further explained.
Inside, the designs and craftwork of the two sets of cengal timber staircases, posts and balusters, teak floor boards, joists, vintage door-windows, courtyard and balcony further won them over.
Chan did not immediately make any offer to acquire the shophouse, however, as they had just started conservation work on Arlene House, aka the Kapitan Chung Thye Phin Building across the street, another heritage building with a rich architectural history and past.
The original cengal staircase and balusters at Arlene Terrace.
"By chance, it was only after a year had passed, in 2013, while walking along the verandahs again during lunch, that we found out the shophouse was being boarded up in preparation to be torn down!
"Having been charmed by its built heritage over a year ago, we made a quick acquisition offer to the owner to save it despite not having the chance to inspect it again.
"We were successful after some counter-offer negotiations, thus saving it from being demolished and losing its rich historical heritage legacy," said Chan, adding that by that time, a bigger portion of the roof had fallen down.
The intermediate double-storey shophouse was built circa 1890s, and featured a dual-frontage design with an open-air courtyard built into the mid-section of the shophouse.
"Most surprisingly, it had two postal addresses! 16, Market Street and 4, Market Lane for the front and back premises respectively, a unique town and building planning legacy from the British Administration era," said Chan.
The courtyard with its British-era clay bricks before the restoration.
The building had a large footprint, measuring 21ft (6.4m) wide by 120ft (36.5m) long, and a total built-up area of approximately 4,800sq ft (445sq m).
Its layout was divided into three distinct sections – the front portion was for business activities, the mid-section with its open-air courtyard encompassed the work area and daily living facilities such as kitchen, toilet and bath, and water well, while the back section was for storage and daily activities, together with the upper floor space.
"When we found it, there were no partition walls or rooms. They were probably dismantled some time back. What's visible were four open-space halls. Two larger halls were situated at the front premises and two smaller halls at the back section's ground and upper floors," Chan added.
From their first visit, they were surprised but glad to see that most of the original fixtures and fittings were still intact.
"We were confident that the shophouse's built elements could be preserved and conserved. What needed to be done was to evaluate, study and investigate the extent of wear and tear, and identify the weakened and damaged sections for restoration and reconstruction."
The hardwood staircase in the midst of being restored.
Labour of love
The couple eventually named the shophouse "Arlene Terrace" and the hard work of researching and restoring the place – and finding the right people to do it – began, a process that took two years, in 2014 and 2015.
"By the time we acquired the shophouse, we had already commenced building conservation work on Arlene House. We had also visited heritage buildings to appreciate, learn and gain knowledge of their construction methods, techniques and building materials.
"With advice and guidance from conservation architect friends, we were confident in undertaking the necessary conservation-restoration work with our team of builders and contractors.
"Our priority was to restore the roof and its structures, the façade walls and elements, and installing an I-beam to restore the load bearing wall. That was the only steel work applied.
The iron panel door, grilled windows and air vent after restoration work.
"We restored the place using traditional building materials, methods and techniques to the best of our efforts, resources and availability due to time constraints," said Chan.
However, there were some difficulties, including the application and sourcing of the required and appropriate building materials.
There were also time-consuming methods, techniques and detailing craftwork that required patience to execute by skilled and experienced plasterers, crafters and installers, added Chan.
The most challenging part, he explained, was restoring the roof structures, load-bearing walls, façade profile elements and vintage air vents.
In terms of timber work, the challenge included sourcing and procuring used hardwood, mainly cengal and merbau, to the required length, dimension and quantity from timber yards.
A peek inside the Funtasy House Trick Art 3D Museum.
Passion for preservation
Both Arlene House and Arlene Terrace (which used to be the Chop Heng Woh Shoemaker and Tailor Shophouse) have been listed in the Ipoh Heritage Trail maps of the Ipoh City Council and Tourism Perak (45 Interesting Landmarks – History of Ipoh).
After the restoration of Arlene Terrace was completed, Chan then embarked on an adaptive reuse project, turning the space into the current Funtasy House Trick Art 3D Museum.
"Having preserved this inspiring Straits Eclectic built heritage, we were mindful of finding suitable adaptive reuse activities which did not harm or damage its built heritage and architectural designs.
"We founded the Made In Ipoh organisation in 2015 with the vision and mission to encourage, support and promote the preservation, conservation and restoration of built heritage, and the research, documentation, education and sharing of the rich history, heritage, arts and culture of Ipoh, Perak, and Malaya-Malaysia era.
"3D trick art photo-play entertainments were popular in Malaysia in 2015. Upon the completion of the restoration work of Arlene Terrace that year, we were receptive to the establishment of a Funtasy House Trick Art gallery-museum to promote the creative arts by Malaysian 3D artists.
The Arlene Terrace which has been turned into the Funtasy House Trick Art 3D museum through adaptive reuse.
"Its set-up provides the public the opportunity to admire, explore and appreciate the building's inspiring architecture, built-heritage designs, fixtures and fittings while enjoying the 38 trick arts displayed," said Chan, adding that it is also one of the largest 3D gallery-museums established in a heritage building in Malaysia.
More importantly, Chan hopes that his effort can play a role in encouraging similar preservation projects.
"This colonial heritage shophouse was neglected since its business closed in 2000, and became dilapidated due to the absence of proper care and maintenance.
"But we appreciated its unique architectural design and values. Under close scrutiny, you can appreciate its intrinsic charm and beauty.
"With commitment, research and resources to undertake the required conservation-restoration process, you can discover the fascinating historical-heritage legacy of Ipoh, 'the city that tin built'.
One of the displays at the Funtasy House Trick Art gallery-museum depicting Tan Sri Michelle Yeoh.
"We hope to inspire, share and encourage owners, stakeholders and our government to love and take due care of our built heritage.
"Evaluate and consider the options of preserving, conserving and restoring them for adaptive reuse activities in meeting modern-day use, requirement and enjoyment," he urged.
In the near future, Chan has one more project to pursue.
"We have preserved and documented the artefacts, historical findings, fascinating stories and inspiring legacies of the shophouse.
"Having come this far, there may be one more task to be executed, and that's to enhance the gallery-museum's historical-heritage attractions to restore the soul of this shophouse for the benefit of future generations," he said.
The Arlene Terrace used to house the famous Chop Heng Woh Shoe Maker and Tailor in Ipoh which was founded circa 1910-20s by an enterprising Chinese immigrant family. Photo: John Ho
Unearthing the building's history
Conserving and restoring the over 120-year-old Arlene Terrace was, needless to say, a long, arduous journey.
"You need to have commitment, patience and perseverance. It was a tedious, time-consuming and painstaking conservation-restoration journey over two years (January 2014 to November 2015).
"The intent of saving, preserving and restoring it to give it a new life was just the beginning of a chapter," said Chan.
In the process, Chan and his wife, Arlene, discovered a story and a past that was intriguing, that formed a precious part of the mining town's rich history.
"During the conservation process, we discovered and appreciated more of the shophouse's historical activities, its occupants and lifestyles of yesteryears based on its design and layout, and our research.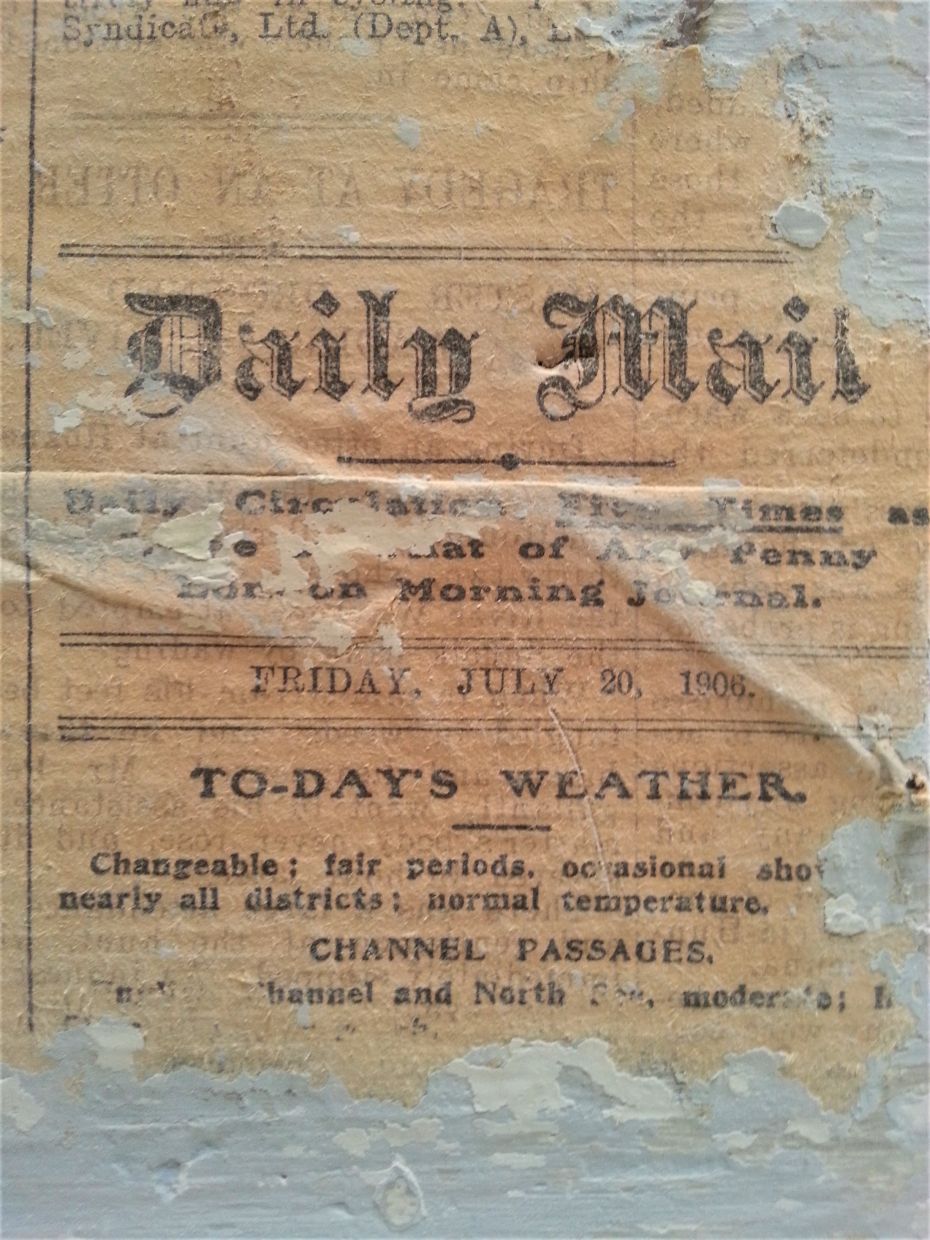 The 'Daily Mail' newsprint from Manchester (Britain) dated July 20, 1906, was found affixed under the plastered walls before restoration work began.
"For example, we found a pair of charming ladies' vintage shoes, secret compartments amongst its three-brick-thick walls, a Daily Mail newsprint from Manchester (Britain) dated July 20, 1906, affixed under its plastered walls, and many other smaller finds.
"We had opportunities to also save and preserve fixtures and fittings from other colonial shophouses that were destined for the scrap metal or timber yards, such as the vintage collapsible 'X-channel' cast-iron gates, which we named the Anderson Gates, as well as some timber staircase structures, doors and joists from the heritage shophouses along Jalan Raja Muda Aziz (formerly known as Anderson Road) prior to the entire heritage row's demolition in 2014.
"These built-heritage fixtures and fittings were given a new lease of life and home through the restoration of the (Arlene Terrace) shophouse," shared Chan.
Through extensive research, Chan also found that it was no ordinary shoplot back in the day, but housed a well-known
leather shoe maker.
A pair of vintage ladies heels were among the findings at the former Chop Heng Woh Shoe Maker & Tailor shoplot.
"It was famously known as the Chop Heng Woh Shoe Maker & Tailor, one of the oldest, leather shoe and accessories maker in Ipoh founded circa 1910-20s by an enterprising Chinese immigrant family comprising husband and wife Ho Kwok Lim and Chow Kheng Sin.
"Their eldest of 10 children, Captain Winkie Ho Weng Toh, grew up in the shophouse and later became one of the famous elite members of the 'Flying Tigers' of the Chinese Air Force, piloting the B-25 Mitchell Bomber to fight the Japanese invasion in China during WW2.
"Captain Winkie Ho will be turning 103 years 'young' this year! We wish him well and the best of health," he said.
Chan added that Ipoh's famous Danish architect, Berthel Michael Iversen, was also a customer of Heng Woh who had special shoes made for his deformed foot after an accident.
"We are grateful to have the opportunity to save this inspiring built heritage to tell of its fascinating historical-heritage legacy, or else it would be forgotten and lost forever with its demolition.
"Looking back, it was worth the journey. We have been rewarded with the joy and happiness of visitors who have come to love and appreciate our work and activities," said Chan.
Subscribe now to our Premium Plan for an ad-free and unlimited reading experience!