At the cavernous, sprawling Artisan's Playground in Kuala Lumpur, I finish ordering a meal of smoked duck – via QR code, as is the norm these days.
Ten minutes later, I watch in awe as a cute little robot trundles gracefully to my table, pausing for a second when a man inadvertently walks just in front of it, before resuming its journey and landing smack dab right in front of my table – with my smoked duck secured safely on one of the four trays that make up its core structure and functionality.
I pick up my food, and give the robot, called BellaBot, a light caress, to which it responds with an affectionate purr before speeding off on its next course of action.
This might have seemed almost impossible to fathom just two years ago, but since the advent of the Covid-19 pandemic, robot waiters have become an increasingly common sight in the Malaysian restaurant landscape, especially at chain eateries, fast-casual restaurants and even mamak haunts.
The rise in demand for these robots has been nothing short of phenomenal. China-based company Pudu Robotics (the founder of BellaBot) for instance, is one of the largest robotics companies in China, with a presence in over 10,000 restaurants there.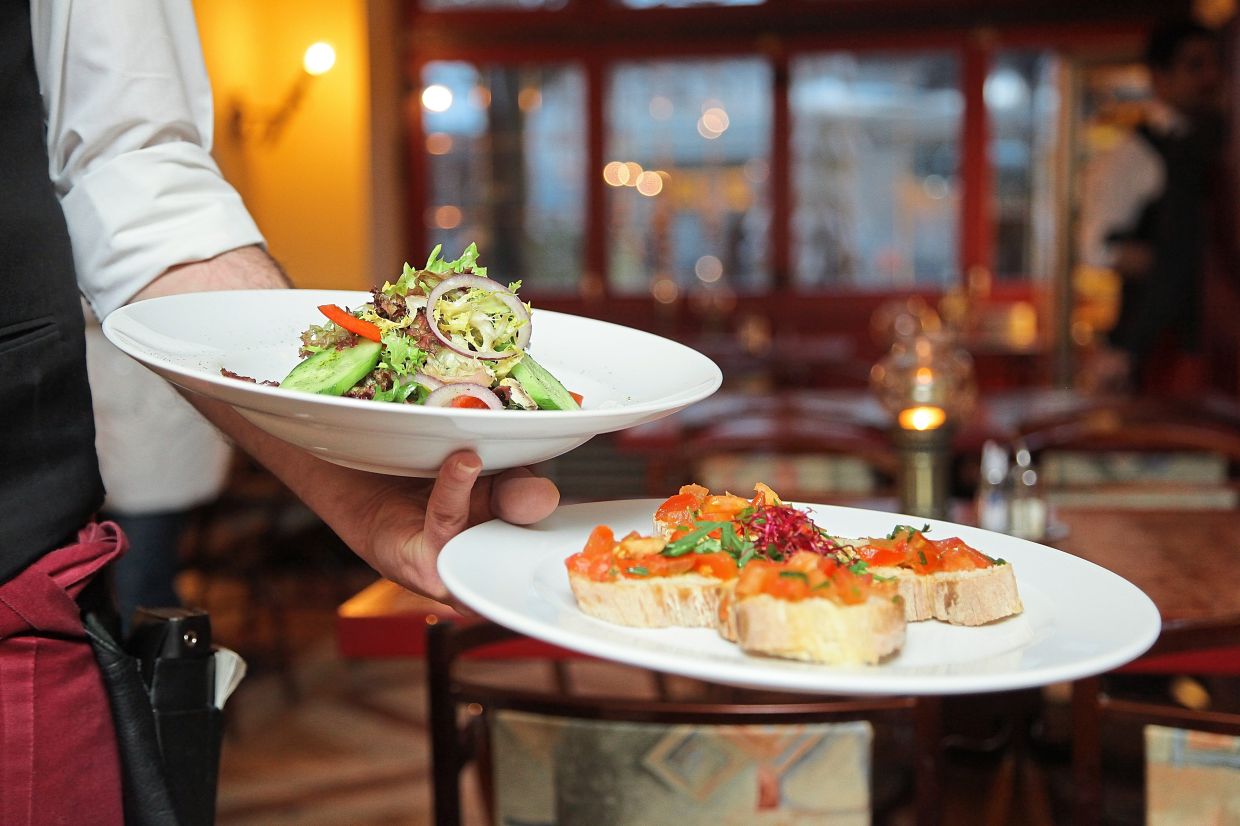 While humans can typically only carry a few trays or plates of food, robot waiters can carry so much more, ensuring faster table service. — PIXABAY/Pexels
The brand's country manager Eva Hu says that when the company launched in 2016, people had to be persuaded that robot waiters had a place in restaurants, but things have since changed very dramatically in the last two years.
"Earlier, restaurant owners were not convinced, because not many people were using robots. But in China, once Haidilao (a popular hotpot chain) started using robot waiters, other restaurants followed suit, so our sales shot up. And then in 2020, when the Covid-19 pandemic started, that helped us educate restaurant owners that robot waiters could do contactless delivery, and our sales rose.
"In 2021, we set up our overseas team because we could see the opportunity in the global market. There is a huge demand for robot waiters now because the manpower shortage is all over the world, not just in Malaysia," says Hu.
Hu's statement is backed up by evidence. Although Pudu Robotics only set up operations in Malaysia late last year, its robot waiters are now available in more than 300 Malaysian restaurants, including Artisan Playground, Q Bistro, Din Tai Fung, Haidilao and OldTown White Coffee (which will start using the robots in selected outlets in a few weeks' time) – all pretty familiar names to locals of every stripe.
So just how did robot waiters – once a completely foreign concept – become increasingly ubiquitous in the restaurant industry?
Hu says robot waiters are actually a reasonably cost-efficient option for restaurants as there are monthly payment options that work out to the same or less as hiring a full-time waiter. — PUDU ROBOTICS
Popularity of robot waiters
One of the key reasons that robot waiters have propelled to the realm of normalcy in the F&B industry is because labour shortage has been particularly dire since the rise of Covid-19. In Malaysia, the industry – which relies heavily on foreign labour – is now short of at least 40,000 restaurant workers. And with foreign labour approval rates still quite low, the shortfall will likely only continue.
This is compounded by the fact that Malaysians simply don't seem to want to work in the restaurant industry at all, and the ones that do often only do it for a short period of time, leaving many F&B operators in the lurch.
Ng thinks robot waiters offer a viable solution for the nationwide F&B manpower shortage as the robot waiters are efficient and never get tired, unlike human waiters. — KELVIN NG"Nowadays the younger generation is quite picky about jobs – they really want flexibility. So it is harder to get staff, especially for F&B where we have to work on weekends and public holidays and pull long hours. It doesn't interest young people that much, so it is really, really hard to get staff to work in the industry," says Kelvin Ng, the project manager at Johnny's, a popular Thai eatery with multiple outlets located mostly in shopping malls.
With labour woes continuing to threaten to topple the industry (even as demand for dine-in soars), robot waiters have become an increasingly viable option for many restaurant owners.
Interestingly, in many restaurants, robot waiters complement the existing human staff and the two often work in tandem with each other. This is also because most robot waiters don't do human things like speaking to customers or attending to special requests.
Instead, they do all the menial, labour-intensive tasks that typically deplete human energy, most notably delivering heavy food, drinks and desserts. This is especially pertinent because many robot waiters can hold up to 10 times the weight that a single human server can bear!
The BellaBot for instance, has four trays. Each tray has a capacity of 10 kilos, meaning the robot can carry up to 40kg when delivering food to customers. It also has a battery life of between 12 to 24 hours, so unlike a human being, it can keep serving food without getting physically exhausted in any tangible way (which is virtually physically impossible for mere mortals!).
Most robot waiters can carry food weighing up to 40 kilos at a time! — JOHNNY'SThis has been a life-saver for many restaurants. Johnny's for instance, implemented robot waiters in late 2021 and Ng says having the robots in the eatery has really boosted staff energy levels and given employees the opportunity to interact with customers without exhaustion getting in the way.
"The shortage of staff is what triggered us to use robots, because the functionality of robots is very good. So normally one staff can only bring one tray of food to one table. So if there are four trays, they would need to go back and forth four times, but a robot waiter already has multiple trays so they can serve four tables in one delivery period!
"So it really helps, because staff don't have to do these tiring physically-intensive tasks. And let's not forget, if staff are tired out from all this manual labour, they won't have the attentiveness or focus or effectivity. So if we take that out of their job scope, they can be more effective in other ways, like attending to customer needs," explains Ng.
Ng also says that because it is extremely difficult to find kitchen staff, having an efficient robot waiter means some of the wait staff can be moved to the kitchen to help with prep work, thus covering the staff shortfall and giving restaurants more flexibility.
Another one of the fundamental benefits of robot waiters is that they remove the negative aspects of human beings from the equation – they don't run out of steam, complain, fall ill, take leave or negotiate for a higher salary. The fact that they are robots means consistent performance without any fuss or drama.
"Robots don't feel tired, they don't need overtime and they don't have a hundred excuses about why they can't come to work. So they are very worthwhile solutions," says Ng.
Robot evolution
In the past, robot waiters required ceiling markers or floor tracks to regulate their path in restaurants, which meant movement was both restricted and repetitive and allowed for zero deviations to this pattern.
Robot waiters typically can go between 12 to 24 hours of non-stop service before their batteries need to be recharged. — ARTISAN'S PLAYGROUNDBut these machines have since come a long way and are more agile and future-forward. Many are now able to detect oncoming traffic (including other robots) thus avoiding unwanted collisions. Many modern robots also have in-built technology that can accommodate sudden changes such as a layout shift, etc, thus offering F&B operators more leeway and fluidity should something unexpected happen.
Huen Su San, the founder of Artisan's Playground, a new F&B concept where multiple operators run their business in one space (basically a high-end food court) says these technological advancements are what convinced her to move ahead with robot waiters.
"At Artisan, we have the capacity to serve 450 people and our whole space is 33,000 square feet. So when we were conceptualising the dine-in, we wanted a more creative solution in order to have effective service, given the manpower shortage.
"So we tested out robot waiters and I was quite pleased and satisfied with the developments in these robots. The technology they are using is a game-changer – they can see other objects and communicate with each other, so you can add a table or change the layout of the restaurant if you want to.
"I think they are really smart and a great partner to work alongside humans," says Huen, adding that Artisan's Playground now uses nine robot waiters that work alongside 10 human waiters.
When the price is right
F&B owners typically operate on very lean profit margins and labour costs often take up a huge chunk of this, but are also consistent – somewhere in the region of RM1,500 to RM2,800 per human waiter on a monthly basis.
Huen decided to use robot waiters at Artisan's Playground as she felt they were an effective solution and the current machines are very tech-savvy and flexible. — HUEN SU SANSo how does a robot waiter fare in comparison? Upon first inspection, it might seem like robot waiters are eye-wateringly expensive, with many models ranging from RM40,000 to RM60,000!
But there is a caveat to this and an advantage too in that most robotics companies offer a lease-to-own plan, which works out to RM1,000 to RM2,000 a month. After paying this off, the robot belongs to the respective restaurant.
"This makes more sense for the restaurant owner because waiters' salaries are getting higher and the owner also has to pay for staff insurance, overtime, etc. Also many restaurant staff don't stay for very long, but for robot waiters, the life span is at least five years.
"For example, our first-generation robot has been used for more than five years in the market already. And when we asked restaurant owners if they would like to replace the units, they say it is still working fine," says Hu.
Because robot waiters are so new in the market, many restaurant owners in Malaysia have yet to face any technical issues with their models. So it remains to be seen how these models fare in the long-run.
Ng however says that regardless of the cost of the robots, in the long-term, the benefits far outweigh the price.
"You might think a robot is very expensive but if you don't have enough staff, that is revenue foregone because people might get tired of queueing up or waiting for their food. So that is revenue that you are denying your restaurant. With the sales generated from having enough wait staff, you can cover the cost of the robot in no time," he says.
Perhaps the most attractive feature of robot waiters is that they are currently a huge draw for most restaurants, especially among young adults as well as families with kids, as children love the robots!
"The robots work as a magnet for customers, because people find it very interesting. So sometimes when our staff serve food, people will say, 'No, I want the robot to serve me!' So it is actually a great marketing tool because people are attracted to come to our outlets," says Ng.
Limitations
The reality is, regardless of their value, there are some limitations to robot waiters and this boils down to the kind of restaurant that would use them in the first place.
Although Thang finds robot waiters cute, he doesn't feel like the machines would work well in more upscale, refined establishments like his. — NICHOLAS THANGNicholas Thang for example is the chef-owner of The Honest Butcher by Nickt, an upscale omakase restaurant in Sunway Damansara. While Thang says he finds robot waiters "cute", they simply wouldn't work in a restaurant like his, which is designed around customer experience.
"I think places like mine that are more upmarket still need a more personal, human touch, because people are paying for the service and they have certain expectations," he says.
Huen also says that while a trendy restaurant like Artisan's Playground blends in with the tech-savvy concept of a robot, this might not fit in quite as well with a more anachronistic, quaint eatery.
"We are a modern restaurant, all our ordering is done through QR codes, so the robot waiters are tied into this concept. If a restaurant is old-fashioned, a robot might not fit in," she admits.
Is the future robotic?
Nearly all F&B operators and even robotics companies themselves don't see robot waiters as ever being able to fully replace human waiters. Instead, moving forward, the two are likely to function together as a tag team of sorts, filling in the gaps where necessary.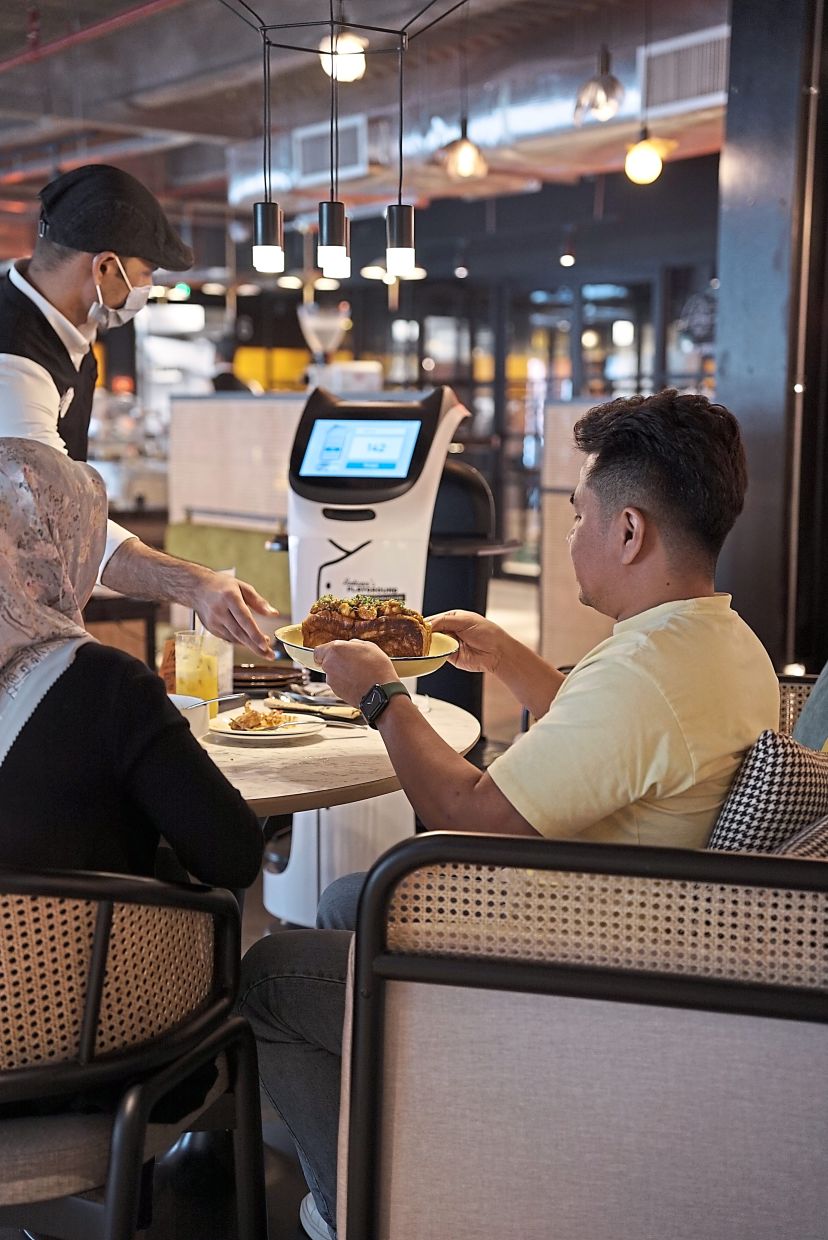 Having robot waiters to handle all the heavy physical labour ensures that waiters are able to better interact with customers and deal with the more human elements of the job. — ARTISAN'S PLAYGROUND"At the end of the day, people want to talk to a human, not a robot. Robots are there to help, but the human element still has to be there. So for me, having robots just means that we can redirect humans to do more human things, like customer service and interaction," says Huen.
Moving forward, the big question is – are robot waiters just a stopgap measure to plug the hole caused by manpower issues or are they here for the long-run?
In this sense, most F&B operators believe they are definitely here to stay and will become even more indispensable in the future, as technology adapts and grows smarter and more efficient.
"Oh, we will definitely see more restaurants embracing robot waiters, especially with the manpower shortage the industry is experiencing – this is just the way of the future," confirms Huen.
Subscribe now to our Premium Plan for an ad-free and unlimited reading experience!