The Equalizer 3
Director: Antoine Fuqua
Cast: Denzel Washington, Dakota Fanning, David Denman, Sonia Ammar, Remo Girone
The blood flows like wine in The Equalizer 3, as dark as Chianti, seeping into cobblestone streets, splattering onto stained glass and statuary.
Yes, star Denzel Washington and director Antoine Fuqua have used the third installment of this trilogy as the opportunity for an Italian vacay, with vigilante hero Robert McCall (Washington) leaving Boston behind to follow a spate of movie sequels, TV productions and Instagram influencers to the old country for a taste of "la dolce vita."
But Robert has to take care of business before he can truly enjoy retirement on the Amalfi Coast, which means ridding this charming village of pesky mafiosi.
This is how you Equalize properly, Queen Latifah.
It's clear Fuqua has been watching his Italian mafia movies, and he revels in the visual drama offered by the setting and subgenre. His compositions are stuffed with religious iconography, baroque embellishments, claustrophobic medieval alleys, and lots and lots of pasta.
But he and cinematographer Robert Richardson put their own stamp on the imagery, draining and desaturating the color palette of the picturesque seaside town of Positano.
We don't come to The Equalizer movies (based on the 1980s TV series) for plot, and this third installment privileges performance and visceral, dramatic imagery over everything else.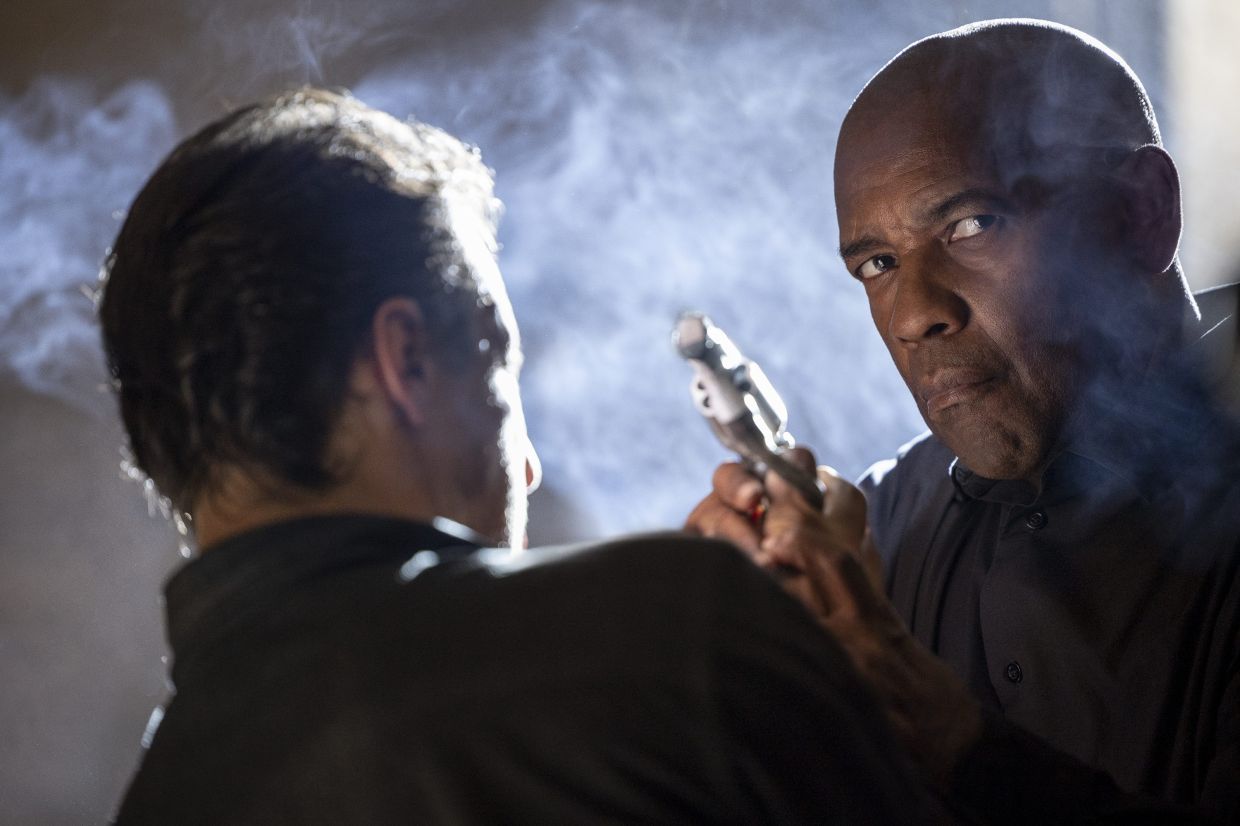 Don't make me angry. You won't like it when I'm angry...
We start in media res: Robert has already laid waste to a group of anonymous men at a Sicilian winery, butcher knives buried in brains. He will soon punch a pistol into another guy's head and get shot himself in the process while fleeing.
The bullet in Robert's back will be extracted by a kindly doctor in Altomonte, and while recovering in the village, he will fall in love with the warm hospitality of the people, and the peaceful way of life.
He just has to dispatch the bloodthirsty Camorra gang, who seek to intimidate the residents out of their homes so that they can develop resorts and casinos.
If Denzel is called the Equalizer, can we call ourselves the Subtractors?
The appeal of this film is just watching Washington do what he does best, and he's having a hell of a lot of fun here, quietly threatening bad guys, flashing toothy grins, pontificating about good and evil and the necessity to do evil in order to be good, putting the hurt on swaggering psychos.
It's also the reunion of Washington with his Man On Fire co-star Dakota Fanning, some 20 years later. Fanning plays a CIA agent, Collins, whom he tips off about "jihad drugs" being trafficked through the winery.
She shows up in town to chase down the terrorists, but she's really there to banter coolly with Robert. Fanning's storyline could be excised from the film completely without losing anything except the extra-filmic significance of seeing these actors together again.
Ah yes, the pre-requisite 'woman standing around talking on a phone' scene'.
In The Equalizer 3, Fuqua goes for operatic style and pulp poetics, strung together with a strangely paced and structured plot that's about as floppy as a spaghetti noodle (the script is once again by Richard Wenk).
But the film is not unenjoyable on a purely impressionistic level, as Fuqua and Washington bring the audience along on their Euro trip and ask us simply to sit back, relax and enjoy the ride that is Robert McCall inflicting terror and mayhem on very bad people. Sometimes that's as good as it gets. – Tribune News Service
Summary:
Prepare to be Equalized.
Subscribe now to our Premium Plan for an ad-free and unlimited reading experience!