Gleaming golden jewellery in all shapes and sizes adorn mannequins dressed in traditional nyonya attire at Habib's very own newly-minted heritage jewellery museum in Selangor.
The mini museum is part of Harta Heritage Jewellery Museum, the local jeweller's latest public initiative which stands for "Habib: Action for Revival of our Traditions and Arts".
Located above the Habib Ampang II showroom, Harta is a modern cultural enclave dedicated to celebrating Malaysian heritage and art.
The Harta Heritage Jewellery Museum's first exhibition is showcasing the rich artistic heritage of Peranakan jewellery across the generations. Photo: The Star/Azman Ghani
Within this peaceful oasis sits the heritage jewellery museum, alongside an inspiring art gallery and cafe, fostering a creative environment where conversations can flourish uninterrupted.
"We at Harta have a heartfelt mission to honour our Malaysian roots and showcase the splendour of our local art scene to a broader audience," says Harta director Mirsham Meer.
"We welcome all art, culture, and jewellery enthusiasts to join us on this remarkable adventure. If your curiosity drives you to explore the world of art, this space awaits you to embark on a sense-provoking journey."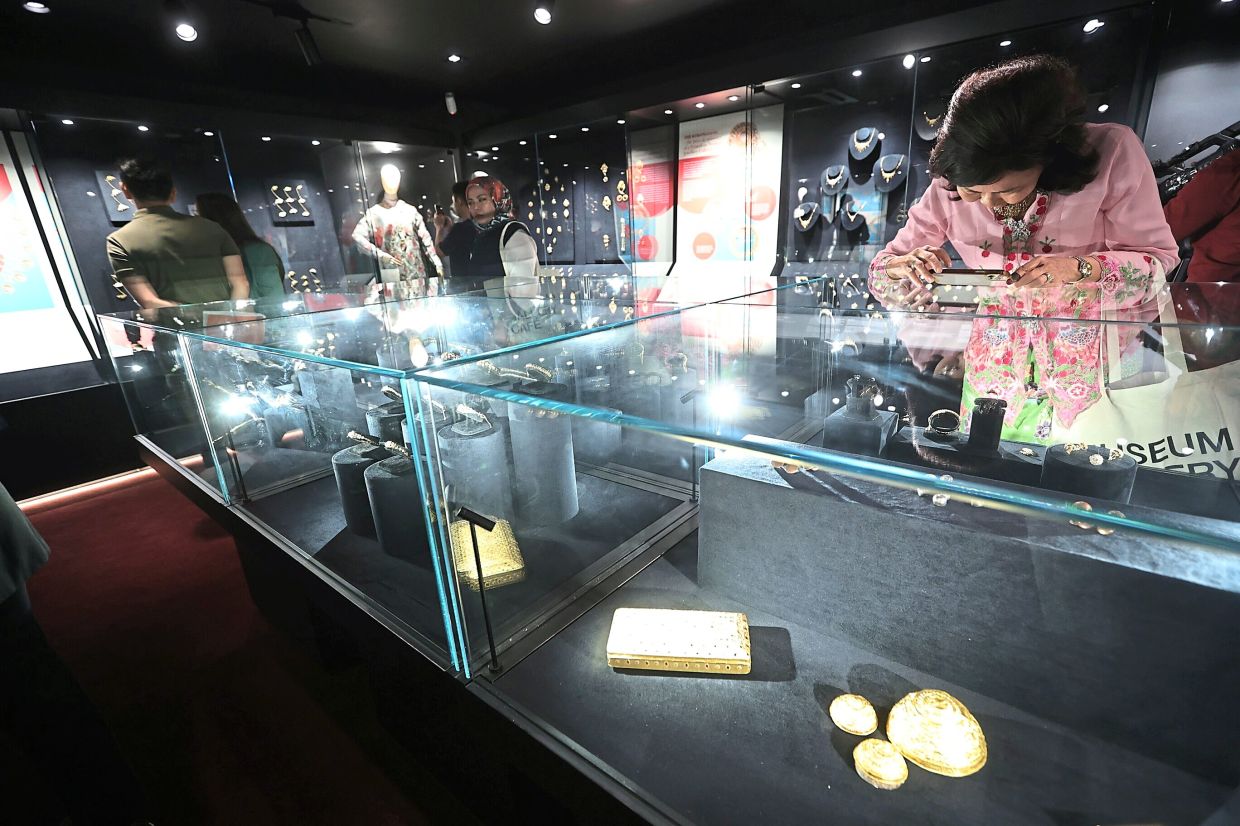 Visitors exploring the different jewellery exhibits - dating back to the 1800s - at the museum in Ampang, Selangor. Photo: The Star/Azman Ghani
The Harta space, launched last month, has been welcoming a steady stream of visitors.
The main highlight is the museum's opulent primary collection, which focuses on the bejewelled traditions of Malaysia's multi-ethnic Peranakan heritage that not only covers Peranakan Chinese, but the Peranakan Jawi and Peranakan Chitty communities as well.
The collection holds over 800 unique pieces, collected over a span of 65 years, and has been meticulously curated to transport you to a bygone era where the intricate artistry of Peranakan jewellery thrived, providing an invaluable glimpse into our multicultural identity.
An exhibit displaying a pair of gelang kaki (anklets) in 18K yellow gold. Photo: The Star/Azman Ghani
While you're exploring the gallery, you won't be able to resist pouring over the intricate details of the pieces shown, where you'll learn about the various types of Peranakan jewellery – from the hairpins known as "cucuk sanggul" all the way down to the anklets that glinted at their feet – to the meanings behind popular motifs, such as stars, which implied fame and success, or magpies, which symbolise joy and were often used for wedding jewellery.
The Peranakan collection is a semi-permanent exhibit, so expect some differently themed exhibits to crop up from time to time.
A visitor takes a walk through the 'Open House' contemporary art exhibition, featuring 16 local artists. Photo: The Star/Azman Ghani
At the art gallery space, the inaugural Open House group exhibition is spotlighting 16 contemporary artists, including Jailani Abu Hassan, Yee I-Lann, Bayu Utomo Radjikin, Ahmad Zakii Anwar, Umi Baizurah, Gan Tee Sheng, Chong Yan Chuah, James Seet, Nadirah Zakariya, and Azzah Sultan.
The museum and art gallery are open daily from 10am to 5pm, while the cafe is open 8.30am to 5pm on weekdays (except Monday) and 10am to 5pm on weekends.
Subscribe now to our Premium Plan for an ad-free and unlimited reading experience!