In an age of rapidly evolving technology and modern innovation, it is easy to overlook the treasures of our past. Yet there remains a profound appreciation for the skills, craftsmanship and traditions of our cultural heritage.
In Heritage Trades Of Melaka, The Bendahari creative space in downtown Melaka is aiming to collect information and showcase the captivating world of heritage trades – with a focus on five specialties: traditional beaded shoes, music, fishing, street food and denture-making.
The University Of Nottingham, Malaysia is also on board to support this community initiative.
Each segment of the exhibition will offer photos, essays and video interviews with the tradespeople, with each topic researched by different collaborators and researchers. It also examines the inter-personal relationship that each trade fosters, and how technology as an immersive tool can help to bridge our past, present and future.
Biting into the past
The catalyst for this Heritage Trades Of Melaka exhibition, set to run from Aug 25 to Sept 3, came about when The Bendahari building's former neighbour, a denture-making facility that had been in operation for over 70 years (1949 to 2023), made the difficult decision to close its laboratory.
"Dr Lee Soo Fwee of Lee's Dental Laboratories told me with much regret last December that he needed to close down his laboratory due to personal reasons. He had inherited the business from his father and his old school dental laboratory represented a generation of tradespeople which is fast disappearing. I thought it was important to record the heritage trades of Melaka through an exhibition so that Melakans, especially the younger generation, will not forget them," says Melissa Chan, steward of The Bendahari.
Lee's Dental Laboratories, which opened in 1949, ceased operations in January 2023. At the Heritage Trades Of Melaka exhibition, this space will be turned into The Museum Of False Teeth, showcasing this denture-making facility. Photo: The Bendahari
This denture-making facility will be one of the five heritage trades showcased in this exhibition, offering visitors a look at Dr Lee's tools of the trade and work processes.
Held at the space occupied by Lee Laboratories before it closed its doors early this year, the exhibit – aptly named The Museum Of False Teeth – is presented in collaboration with exhibition partner Manipal University in Melaka, and University Of Nottingham's researchers from the Mixed Reality Lab.
Heritage Trades Of Melaka is an all-ages exhibition, so families with young children can definitely plan an outing around this project.
"We are targeting schools and school students in our effort to bring heritage and culture out of the four walls. By bringing the younger generation and collaborating with educational institutes, the long-term hope is that they might see the value in these trades and one day even explore developing careers in them.
"With tools like ChatGPT, artificial intelligence (AI) and the metaverse becoming very present in the everyday lives of our younger generation, will the values, processes, livelihoods and relationships attached to these traditional trades be passed on, or will the younger generation consider them obsolete? I don't have the answers, but the hope is this exhibition could be part of creating awareness with students and our younger generation," says Chan.
Sharing stories
This project is also meant to be a platform for visitors, especially Melakans, to share their personal stories, or stories of generational legacies.
"We hope that the exhibition will create interest in these heritage trades and livelihoods, and revitalise them. By remembering and sharing our own stories, we will also collectively treasure these places, people and livelihoods more," she adds.
Heritage Trades Of Melaka will be held in three lots in the The Bendahari building, with these spaces converted into a pop-up community museum for the duration of the project.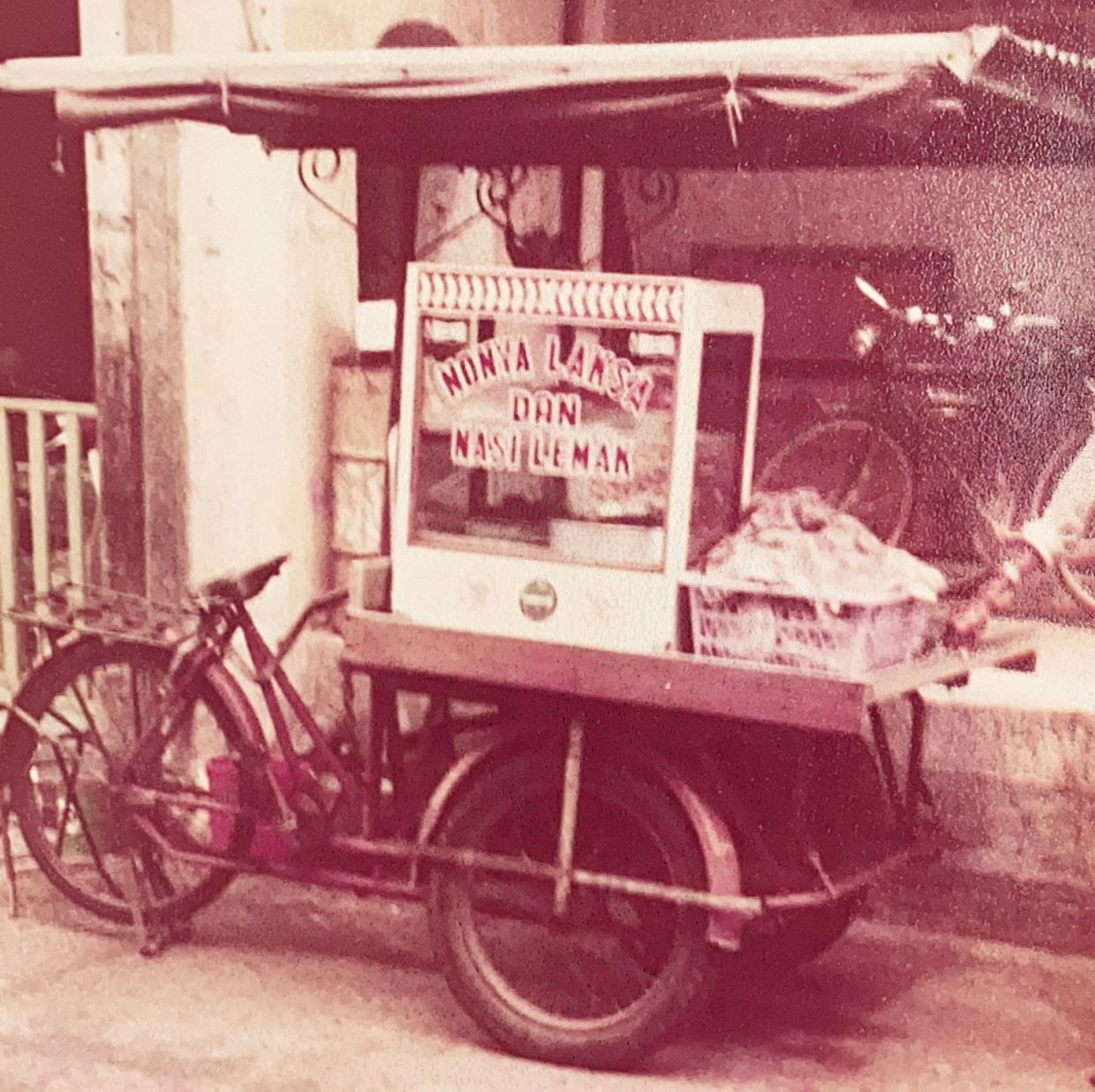 An archive image of Melaka's 'Donald & Lily's first push-cart laksa stall in the1980s. -- The family of Donald & Lily
Besides The Museum Of False Teeth, the other four segments of the exhibition include Fishing The Portuguese Way (exhibition partner: Martin Theseira with Mataburung.com). Seen through the eyes of heritage activist and retired fisherman Theseira, this exhibit highlights a traditional method of sea-shore fishing adopted by the Melaka Portuguese community, seashore fishing of geragau (small shrimp), festivals surrounding the fishermen, and the impact of land reclamation on this intangible heritage.
Preserving The Art Of Kasut Manek highlights the art of the beaded shoe, a treasured fashion item in Peranakan Chinese communities. Lim Tian Seng, who has been operating his shop T.S. Lim Trading since the 1980s, ponders on what legacy he can leave through this art form, for the next generation.
The Music Of Keronchong Melaka (exhibition Partner: Cassel Krishnan of Melaka Classics) will be introducing this musical form through 'Keronchong Malindo', a Melaka ensemble popular in the 1980s. Through a compilation of interviews and memories from fans, family members and the band's sole surviving member, visitors will learn how the music influenced the community and how it became a household name in Melaka.
Family Legacies And Street Food (exhibition partner: Melissa Lee) will see Melaka-born architect Melissa Lee documenting Donald & Lily and Ta Chong Popiah's humble street food beginnings, two family F&B business of Melaka to survive over generations.
How you can help
In the lead up to this Heritage Trades Of Melaka exhibition, a series of activities will be held to raise funds for the project. The events are small and intimate, and carried out in the spirit of gotong-royong, with proceeds helping to fund the volunteer teams.
Lim Tiang Seng (right) of T.S. Lim Trading will sharing his stories about the art of kasut manek in the 'Heritage Trades Of Melaka' exhibition. Photo: The Bendahari
This includes the "Marketplace" at The Bendahari Markets and the Portuguese Settlement (June 29 and July 1) during the San Pedro festival, which commemorates the Feast Day of St Peter, the patron saint of the fisherman. Look out for Portuguese-Eurasian treats like the famous sugee cake, and also the book launch of Theseira's Pedro Theseira The Fisherman.
On July 15, there will be a private "Laksa Party" by chef Jennifer Tan of Donald & Lily, featuring a specially curated menu with Peranakan influence. Diners will be entertained by a live musical accompaniment, for guests to joget the night away.
During the launch ceremony on Aug 27, a tea dance party will be held with live music by Kugiran Baba Melaka. Fronted by Baba Daniel Ang, Baba Ong Cheng Hoe, Martin Theseira, Baba Victor Yeo and Cassel Krishnan, this group performs beloved folk songs, evergreen local dance tunes, as well as native Melakan heritage music.
More info here.
Subscribe now to our Premium Plan for an ad-free and unlimited reading experience!