Alena Murang, the award-winning Sarawakian sape player, singer, artist and cultural activist, is renowned for her extraordinary musical prowess and her ability to connect audiences with the rich cultural heritage of her people.
One particular composition, Gitu'an, meaning "stars" in the Kelabit language, stands out as a testament to her remarkable storytelling abilities and her dedication in preserving the traditions of her ancestors.
"Gitu'an is our response to the stories of our great ancestors, who lived in the great heavens and on the Earth, and travelled through a big waterfall as a battle. The song opens with the voice of our late elder Tepu Ngalinuh Karuh, who was one of our greatest storytellers. We want listeners to feel like they are travelling through the stars with our ancestors," says Alena, who is of Dayak Kelabit and Italian-English descent.
As part of the Kelabit tribe, she performs regularly in the endangered Kelabit and Kenyah languages, with English songs also a part of her repertoire.
Alena (in orange) is set to lead her band through a 90-minute concert set at PJPac, playing a full-length show filled with music and stories. Photo: The Star/Lim Beng Tatt
Whether it is art or music, Alena has managed to celebrate her unique heritage in a variety of creative mediums.
Two months ago, she showcased 50 of her paintings and portraits in her first solo exhibition Colours Of The Highlands at a gallery in Kuching, Sarawak.
It's been a busy year for the 34-year-old artist-singer, and this month, she is gearing up to hit the music stage, with a full band and a setlist drawing from her Sky Songs album (2021), which has given her a pop music following.
Gitu'an is one of the songs that will be presented at Alena's first solo concert, Sky Songs, at the Petaling Jaya Performing Arts Centre (PJPAC) in 1Utama Shopping Centre on June 17.
The concert is a voyage through time and space, a story told through song that transports the listener to ancient realms and imbues them with a sense of ancestral wisdom.
Supported by 16 Audio Productions, the Sky Songs show is also part of 1Utama's Borneo Festival, which takes place from June 15-18, held in conjunction with the harvest festivals in Sabah (Kaamatan) and Sarawak (Gawai) in late May and early June.
It is a joyous time of the year, especially after the pandemic blues.
Alena (left) and Sumay Cheah (one half of OtherHalf Studio) on location at the PJPac working behind the scenes ahead of the 'Sky Songs' concert on June 17. Photo: Devarshney Rengaraj
Alena, who is based in Kuala Lumpur, recalls the first Gawai during the pandemic (2020) where people could not return home to be with their loved ones. Together with other Sarawakian artists, she put together the Liling project, a virtual performance of the well-loved folk song.
"I was in KL during the lockdown and really missed home, but it was so hard to go back to Sarawak because there was mandatory quarantine. I wanted to create something that brought people together to celebrate Gawai," says Alena.
"Traditionally, the chorus of Liling is sung together while the verse is made up by anybody, on the spot, for the particular occasion. So we adapted that to the 'At Home Gawai Edition' of Liling and reached out to other Sarawakian artists to sing in their own languages. We also had friends, family and fans send us their home videos celebrating Gawai. It was really special," she adds.
Now that life has returned to "normal", Sky Songs comes at an opportune time to gather lovers of music and culture under one roof, to immerse themselves in a world where heritage, myth and reality intertwine.
Sky Songs is a contemporary showcase of Kelabit and Kenyah heritage, which is rooted in tradition. It presents a mix of rearranged folk songs and original compositions, all inspired by the elements of the sky – the morning mist, thunder, rain, sun, moon and the stars.
The concert spotlight will be on Alena's sublime sape-inspired (a traditional lute from Borneo) music. The theatre space will be filled up by a full band set-up, with cross-cultural collaborations in focus.
She will be accompanied by Sara Heng on electric guzheng, Joshua Maran on drums, Jonathan Wong Ketshin on guitar, Simmy Lor on keyboard and tin whistle, and Fook on bass guitar.
The music genre for 'Sky Songs' taps into Alena's world of traditional, folk and pop music. Photo: Kanid Studio
"For generations, our stories have been handed down through song, as we had no written language. When I think about the notion of traditional versus contemporary in our music, I realise that every generation has changed and adapted lyrics, songs, rhythms, just slightly, to make it relevant to their time," says Alena, who wants to create a concert vibe that is nostalgic, joyful and contemporary.
"And so that is exactly what we are doing now, making the songs relevant to our own generation. The music genre for Sky Songs is world music, and you will hear influences of pop, rock and folk," she adds.
Dayak Kelabit music and songs are passed down orally from generation to generation. Over the years, Alena has received these songs from her elders.
She is one of the first women to play the sape professionally, which is traditionally only played by men. Her entry into the world of traditional arts came early, when she took up Kelabit dance lessons at the age of six.
At 10, Alena started playing the sape, with guidance from renowned sape master Mathew Ngau Jau.
With the sape in hand, she has been working hard, touring festivals and cultural events outside the country.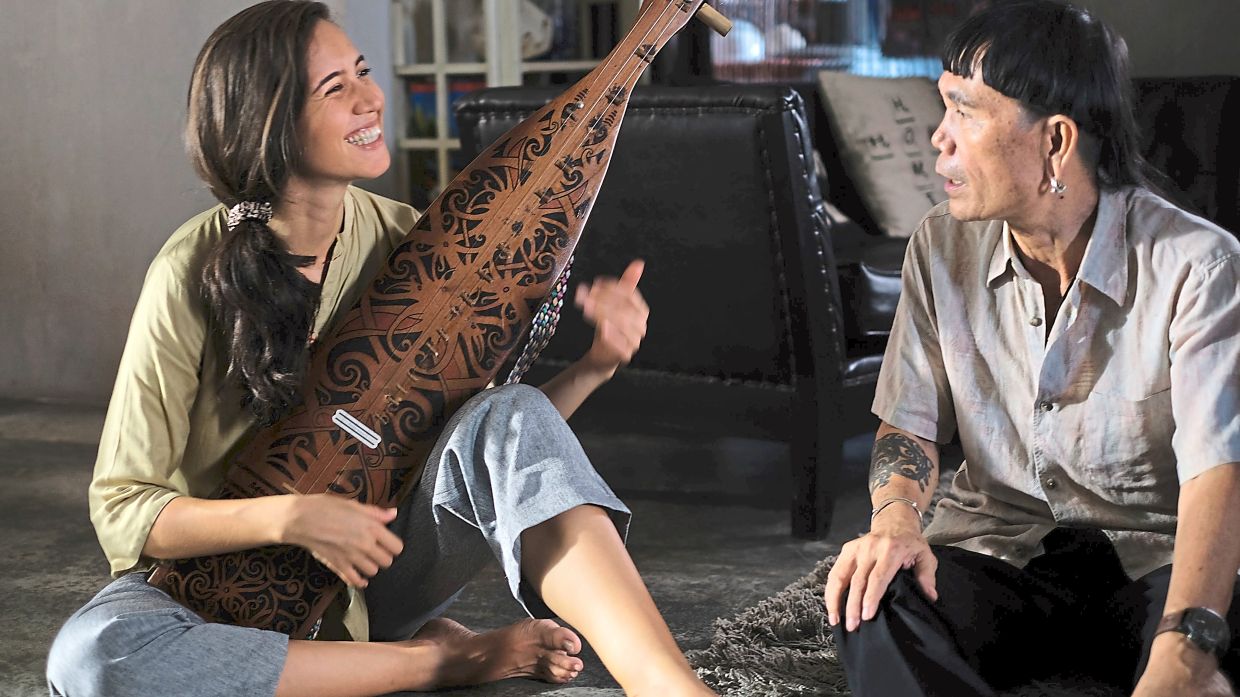 Alena received her sape training from renowned Sarawakian sape master Mathew Ngau Jau. Photo: Handout
Having performed in over 20 countries, from Iceland to Australia, Thailand and the United States, she notes that the experiences are quite similar in different places. Not many people understand Kelabit and Kenyah anywhere in the world, yet I find that people abroad and locally are so touched by the music. It is not often that we put on a 90-minute show, and I am really looking forward to Sky Songs.
"I'm very excited to share our stories. I hope people will leave the show with a heart full of joy and calm, and a greater love and understanding for each other, for nature, and for heritage," she says.
Sky Songs will also be a visual spectacle, thanks to Malaysia and Singapore-based OtherHalf Studio bringing its immersive art expertise to the upcoming concert.
"Inspired by the essence of Sky Songs, OtherHalf Studio's visuals depict nature's gentle moments from dusk to dawn, abstract and light like the breeze, dreamy and surreal, familiar yet nostalgic. We hope to take the audience to the place they can call home," concludes Alena.
Sky Songs will be held at, Stage 1 Theatre, PJPAC on June 17. More info here.
Subscribe now to our Premium Plan for an ad-free and unlimited reading experience!