For book lovers and art enthusiasts, the newly-opened Shanghai Library East in Pudong, Shanghai is bound to be a place of interest when China loosens its zero-Covid policy.
Opened late last month, Shanghai Library East is one of the largest new libraries in the world, and it has integrated public art into its building design and curation.
Ten site-specific permanent commissions by leading Chinese and international artists – Shen Fan, Xu Bing, Yang Zhenzhong, Mia Liu, Emily Floyd, Plummer and Smith, Gu Wenda, Zheng Chongbin, Ni Youyu and Simon Ma – have been installed in different locations within the 115,000sq m library space.
This public art programme, which uses the evolution of text throughout Chinese civilisation as a curatorial thread, has been put together by Urban Art Projects (UAP).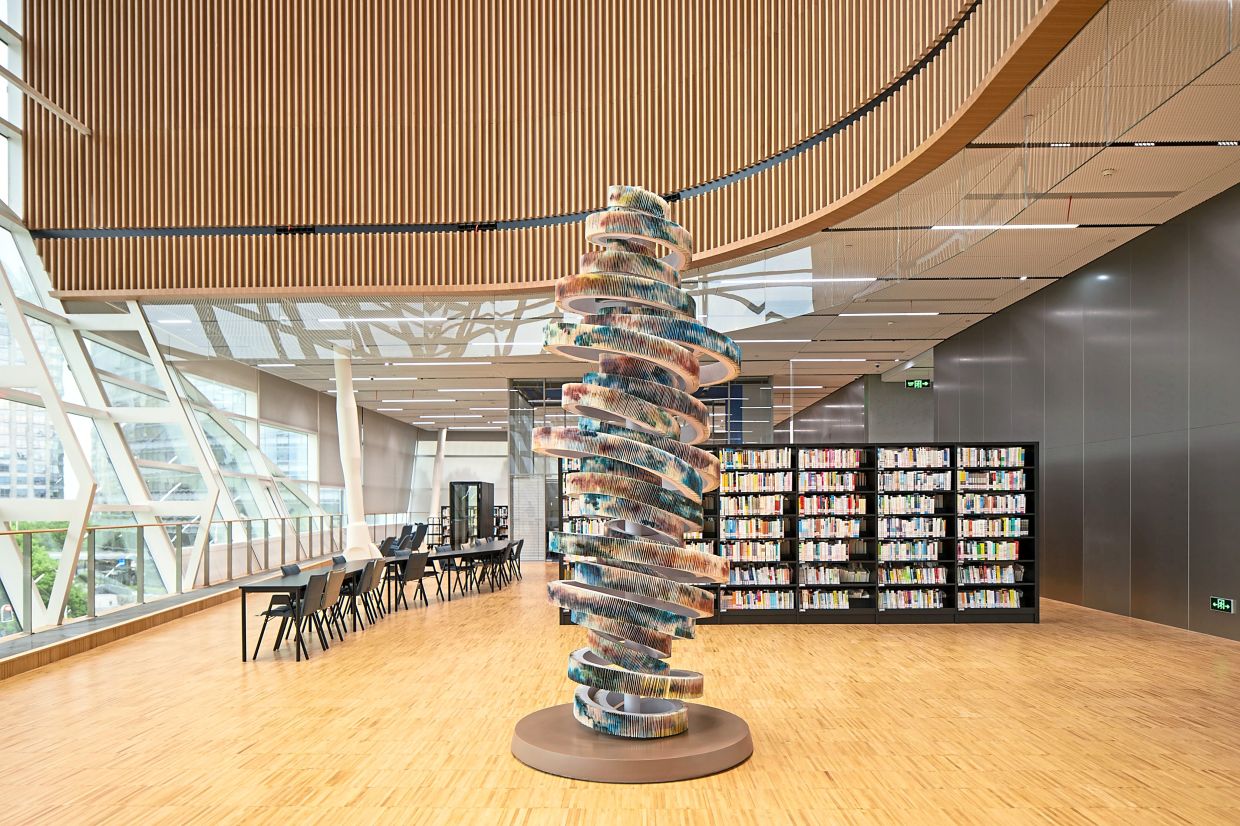 Mia Liu 'Tower Of Knowledge' (2022), constructed from 7,960 old catalogue index cards, is a fitting tribute to China's latest literary destination. Photo: UAP
"Translating the Shanghai Library's curatorial ambitions into a built artwork programme across the many sites of the project was a strategic process of collaboration and investigation.
"The public art vision for the library, to create an unprecedented collection that befits an institution devoted to education, study, and the archive of texts, has been an essential guide in the realisation process.
"To have been able to guide the artists and accompany the commissioner and their architects in this journey of conceptualisation, experimentation, and realisation has been an honour," said Dane Currey, principal of UAP, in a media statement.
From hard stone tablets to light paper, and movable type printing to the appearance of digital typefaces, the evolution of the vectors of knowledge is tangible and orderly, yet they all pass on the flow of knowledge and inspire generations in unexpected ways.
The artworks reflect how the methods and content for "reading" are constantly evolving.
Xu Bing's giant artwork 'Living Word', which spans the reading area on the south side of the third-floor window. Here, the artist frees the Chinese character for 'bird', with the 842 acrylic characters flying away from a book, before devolving towards Chinese regular script, clerical script and small seal script, and finally back to the ancient Chinese pictographs. Photo: UAP
In the library's atrium, Shanghai-based artist Shen Fan's Passing Of The Seasons presents abstract interpretations of newspapers, a nod to how this medium continues to serve as a vector for the dissemination of information in modern times.
Shanghai-born Zheng Chongbin's futuristic-looking Flying Stones draws from his "half ocean, half technology" experience in San Francisco (he divides his time between the US and Shanghai), prompting him to ponder on nature and the future.
A double spiral structure, titled Tower Of Knowledge by Taipei-based artist Mia Liu, is constructed from 7,960 old catalogue index cards.
Chinese artist Xu Bing's large-scale Living Word, which spans the reading area on the library's third floor, interprets the process of "change" and "flow" through 842 acrylic characters "flying" away from a book, starting with the artist's own characteristic "square word calligraphy" before devolving into Chinese regular script, clerical script, small seal script and ancient Chinese pictographs.
Shen Fan's 'Passing Of The Seasons' installation offers abstract interpretations of newspapers, a nod to how this medium still serves as a vector for the dissemination of information in modern times. Photo: UAP
"Libraries are sanctuaries for cultural and spiritual pursuits. Although the emergence of smartphones and ubiquitous connectivity have made information more accessible, physical libraries are becoming more important with their growing value in carrying human history and intellectual heritage," said Xu Bing in a media statement.
"In Living Word created for Shanghai Library East, 842 'birds' in different writing styles soar up from the top left corner of the page, inviting readers to free their minds and explore the ideas of writing, Chinese calligraphy and the interchange of various cultures.
"I hope the work will help release readers and visitors from traditional perspectives and see contemporary art in creative ways, while reflecting on art's relationship with nature and people," he added.
The library, designed by Schmidt Hammer Lassen (SHL) Architects, aims to be a cultural destination that pushes the boundaries between learning and leisure, drives the sharing of knowledge and deepens connections between people.
Subscribe now to our Premium Plan for an ad-free and unlimited reading experience!