Of all the Marvel characters we expected to get a Disney+ show, obscure horror monster Werewolf By Night would probably have been one of the least likely. But Marvel head honcho Kevin Fiege apparently has big plans for the character.
The Werewolf By Night Halloween Special premiered on Disney+ Hotstar today, and is directed by Michael Giacchino. The TV special is the first 'Marvel Studios Special Presentation' in the Marvel Cinematic Universe (MCU), and stars Gael García Bernal as Jack Russell, a.k.a Werewolf by Night.
The show itself is a homage to the old black and white monster classics, and critics' reviews have praised it as a new direction for the MCU and a great dip into the horror genre for the franchise as well.
But who exactly is Werewolf By Night? Well, here's a quick look at his backstory and how he could impact the MCU in a big way.
Short-lived Tale
The Werewolf By Night in 1949's 'Marvel Tales' #116 was just a short five-page story that has nothign to do with the current incarnation of the character.The first ever character to bear the name 'Werewolf By Night' actually made his debut in a five-page short story in Marvel Tales #116 way back in 1949, published by Atlas Comics, the predecessor of Marvel Comics.
The story was about Johan Bauer, a robber who dons a werewolf costume at night to commit his crimes. But his life takes an unexpected twist when a REAL werewolf shows up and devours his latest victim. Things get even more complicated for Johan when the werewolf shows up at his home proposing a team-up (where he would get to eat Johan's victims after he robbed them) and even moves into his home!
Unfortunately, that was it for the 1940s version of Werewolf by Night. In 1954, in response to public outcry over the depiction of graphic violence and horror in comic books, the Comics Magazine Association of America came up with the Comics Code Authority (CCA) so publishers could self-regulate their content. And that was the end of Werewolf By Night's fleeting Golden Age career.
Here's Jack!
The Werewolf By Night we know today made his debut in 1972's Marvel Spotlight #2.In 1971, the Comics Code Authority relaxed its rules somewhat to allow for horror comics to be published, with approval from the CCA.
Out came the monsters again, and in 1972, the Jack Russell version of Werewolf by Night made his debut in Marvel Spotlight #2. The story was based on a plot by Roy and Jean Thomas, and the series was worked on by Gerry Conway and Mike Ploog.
In it, Jack Russell is an 18-year-old who lives with his mother, Laura and sister Lissa. On the day he turned 18, Jack had a vivid dream about being a werewolf and attacking a mugger on the street.
Later on, his mother gets into a fatal car crash, and on her death bed, she tells Jack that he is actually the son of a Transylvanian baron named Gregor Russoff, and that he had inherited his father's lycanthropy curse.
After his 'probation' period in three issues of Marvel Spotlight (#2-#4), Werewolf By Night got his own eponymous series in September 1972.
A relatively new character that uses the name 'Werewolf By Night' is 13-year-old Jake Gomez, who made his debut in Werewolf By Night #1 (October 2020). But since the Halloween Special is about Jack, we'll not go into Jake's story just yet.
The Jack Russell version of Werewolf By Night made his debut in 1972's 'Marvel Spotlight' #2
Powers of the wolf
Werewolf By Night follows the usual werewolf tropes mostly. Jack turns into a werewolf during the full moon, and for two nights before and after that. In his werewolf form, he goes into a feral state and loses his human side of his intellect. Later on, he manages to gain some semblance of control over his transformations, and is able to transform at will, and even retain his human mental faculties while in wolf form.
Werewolf By Night's claws and teeth are incredibly strong, and he has a healing factor that allows him to heal faster than normal humans. He also has superhuman strength, speed, agility and reflexes, and also a heightened sense of smell, which he also has in his human form.
Following the usual werewolf trope, Jack can be harmed and even killed by weapons that are made from silver, and is also vulnerable to magical attacks.
Like all werewolves, Jack Russell transforms into his wolf form during the full moon.
The Darkhold
Fans of the MCU will undoubtedly recognise the name 'Darkhold', as it is the book of evil that Scarlet Witch uses to terrorise the Multiverse in the recent Doctor Strange In The Multiverse Of Madness.
Marvel Studios head honcho Kevin Fiege has gone on record to say that Werewolf By Night will 'ultimately become quite important to the future of the MCU', and chances are he is referring to Jack Russell's ties to the Darkhold.
In Marvel Spotlight #3, Jack is abducted by two short-lived villains named Nathan and Agatha Timly, who interrogate him about a book called the 'Darkhold', which supposedly held all his father's spells.
Jack's story is closely tied to that of the Darkhold, last seen weilded by Scarlet Witch in the MCU.
Later down the line, it is learnt that one of Jack's ancestors, Grigori Russoff, had obtained the Darkhold scrolls in the 1795, and his use of the book had awakened the dormant lycanthropy curse in his blood. Later on, Jack's grandfather Gregor also transcribed the Darkhold's secrets into a diary, essentially making a copy of the book. It is this book that Jack is inevitably tied to throughout his history.
With the Darkhold being destroyed by Wanda Maximoff in Multiverse Of Madness, there is still a chance that Jack might hold the key to another copy of the evil book emerging in the MCU.
Hero crossovers
Jack has also crossed claws with some of Marvel's best-known superheroes, many of whom have already made their appearance in the MCU in some form or another, including Iron Man, Spider-Man, Doctor Strange, Ghost Rider and the Avengers. And then there's Moon Knight, who actually made his first appearance in 1975's Werewolf By Night #32.
In that issue, Moon Knight was initially a villain/mercenary who captured the Werewolf for the 'Committee'. But Marc Spector later saw that Jack also had a human side, which led to him having a change of heart and releasing him instead.
Moon Knight made his debut on the pages of Werewolf By Night.
Monsters incorporated
Another way Werewolf By Night could impact the MCU is through his ties with many of the supernatural-y inclined superheroes in the Marvel Universe. In fact, his debut could trigger the incorporation of similar characters into the MCU.
Jack was something of a traveller, and during his journeys, he encountered the likes of Dracula, Frankenstein's monster, and even Morbius the Living Vampire.
With the Halloween Special introducing Elsa Bloodstone and Man-Thing to the MCU, we could yet see other similar characters show up as well. While we highly doubt Jared Leto's Morbius will be coming to the MCU, we're crossing our fingers for the likes of The Living Mummy to make their appearance too.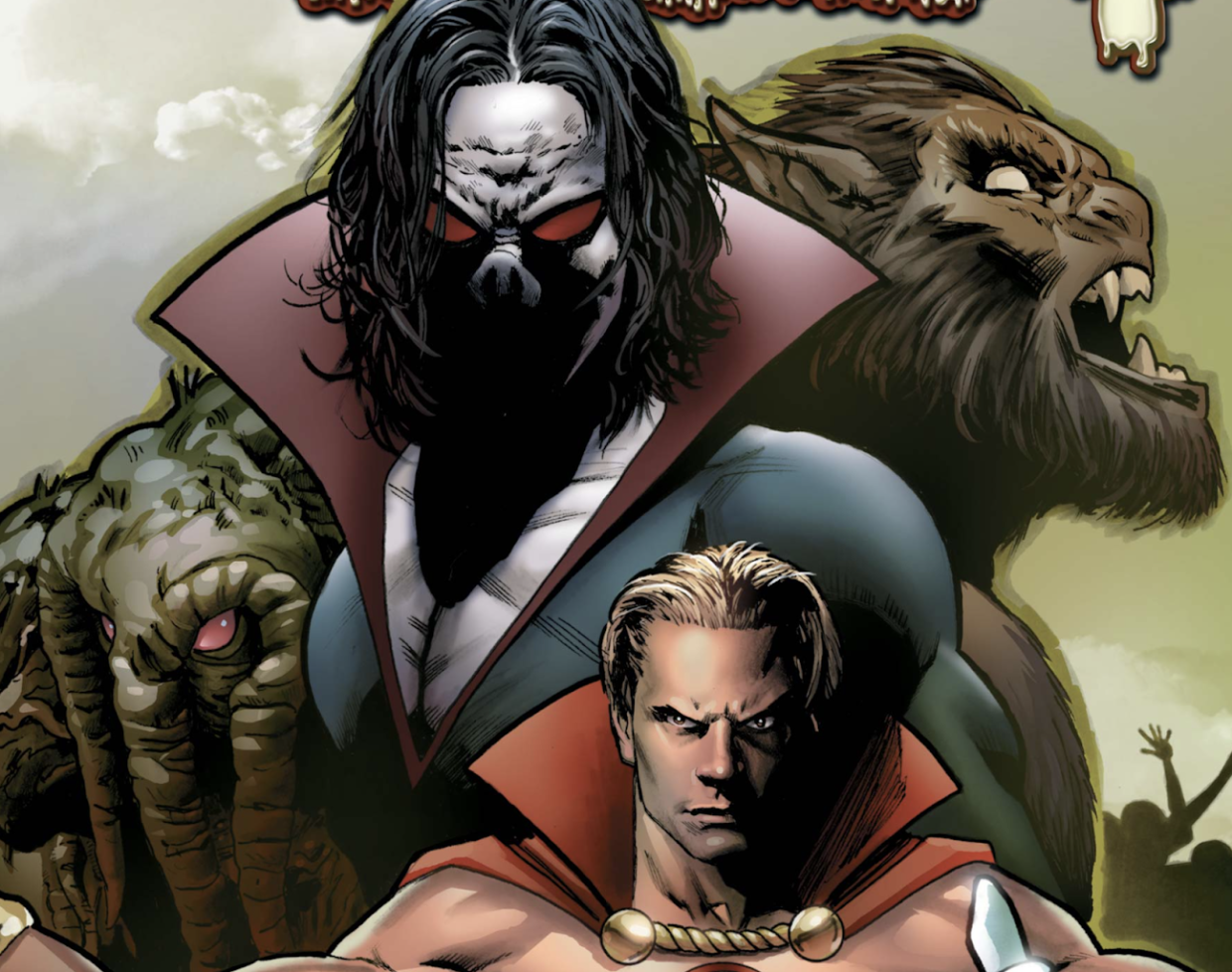 Werewolf By Night has also been part of the Midnight Sons super team.
Midnight Sons
Personally, I think the most likely way Werewolf By Night will impact the MCU universe in a big way is through the Midnight Sons, Marvel's premier supernatural super team.
The Midnight Sons made its debut as a team in 1992's Ghost Rider #31, comprising not one, but two Ghost Riders (Johnny Blaze and Danny Ketch), the Nightstalkers (of which Blade is a part of), the Darkhold Redeemers (guardians of the Darkhold), Morbius the Living Vampire, and later on, Doctor Strange himself.
Werewolf By Night officially became part of the team in 2009's Marvel Zombies 4, in which Morbius formed a team along with Daimon Hellstrom, Jennifer Kale and the Man-Thing.
So, what are the chances that Werewolf will be part of a new Midnight Sons team in the MCU? For one, the team has recently gotten a comic revamp – it has been renamed 'Midnight Suns', and has a new video game and ongoing title as well.
Two, there are already several characters that have been associated with the team in the MCU, including Doctor Strange, Moon Knight, and even Wong, (who forms a new team in the Doctor Strange: Damnation storyline), with Blade also getting a movie soon. We can probably count Morbius out for now, but if we stretch the Multiverse a bit and include Ghost Rider, Hellstrom, Iron Fist, and even Nico Minoru of the Runaways into the list, there's plenty of potential for an MCU version of the Midnight Suns.
And besides, we've also got an Agatha Harkness series coming up as well, so don't count the Darkhold out just yet!
Subscribe now to our Premium Plan for an ad-free and unlimited reading experience!