ONE can expect authentic Thai cuisine from chef Somkid Ketkaew who gives attention to quality when cooking for diners.
When he realised that the mangoes to go with the sticky rice were not sweet, he changed our dessert to Jackfruit with Sticky Rice instead.
"The mangoes are not sweet this season, so I would rather not serve them, " he said which was indicative of his seriousness in selecting ingredients for the food he cooks.
The chef from Bangkok Marriott Hotel The Surawongse is in the city for a Thai food promotion at Sheraton Petaling Jaya's Feast restaurant.


The fiery tom yam goong.
With more than 25 years of culinary experience, he learned cooking from his mother. His mother owned a food stall and this was where he honed his skills.
Diners will be able to taste a variety of Thai dishes from appetisers, soups to mains and of course, dessert.
Start the meal on a spicy note with appetisers such as Spicy Wing Bean Salad with Minced Chicken and Shallot, Yum Som O (pomelo salad with shredded chicken) and Pla Goong (spicy prawn salad with lemongrass).
A Thai meal is not complete without tom yam goong, the popular reddish spicy lemongrass soup with prawns.
Somkid's version sure delivers a fiery kick.


Somkid is in town for the Thai food promotion at Sheraton Petaling Jaya's Feast restaurant.
What sets his version apart from others? He uses coconut milk instead of milk to bring more flavour to his dish.
For something less spicy, he recommends the Wok-fried Chicken with Cashew Nuts and the Deep-fried Sun-dried Beef with Chilli Sauce.
The texture of the chicken and cashew nuts complement each other, and it was well-received by guests. Somkid said the beef was marinated overnight so that the flavours infuse into the meat.
Another Thai staple is pad thai, the sweet and spicy stir-fried rice noodles with prawns and tamarind sauce.
My personal favourite was the Red Curry with BBQ Duck.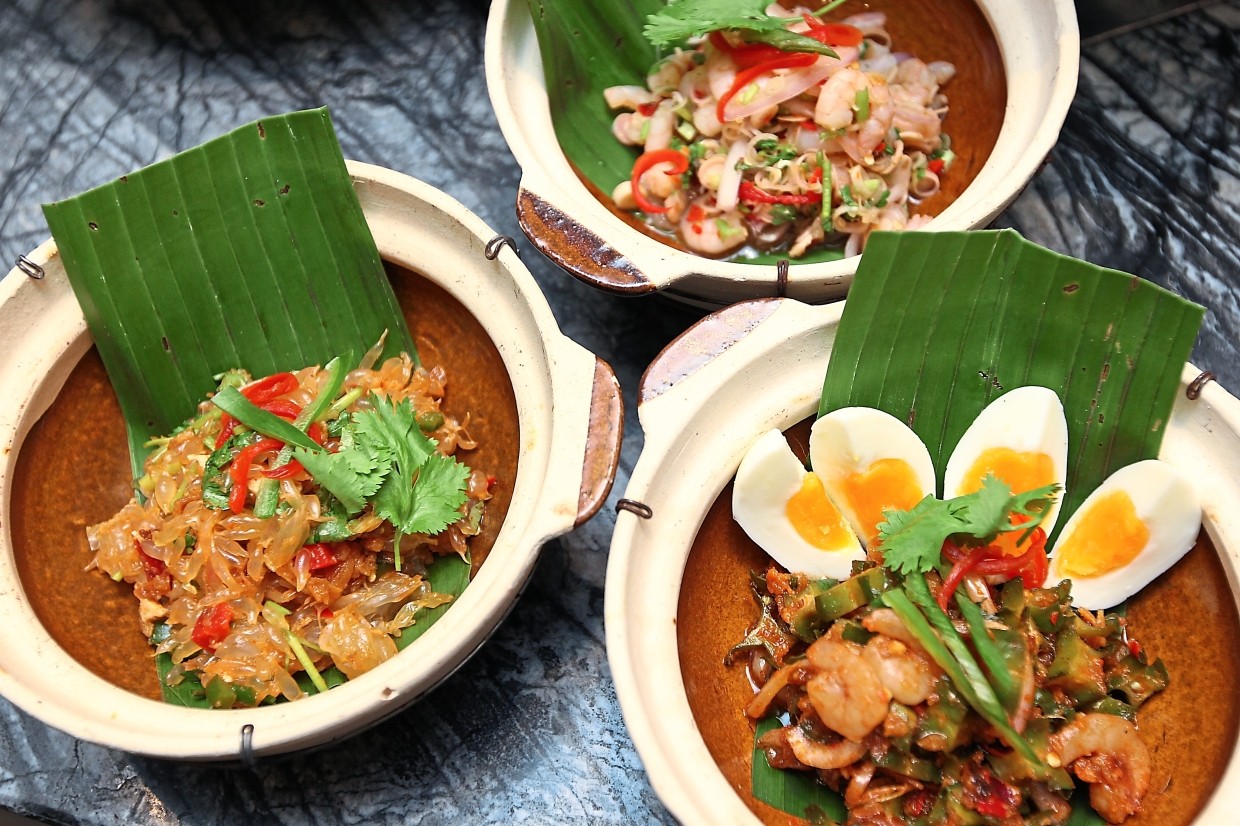 Spicy Wing Bean Salad with Minced Chicken and Shallot, Yum Som O and Pla Goong.
Somkid marinates the duck for four hours with fish sauce and oyster sauce to dispel the gamey flavour.
Desserts of Sangkaya Maprow Orn (coconut custard in pumpkin) and Tab Tim Krob (water chestnut in coconut syrup) were so popular that the chef had to prepare a second batch.
The water chestnuts were crunchy and not too sweet, a delightful treat to end the meal.
The Thai food promotion is part of the buffet at Feast until Oct 6 and it is available for dinner from 6.30pm to 10.30pm. It is priced at RM118 per adult and RM59 per child.
FEAST, Sheraton Petaling Jaya Hotel, Jalan Utara C, Petaling Jaya, Selangor. (Tel 03-7622 8888). Business hours: 6am to 11pm.
This is the writer's personal observation and not an endorsement by StarMetro.
Did you find this article insightful?
% readers found this article insightful