"I WANT to help people. I want to solve problems, especially when there is an issue faced by society."
That was the reply given by 21-year-old Khairul Amirin Khairudin, a final year agriculture student from Universiti Putra Malaysia, when asked why he decided to start his own business. Khairul owns Kaorin Resources, which focuses on the concept of urban farming so that people can grow their own food – in his own words, "so they can easily plant and pluck".
"In the city, there's barely any space for planting and there's no greenery. I feel that this is an issue that needs to be addressed and I felt that it was a calling for me to try to solve this, by providing a system for those who reside in the city to practise farming, " he says.
Khairul has now set his sights on collaborating with agencies to bring an artificial light technology to Malaysia, which would enable the conditions in plant factories to mimic the four seasons that is required by certain types of crops.
On the other hand, Nurul Hanisah Md Badrul Hisham felt that she needed to supplement her main income, which is why she started up a business with her sister. This, despite the fact that she had a full-time job then.
The 28-year-old, who recently resigned from her job and is now focusing all her time and effort on her business, Telur Pindang Raja Hawa, says that her profit from selling telur pindang (braised eggs) has now nearly equalled the salary she was earning as a full-time employee.
"Rather than help other people's businesses, I might as well help my own business. I also wanted to try something new, instead of becoming a follower, I want to be a leader, " says Nurul.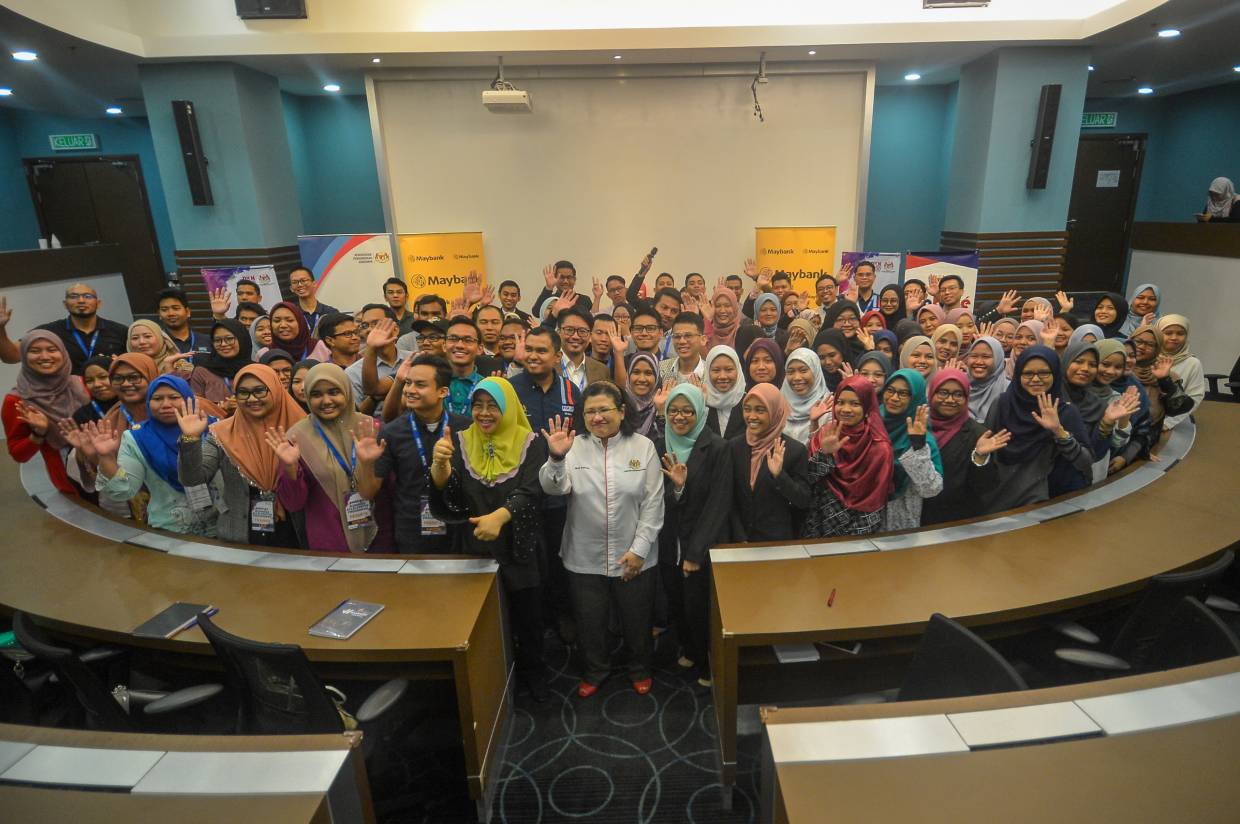 With the team: Wan Suraya (centre, in white), Norashikin (on Wan Suraya's right) and Izham (second row centre, in blue) posing with participants from PROTÉGÉ-BAP and PROTÉGÉ-Maybank programmes.
Helping entrepreneurs
Whatever the ambitions are for these young entrepreneurs, the Professional Training and Education for Growing Entrepreneurs (PROTÉGÉ) prides itself as being more than ready to help turn their dreams into reality.
Formerly known as Skim Latihan 1Malaysia (SL1M), this programme under the Entrepreneur Development Ministry (MED) recently launched the PROTÉGÉ Business Accelerator Programme (BAP) in collaboration with the National Entrepreneurship Institute (INSKEN).
The BAP is positioned to help young entrepreneurs expand their business and increase the efficiency of their operations by using coaching and mentoring methods over a period of four months. It kicked off with a bootcamp on Aug 3 for 35 participants from various states in Malaysia, including East Malaysia.
Business coaches (or Biz Kaunselor as they are known) are assigned to each participant. These individuals – who are entrepreneurs themselves – will coach the participants and follow up on their progress each month. In the first meeting with their coaches, participants must determine what they want to achieve by the end of the programme and outline the steps they intend to take to ensure that they are successful.
This is because there is a key performance indicator (KPI) that needs to be met at the end of the four-month period. Each participant must record an increase of at least 10% in revenue, according to INSKEN programme director Dr Izham Naquiddin Shah Arif Shah.


Phone repairs: Ahmad has had a keen interest in electronics since young.
He adds that there are many different programmes under MED that can help these entrepreneurs scale further after the completion of the BAP, for example, INSKEN business coaching.
"There is continuity for these programmes, we don't let them go just like that, " says Izham.
"We want to encourage these entrepreneurs to not come in with the intention of just getting grants and financial aid. The intention must be, 'I want to be an entrepreneur, and I will achieve it with my own effort.' Our aim is to educate and produce entrepreneurs who have integrity, " he continues.
Making it extremely clear, MED secretary-general Datuk Wan Suraya Wan Mohd Radzi stresses that it is no longer about giving out financial aid – the ministry's priority now is to equip graduates and young entrepreneurs with the necessary skills for them to succeed and facilitate the process by putting appropriate policies in place.
PROTÉGÉ secretariat head Hjh Norashikin Datuk Hj Ismail adds: "This is another way for us to encourage our graduates to be job creators rather than just job seekers."
"We want them to be independent; we want to see their commitment and dedication in being entrepreneurs and we're here to help those who already have a little business of their own to go far through the BAP, " she says.
No walk in the park
Being an entrepreneur is certainly not easy, and it all starts with having the right mindset. Although participation in the programme involves no cost on the part of eligible entrepreneurs, Norashikin says that out of the thousands who were invited to participate, only a handful took up the opportunity.
She says that many budding entrepreneurs are reluctant to join the programme when they find out that MED is moving away from providing financial aid, and that they will not receive any grants even if they participate.
In its efforts to encourage more graduates to pursue entrepreneurship, the ministry is organising the National Entrepreneurship Week from Aug 29 to Sep 1 at the Malaysia Agro Exposition Park Serdang (MAEPS), Selangor.


Problem solver: Khairul makes it easier for city dwellers to grow their own vegetables.
PROTÉGÉ will also be conducting outreach programmes from Sep till Nov at seven public universities throughout Peninsular Malaysia with the purpose of exposing local youth to the myriad opportunities that entrepreneurship offers. The programmes will focus on four key areas, which are entrepreneurship, digital entrepreneurship, agricultural entrepreneurship and jobs of the future.
For the first-ever cohort of BAP participants, they have already taken a step in the right direction by showing that they are willing to do what it takes to bring their small businesses to the next level.
Ahmad Hakimi Ahmad Sa'ahiry, who currently repairs and sells phones for a living, shares that he joined the programme to learn more about financial strategy so that he can expand his business, Mecha Trading.
The 24-year-old says: "I'm freelancing at the moment and want to learn more about marketing. Once my financials are stable, I hope to open a store – for now I want to get knowledge and coaching from experienced people."
Nor Hidayah Azmi, 32, who runs D' Gelanggi Kitchen by herself in Bangi, Selangor, says that she hopes the programme would help her scale her business.
"When it's a one-man show, there's a lack of experience and knowledge because there's no one to brainstorm with. It's less of a business and more of being self-employed, " she says.
For her, having a business means that she doesn't have to be present at the store and the business will still run.
"If I'm still at the store, I'd say it's being 'self-employed'. So, I haven't reached that level yet, to have my own business. That's why I'm here. I hope that the modules will give me the knowledge to accelerate my business and make it sustainable in the long run, " says Nor Hidayah.
To find out how you can be a part of the PROTÉGÉ programme, email balqis.rasid@med.gov.my. Visit PROTÉGÉ's official website at www.PROTEGE.my or Facebook page at Professional Training and Education for Growing Entrepreneurs – Protege for the latest updates and announcements.