Students under home medical surveillance as part of Hong Kong's new Covid-19 quarantine policy should not join mask-off activities in schools or have lunch with others, according to new guidelines issued by the education authority.
Schools should also make police reports if they discover individuals with the red health code – barring entry to premises citywide – attempting to enter campuses, the Education Bureau said in an email to the sector on Thursday night.
"To allow students with the amber code to have equal learning opportunities, schools should allow these students to return for face-to-face classes," the bureau said in the email, adding such pupils could come back for lessons if they test negative on daily rapid antigen screenings.
Do you have questions about the biggest topics and trends from around the world? Get the answers with SCMP Knowledge, our new platform of curated content with explainers, FAQs, analyses and infographics brought to you by our award-winning team.
The new coloured health code, implemented alongside relaxed "3+4" quarantine arrangements for arrivals that came into force on Friday, uses a red code on the government's "Leave Home Safe" app to identify infected patients.
Uninfected people undergoing home medical surveillance will get an amber code when they complete three days in hotel isolation and are released to serve their home medical surveillance from Day 4 to Day 7. They can still go to school and report for work, but their movements citywide are limited.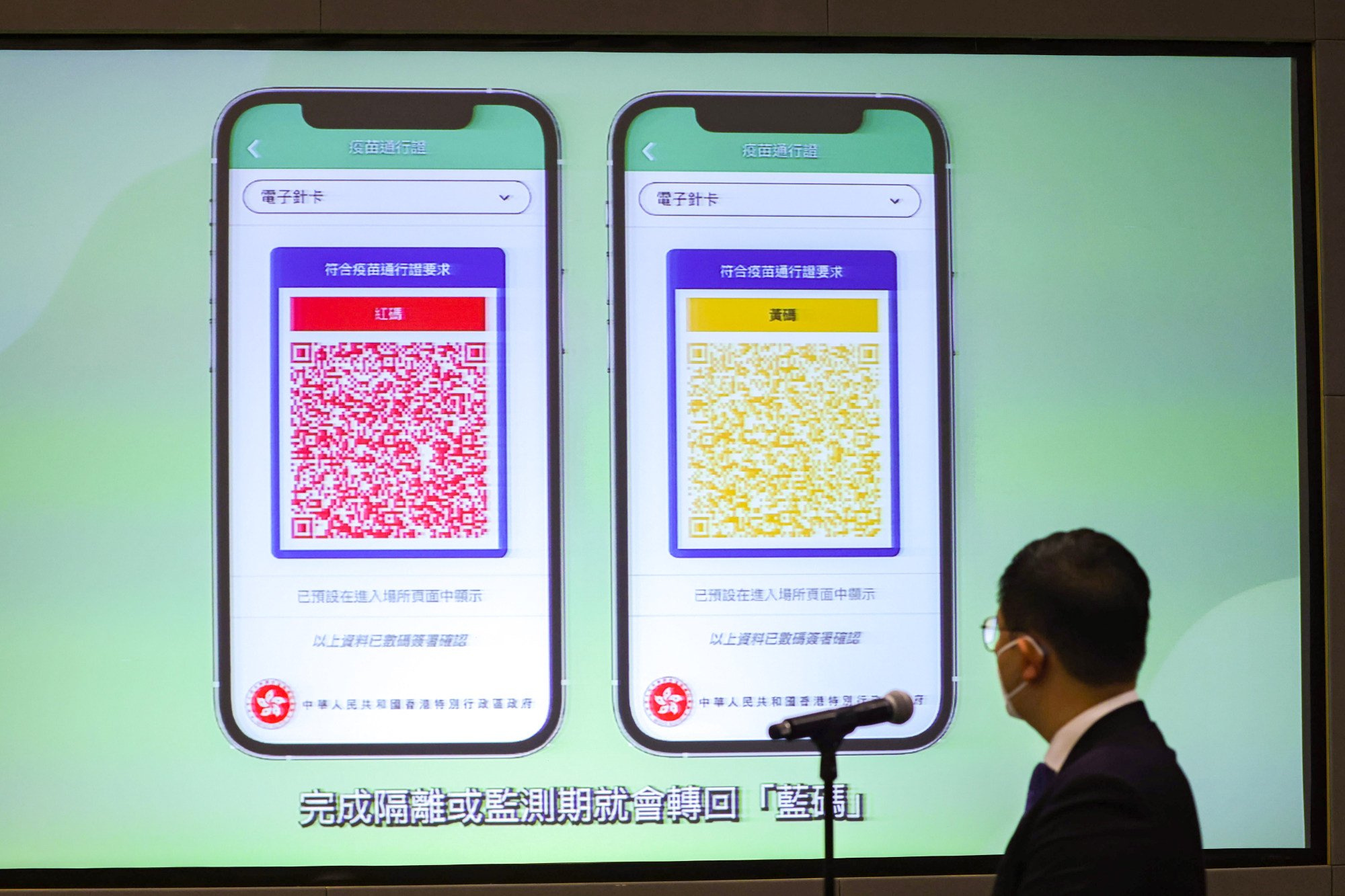 Some schools complained earlier that authorities had not specified how they should treat students with the amber code. Such users are restricted from visiting restaurants and high-risk places.
According to the official email seen by the Post, schools should remind students to proactively declare their statuses if they are assigned a red or amber code.
The bureau added that school staff or students with the amber code should not join any mask-off activities on campus, such as playing woodwind instruments, as well as contact sports like football or basketball. They are also required to have lunch separately.
"If a person with the amber code working or studying in school needs to have lunch [on campus], the school should install partitions and arrange for these persons to have meals in a location separate from other staff and students. The school staff or students concerned must maintain appropriate social [distancing] and face one direction," it said.
Students with the red code are not allowed to go back to school.
Schools should also "proactively check" all visitors to ensure they are not issued either of the colour codes, with cases of violation to be reported to police immediately.
The current academic year is expected to end on Friday for most local schools. The new school year will start on September 1.
For the latest news from the South China Morning Post download our mobile app. Copyright 2022.
Subscribe now to our Premium Plan for an ad-free and unlimited reading experience!