Hong Kong's daily Covid-19 caseload soared to 164 on Thursday, the most recorded in a single day since the pandemic began in January 2020 and up sharply from the 107 confirmed infections that emerged on Wednesday.
The previous daily record was 149 new cases reported on July 30, 2020, of which 145 were local.
Speaking before the latest official figures were released, a government source said residents should not expect the ban on evening dine-in service in restaurants to be lifted until at least a week after Lunar New Year at the start of February.
Do you have questions about the biggest topics and trends from around the world? Get the answers with SCMP Knowledge, our new platform of curated content with explainers, FAQs, analyses and infographics brought to you by our award-winning team.
Part of the reason for Thursday's record case count is a new outbreak at Cheung Bor House at Choi Wan Estate in Wong Tai Sin district's Ngau Chi Wan and home to more than 1,000 people.
Dr Edwin Tsui Lok-kin, controller of the Centre for Health Protection, warned that the risks of outbreaks in the community remained very high.
"Currently there are more than 30 cases without a traceable source of infection, suggesting that there are at least dozens of hidden transmission chains in the community," Tsui said.
Among the new cases, 48 were imported and 116 locally transmitted. The number of untraceable cases also continued to grow, with authorities unable to find the source of a dozen community infections recorded across various neighbourhoods, including Ho Man Tin, Ma On Shan and Tin Shui Wai. About 100 people tested preliminary-positive.
The city's tally of confirmed cases stands at 13,790, with 213 related deaths, while 662 Covid-19 patients are being treated in public health care facilities, all of them in stable condition.
But given the surge in patient numbers, the Hospital Authority is preparing to designate two more halls at AsiaWorld-Expo to provide an additional 500 beds to treat patients with mild symptoms and will hire more retired or part-time nurses for shifts there.
Dr Albert Au Ka-wing from the Centre for Health Protection said a total of 22 infections, including preliminary-positive cases, had been uncovered in 16 units at Choi Wan Estate, with most of the infections identified in an overnight lockdown on Wednesday. Following a government review, the operation was extended until Friday.
Four of the households with infections lived in unit 7 on different floors, three were in unit 11, and four others were in flats on the 16th floor.
"We believe there could be some vertical or horizontal transmission," Au said.
The first case uncovered in the building involved a 60-year-old security guard who is the mother of a hamster owner earlier confirmed as infected. They live in Tropicana Gardens in Wong Tai Sin.
Fears of animal-to-human transmission linked to hamsters prompted a massive government cull of the rodents. Experts now believe the security guard to be the index case at Cheung Bor House.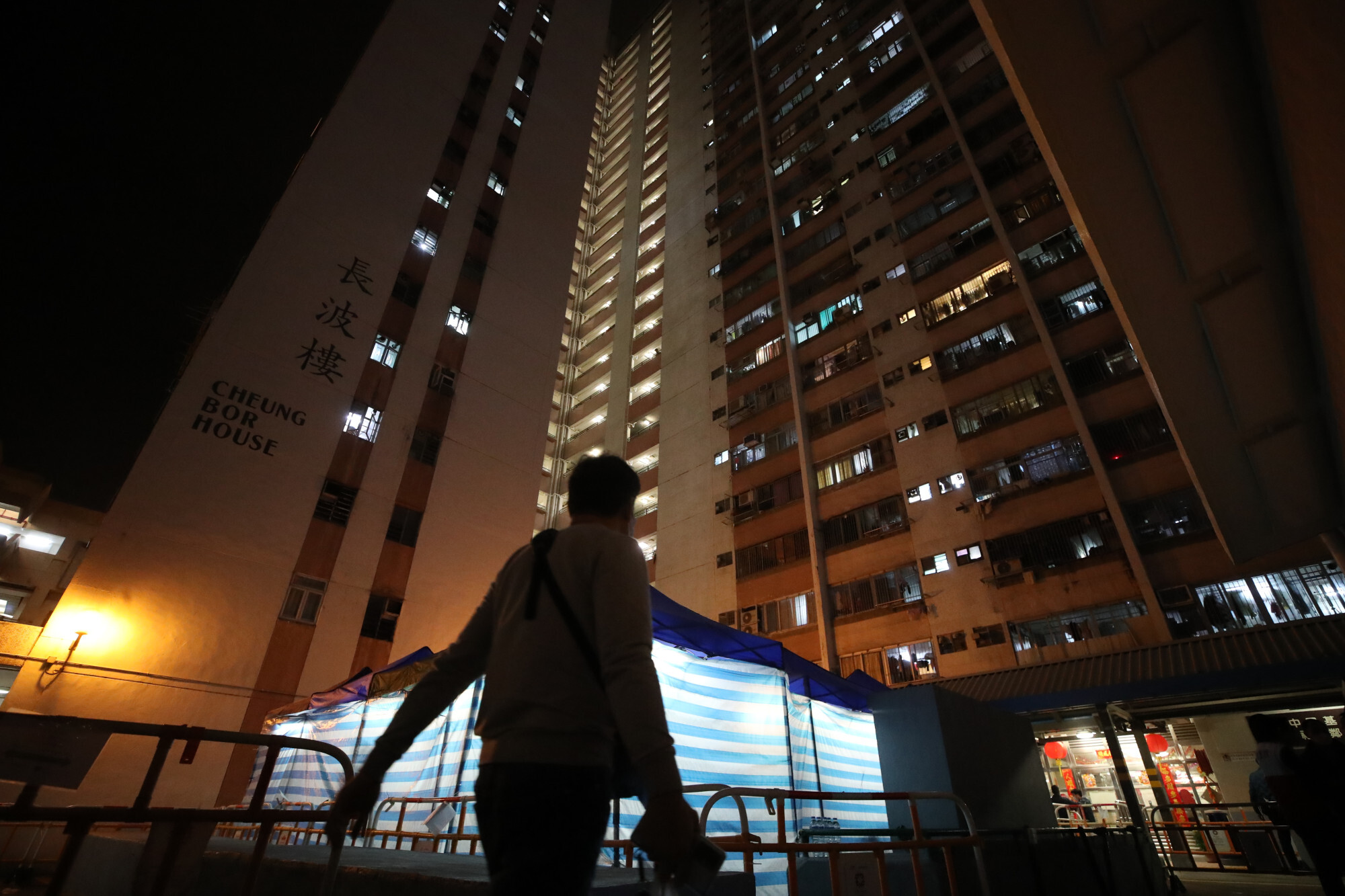 Professor Yuen Kwok-yung, who conducted a site inspection, said that the virus could have spread from lower to higher floors through the so-called chimney effect. There were also design problems with the exhaust pipes in the building, meaning virus-laden air could not be properly evacuated.
The horizontal transmission on the 16th floor was probably caused by simultaneous operation of exhaust fans in different units, with contaminated air being drawn out of one unit and sucked into the one next door, Yuen said.
All residents from units 7 and 11 on all floors, as well as those from units 2 to 7 on the 16th floor, will be sent to a quarantine centre. Other residents in the building must isolate at home for a certain period of time, which will be decided later.
"We are worried. That's why we need to lock down the entire block and carry out mandatory testing," Yuen said when asked whether he feared a repeat of the ongoing massive outbreak at Kwai Chung Estate.
Hundreds of cases have been detected at Kwai Chung Estate over the past few days. Three public housing blocks there have been put under lockdown orders ranging from five to seven days.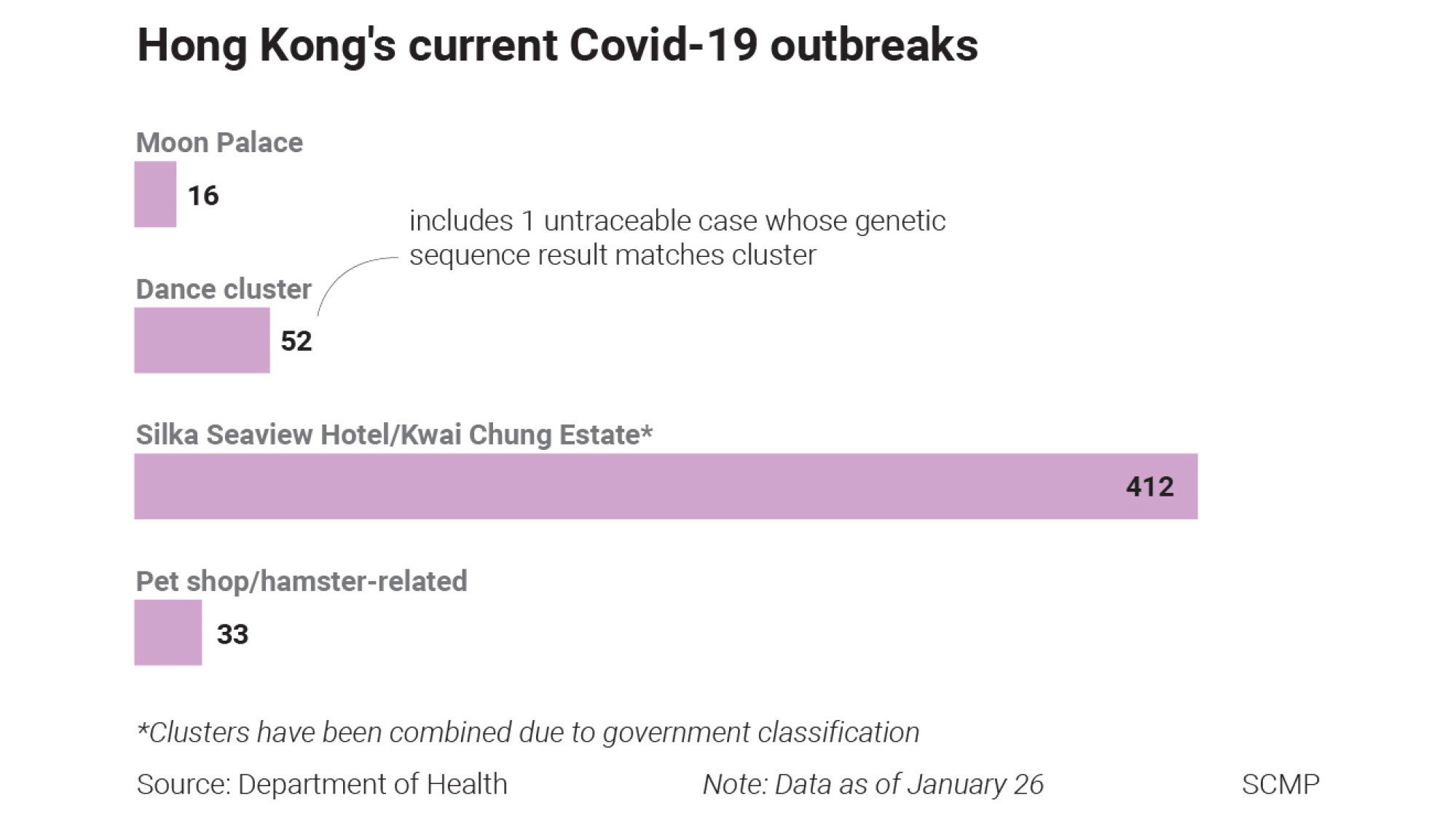 At Yat Kwai House, the hardest-hit block, infections were uncovered at six more new units, bringing the total number of cases at the estate to 251.
Meanwhile, local outbreaks involving both the Omicron and Delta variants continue to grow across the city. More untraceable infections were discovered on Wednesday, including an occupational therapist and two airport workers. Small-scale outbreaks were also identified in Tung Chung and Tsuen Wan.
Sewage samples from 14 residential buildings and two schools in three more districts in Kwai Chung, Kwun Tong, Chai Wan and Ma On Shan have also tested positive for the virus, health authorities said in a press release issued after midnight. Residents and visitors to the places must take a compulsory Covid-19 test before Friday.
The two schools are Renaissance College and Methodist Primary School in Ma On Shan.
The Home Affairs Department and Housing Department will also distribute rapid test kits to the occupants of four public housing estates in Wong Tai Sin starting from Thursday. The government has also called on residents in the Lam Tsuen area of Tai Po and Tung Chung North to undergo testing on a voluntary basis.
Professor Ivan Hung Fan-ngai, a clinical professor of medicine at the University of Hong Kong, said that he believed tighter social-distancing measures could not be eased until at least a week after the Lunar New Year holiday in February, pandemic conditions permitting.
"The [6pm] dine-in ban could be gradually relaxed ... For example, relaxed to allow a maximum of four people per table, or resuming dine-in service until 8pm," he told a radio programme on Thursday. "But I believe that it will take a few weeks for it to be fully resumed."
He added that the lockdown at Kwai Chung Estate had been effective as the number of daily cases had stopped surging exponentially, though he still expected the number of daily infections to continue to rise due to the small-scale outbreaks across the city.
Health authorities stressed on Wednesday that the Omicron outbreak at Kwai Chung Estate was largely under control, and a downward trend in infections had been observed in the hardest-hit Yat Kwai House. However, they still warned of silent transmission across the city, as infections were identified among close contacts of some residents of the estate.
More from South China Morning Post:
For the latest news from the South China Morning Post download our mobile app. Copyright 2022.
Join our Telegram channel to get our Evening Alerts and breaking news highlights