As Britain's Prime Minister Boris Johnson prepares to host the world's most powerful leaders in Cornwall this weekend, China watchers will be looking for further clues to an evolving policy towards Beijing.
China, Hong Kong and Taiwan are set to feature prominently on the agenda of the G7 leaders' summit, which will also be attended by Asia-Pacific powers including Australia, India and South Korea.
The Johnson government, like many Western administrations, is trying to balance a tough line on China's human rights record, while maintaining strong trade ties.
Do you have questions about the biggest topics and trends from around the world? Get the answers with SCMP Knowledge, our new platform of curated content with explainers, FAQs, analyses and infographics brought to you by our award-winning team.
This balancing act was helpfully laid out in 114 pages of official policy in March. The Integrated Review, Johnson's first foreign policy framework, contained 29 references to "China" or "Chinese", well ahead of the United States (15), Russia (14), or France (12).
"China is a systemic competitor", an "authoritarian state" which "presents the biggest state-based threat to the UK's economic security", the report read.
At the same time, though, Britain "will continue to pursue a positive economic relationship, including deeper trade links and more Chinese investment in the UK".
Such contradictory policy is not uncommon these days in the West, where few have figured out how to successfully continue to sell goods to China's 1.4 billion people, while holding it to account on human rights and security issues.
"All of these things are going to exist, but there are points in which it lapses into incoherence," said Andrew Small, an analyst of Europe-China relations at the German Marshall Fund of the US.
"It can become a kind of cake-having-eating situation rather than something that is meaningfully sharp about the strategic choices that are involved."
Britain was one of six of the G7 to launch sanctions on China in March, over human rights infringements in Xinjiang.
But this was not enough for hawkish Conservative Party backbenchers, who are baying for more sanctions on China and on Hong Kong, boycotts of the Beijing Winter Olympics, bans on Xinjiang-made goods, the declaration of genocide in Xinjiang, and a laundry list of other hardline China policies.
These sentiments appear to have crept into the public psyche too. Surveys released this week by the German Marshall Fund showed 60 per cent of British people see China as a rival, versus 21 per cent who consider it a partner.
A total of 64 per cent want to see a tougher line on human rights, with a majority also wanting China held to account on climate, cybersecurity and territorial issues.
Britain must deal with pressure from the hardline Biden administration, as well as other members of the Five Eyes alliance, which were earlier to adopt tougher policies on China, and are now beckoning Britain to join them.
"UK policy does not go as far as the US or Australia. I sympathise with Australia because it gets bullied relentlessly by Beijing, but it also crosses the road to pick a fight with China. Boris Johnson has not gone that far, but it is a much tougher policy than the one he inherited," said a former senior figure in the Johnson administration.
The Five Eyes alliance, an intelligence-sharing group of Australia, Britain, Canada, New Zealand and the US, does not have a policy forum.
But it is becoming more influential in shaping members' policies on China. Tracking the alliance's approach on China is helpful in tracing Britain's own relationship with the mainland over the decades.
For Britain's leaders, the Five Eyes is viewed as sacrosanct – and has grown in importance as the country's own stature diminished.
"The more British power receded on the global stage, the more valuable the Five Eyes was. It was our passport for sitting as equals at the table with the Americans," said Jonathan Eyal, international director at the Royal United Services Institute, a British security-focused think tank.
Eyal describes a decade following the handover of Hong Kong in which the Five Eyes neglected China, as threats of non-state actors such as al-Qaeda and Isis rose post-9/11.
But pre-1997, listening outposts in then-British Hong Kong, operated by the military and working with the notorious Special Branch – an anti-communist brigade established in Hong Kong between the world wars – played a crucial role in gathering intelligence on China for the Five Eyes through the Cold War.
In a 2017 paper published in the journal Intelligence and National Security, Alexander Nicholas Shaw described how the "Hong Kong Special Branch was encouraged to assist MI6 in penetrating targets in mainland China", helping put together a "directory of Chinese communist officials in Southeast Asia" and interrogating Chinese defectors from the 1950s onwards.
In a 2003 paper published in the Hong Kong Law Journal, Fu Hualing and Richard Cullen said the Special Branch was considered to have the best "counter-intelligence and counter-subversive capacities" in the British Commonwealth by the 1960s.
It monitored the Xinhua news agency, spied on China-backed organisations – among them "many pro-China schools and companies" – and followed visiting Chinese officers and pro-Beijing figures in Hong Kong.
"Especially after the 1967 riots, communist organisations were subjected to almost continual scrutiny by the Special Branch. The branch also regularly subjected members of such organisations to personal phone-taps and surveillance," the authors wrote.
With China largely closed off to media and diplomats through these years, this was a vital pipeline for informing Western allies what was happening there.
While British installations at Aberdeen, on the southern end of Hong Kong island, were used to "provide early warning" on potential Chinese invasions through the volatile 1960s, Eyal said, afterwards the focus changed, as the West looked for signs of how China might open up.
"China became important in the context of the Sino-Soviet confrontation from the 60s onwards, and in the 70s after the political changes in China, the death of Mao Zedong, and the relationship with the US, this is when it became really significant to the Five Eyes," Eyal added.
But the intervening decades saw a softening of the perceived China threat, as its booming economy was integrated with global supply chains. Western companies got fat from making cheap products in China's manufacturing heartlands, and governments eyed up Beijing's newly-minted overseas investments.
Britain was no different. Its "golden era" with China was best illustrated by Xi Jinping and David Cameron propping up the bar at former prime minister Cameron's local pub, supping pints of ale and eating chips.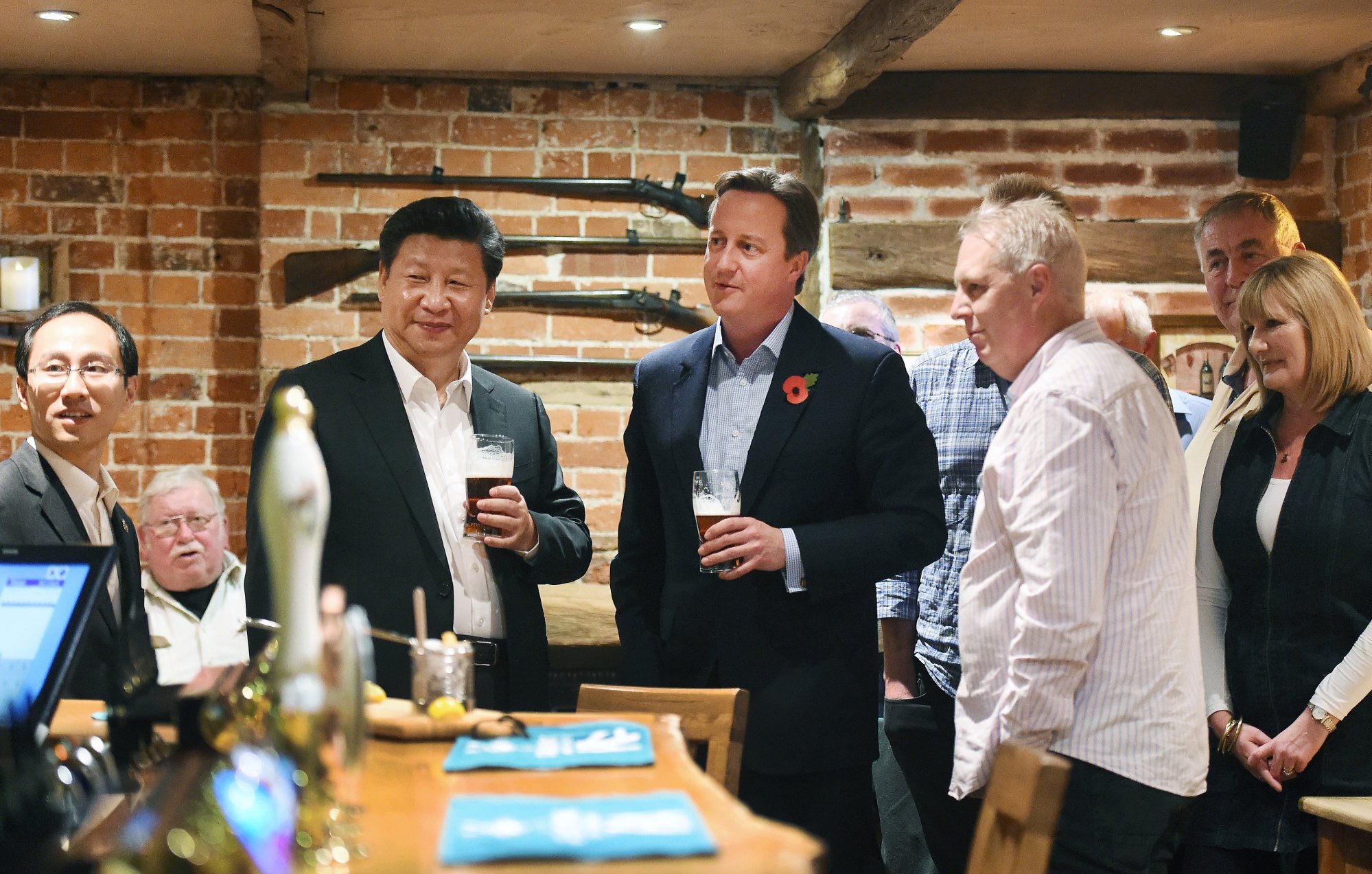 Westminster was open to Chinese investment, and it also tried to carve out its own way with Huawei Technologies Co., inviting the Chinese telecoms giant to submit its technology for scrutiny by British intelligence, in what was seen in Whitehall as a model for the West to work with China's tech giants.
But by this point, the Five Eyes' suspicions on China had gone into overdrive and Britain was forced to gradually remove Huawei from its future 5G networks, or face the ignominious situation of being sidelined by an alliance it sees as "the crown jewels".
"The intelligence priorities in the UK and America still include Russia, for obvious reasons, but they've now also broadened in a very fundamental way to China, the new global superpower," said Sir Malcolm Rifkind, the British foreign secretary at the time of the handover.
The national security law imposed on Hong Kong by Beijing was the straw that broke the camel's back, said Rifkind, who was one of six former foreign ministers to sign an open letter to Johnson last week asking for Hong Kong to be high on the agenda of this week's summit.
"What has become clear over the past few months is this is being used as an opportunity to destroy Hong Kong's separate identity."
This confluence of issues – Hong Kong, Huawei, Xinjiang, China's retaliatory sanctions – is pushing China higher up the foreign policy agenda, rousing noisy MPs that are getting harder for the government to ignore.
The head of MI5 Ken McCallum summed up the shift in mood, saying: "You might think in terms of the Russian intelligence services providing bursts of bad weather, while China is changing the climate."
Britain has opened up its immigration channels to Hongkongers holding British National (Overseas) passports and joined the Xinjiang-related sanctions. It has pledged to address forced labour in supply chains, but has made no movement on other demands.
Johnson's balancing act continues. He told Chinese businessmen he was a "fervent Sinophile" in remarks leaked on the day Foreign Secretary Dominic Raab told the UN Human Rights Council about "China's systematic human rights violations perpetrated against Uygur Muslims and other minorities in Xinjiang".
Weeks later, Raab himself said Britain should not pull back from making trade deals with countries that have not adopted global human rights standards, otherwise "we're not going to do many trade deals with the growth markets of the future".
"And there, in microcosm, you have the government's approach to China. Contradictory, divided, self-defeating, incoherent," wrote Luke de Pulford, a prominent British China critic, in The Telegraph earlier this year.
In an increasingly binary debate, a few advocate a third way of countering Beijing.
Before resigning last August, Ciaran Martin was Britain's top cybersecurity official. Now a professor at the Blavatnik School of Government at Oxford University, he encourages the government not to try to "ban your way out of globalisation", but to take a more progressive approach.
"Ultimately, you cannot prevent China from making technological progress. You might slow it down for a bit by throttling the supply of chips, but it's obvious to anybody with two eyes in their head what the response for that's going to be – to make their own. So you've got to be able to compete," Martin said.
The US has embraced such a policy to an extent, but Britain alone can hardly compete with the resources China is pumping into its quest for technological superiority.
So Martin pointed to Downing Street's proposed "Democratic-10 (D10)" – a group of G7 nations plus Australia, India and South Korea, mooted to work together on 5G technological projects – as a possible start.
Its hypothetical membership will all be represented in Cornwall this weekend, even if the official formation is not on the agenda for the summit, where leaders are expected to launch a green alternative to China's Belt and Road Initiative infrastructure drive.
Malcolm Turnbull, the former Australian prime minister, said he supports such initiatives, and said he was not surprised by Britain's shifting China policy.
"People on the China side have to ask themselves, [do you] know why that is? Their own foreign policy has been excessively belligerent," Turnbull said.
"The more international cooperation and engagement there is, the better," he added. "But I guess there will come a time when no one has enough time to go to all these meetings."
More from South China Morning Post:
For the latest news from the South China Morning Post download our mobile app. Copyright 2021.
Join our Telegram channel to get our Evening Alerts and breaking news highlights