Police in Hong Kong planned to step up a crackdown on juvenile crime after the force's chief on Aug 31 said a pandemic jump in social media use was a major factor in an increase in the number of young people arrested for various offences.
Commissioner of Police Raymond Siu Chak-yee said the force would highlight five areas – online job fraud, illegal debt collection, serious drugs offences, online dating traps and nude chat blackmail.
"Juveniles these days spend a lot of time on the internet every day," he said, adding that social media had become an important route for criminals to lure youngsters into illegal activity.
Siu said young people were attracted by online job advertisements during the Covid-19 pandemic offering "quick money" and that some criminals had approached teenagers on the street because they spent more time outside when classes were suspended.
The force's public relations wing will distribute 20,000 booklets to more than 470 secondary schools and more than 20 sponsoring bodies.
Each section of the booklet features a real-life story, a criminal technique section that shows how offences are carried out and tips for parents and teachers on how to educate teenagers and spot warning signs.
Leung Chun-man, the senior superintendent of the public relations wing, said the booklet was a good guide with practical suggestions for how to steer youngsters away from trouble.
An online version of the document will be uploaded on the websites of the force, the Education Bureau and Hong Kong Education City, which promotes technology teaching.
The campaign in secondary schools will launch at the start of the new term on Thursday.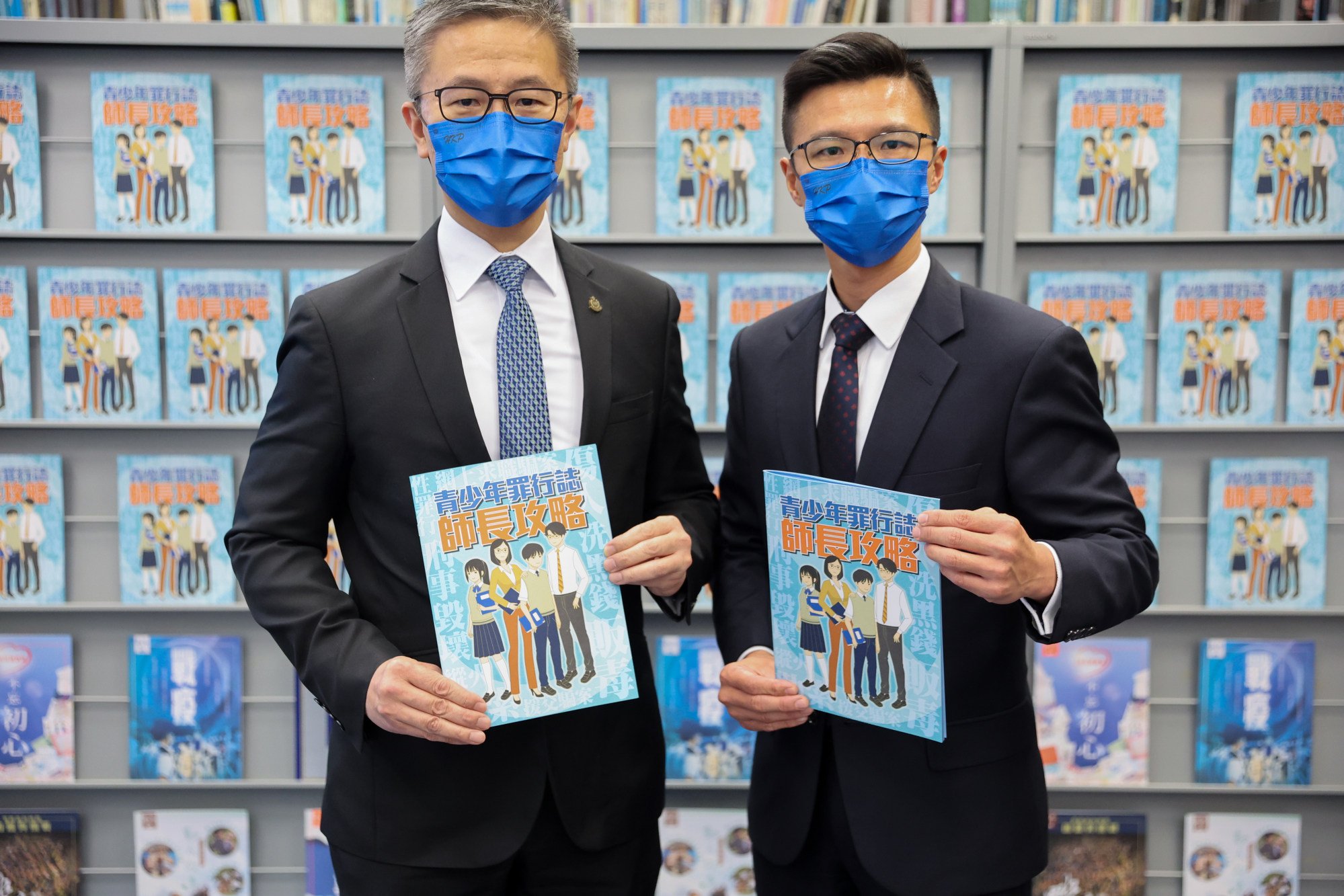 The force has also created five anti-crime video shorts aimed at the young, which explain the serious consequences of getting on the wrong side of the law and how to avoid becoming entangled in illegal activities.
Sui said that a joint effort by schools and parents was needed to help prevent juvenile crime.
Although the total number of juvenile crimes last year involving youngsters aged between 10 and 20 in 2021 had dropped compared to 2020, he said, those arrested for serious drug offences increased by 35.2% from 318 people in 2020 to 430 in 2021 and the figure for those involved aged 16 or under had doubled.
The number of youngsters arrested for indecent assault surged by 65.8% from 73 people in 2020 to 121 in 2021.
The figures for young people arrested for crimes including debt collection activities also increased, up 10.9% from 302 in 2020 to 335 last year.
There were 145 young people arrested for serious drug offences in the first six months of 2022, 35.3% down from the 224 recorded in the same period in 2021.
But police highlighted that, although the figures had improved, nine of those arrested were aged just 13 or 14.
Siu said among the 12 juveniles arrested for prostitution-related offences in the first six months of the year, 11 were still in secondary school.
There were 67 juveniles arrested for criminal damage offences over the same time frame, with 46 of the cases involving secondary pupils. – South China Morning Post
Subscribe now to our Premium Plan for an ad-free and unlimited reading experience!