TikTok owner ByteDance has accused Tencent Holdings of blocking its cloud office suite Feishu on WeChat as China's tech giants fight for dominance in the enterprise collaboration market and the central government increases scrutiny of monopolistic practices in the tech sector.
Xie Xin, ByteDance's vice-president overseeing Feishu, said the productivity app's WeChat mini program for cloud documents has been stuck in review limbo, without any feedback or response from the social media platform. Feishu is the Chinese version of ByteDance's productivity tool Lark, an app that basically combines similar features to Slack and Google Docs.
"The review of the WeChat open platform has always been an unsolved mystery. Even if the review status becomes 'passed', WeChat can block the product for no reason," Xie said in a post on Jinri Toutiao, the company's popular news platform, on Thursday. "Our other two WeChat mini programs, 'Feishu Conference' and 'Feishu', have suffered such treatment as well."
"We respect Tencent's absolute market position and influence in the social media field, but... Tencent relies on its monopoly position to block Feishu and harm the enterprise and user experience. We do not agree [with this practice]," she added.
WeChat and ByteDance did not immediately respond to requests for comment.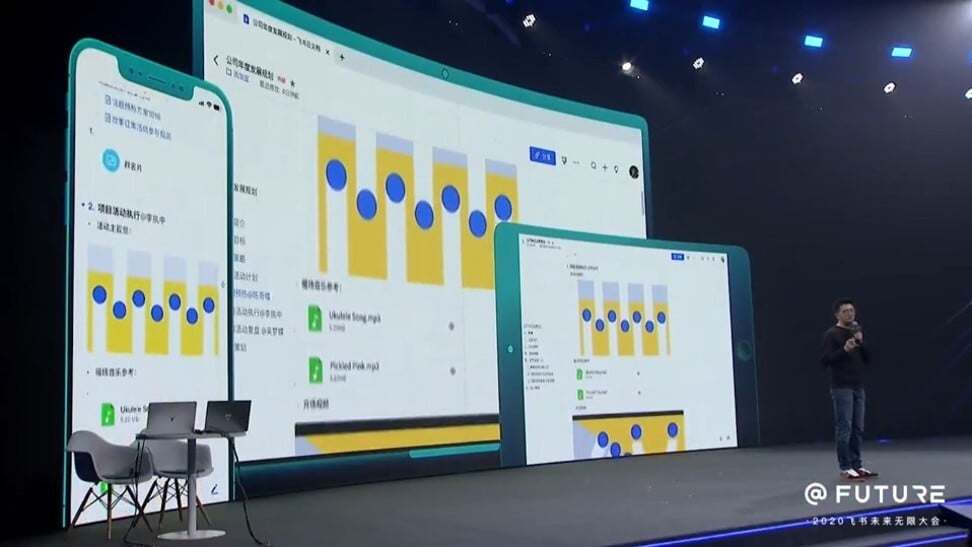 This latest spat between the two tech giants comes on the heels of a dispute with another tech giant, Huawei Technologies Co, China's largest smartphone brand. Huawei removed Tencent's games from its app store last week in a disagreement over revenue sharing, but the dispute was later resolved.
Amid pandemic-induced lockdowns and more people working from home in China, ByteDance has sped up its efforts to promote Feishu, offering three years of free service to small and medium-sized businesses. ByteDance employees sent more than 2.25 billion messages and created 28.7 million documents with 117 million views on Feishu last year, the company said in a report published on Thursday.
The dispute over the new mini program is only the latest issue between Feishu and WeChat. Feishu said last March that users could not open any of its links on WeChat, nor could they share Feishu name cards to invite colleagues.
Links using Feishu's domain name still do not work reliably on WeChat, Xie said in her post. Opening the links requires copying and pasting them into a browser.
Even before the Feishu dispute, Tencent was found to be blocking users from registering on Douyin, the Chinese version of TikTok, using their WeChat accounts. Users were also blocked from directly sharing Douyin videos on WeChat.
The CEOs of the two companies, Tencent's Pony Ma and ByteDance's Zhang Yiming, traded barbs online in 2018 over the issue. ByteDance also sued Tencent in June 2018 for anticompetitive behaviour while the Shenzhen-based internet giant accused the former of defamation.
While celebrating the growth of the short video app, Zhang posted on WeChat, "The growth of Douyin cannot be stopped despite WeChat blocking Douyin on its platform and [Tencent's] Weishi copying and plagiarising Douyin." The usually low profile Ma then weighed in, "[Your comments] can be understood as slander."
Products from other tech companies have also been on the receiving end of this practice. WeChat is known to block links to Alibaba Group Holding's Taobao marketplace. Tencent is a backer of rival e-commerce platform JD.com. Alibaba is the parent company of the South China Morning Post.
WeChat typically blocks apps on the grounds that they violate community rules, such as "external links that entice users to share". In the past, some of Tencent's own investee companies, including ride hailing service Didi Chuxing and JD, have been restricted for the same reason.
As the country's largest social network, a block on WeChat can be particularly restrictive. With 1.2 billion users worldwide, the vast majority of whom are in China, the platform has become an indispensable tool for introducing and sharing competing social media products.
The enterprise collaboration industry has been growing rapidly in China since getting a boost from the pandemic over the last year. Qianzhan Industry Research Institute has forecast that the industry will reach 49bil yuan (RM30.63bil) by 2024, a compound annual growth rate of 12.4%. – South China Morning Post