In 2015 when Chinese gaming giant Tencent Holdings tabled the idea of creating a mobile version of League of Legends, it could not get the game's creator, California-based Riot Games, to agree.
At the time, mobile was not commonly seen as the platform for cutting edge, competitive games and the founders of Riot – which Tencent owned 93% of at the time – did not want to water down its hottest PC game to be played on smartphones.
Determined to release a League of Legends-like title for mobile, Shenzhen-based Tencent soon launched a similar multiplayer online battle arena (MOBA) game developed by another of its subsidiaries, TiMi Studios.
Honour Of Kings was a smash hit and went on to become the first game in the world on any platform to average more than 100 million users a day – the equivalent of about the entire population of the UK and Canada combined.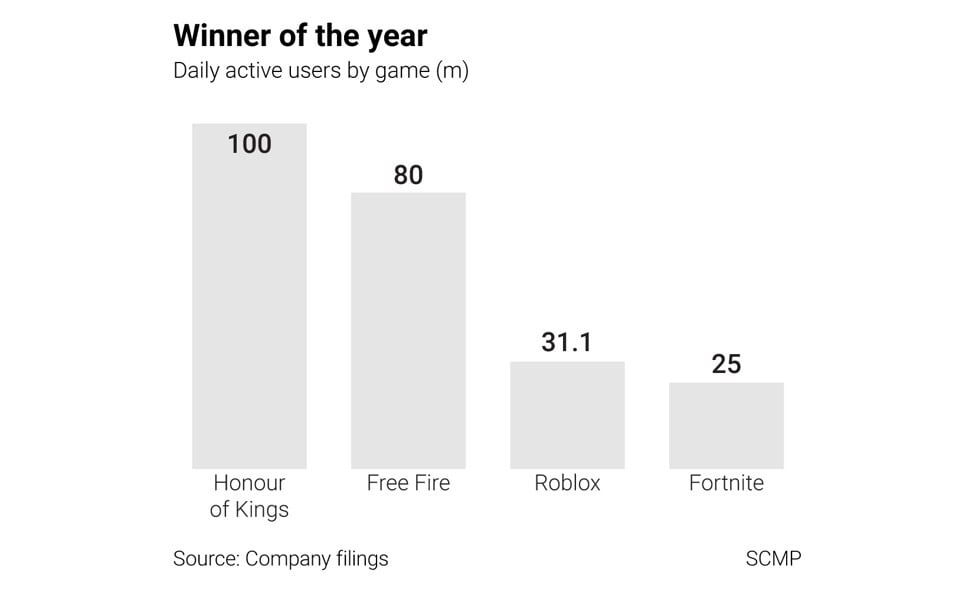 The game looked so similar to League Of Legends in its early days that it reportedly sparked an uproar in Los Angeles when Riot employees discovered early screenshots of it.
"We were stunned," tech news site The Information quoted a former Riot employee as saying. "They were blatantly ripping off our intellectual property."
But Honour Of Kings went on to surpass the game it appeared to be originally inspired by. In 2019, it overtook League of Legends with US$1.6bil (RM6.39bil) in revenue compared to the latter's US$1.5bil (RM5.99bil), according to game research company SuperData.
And after giving its parent company's proposal the cold shoulder five years ago, Riot eventually released a mobile version of League Of Legends itself this October.
"When we first started Honour Of Kings, we never imagined it would have today's achievements," TiMi's general manager and the game's director Li Min told the Post in an exclusive interview.
While it may seem to be an overnight success, however, the path to glory has been far from smooth.
Rocky start
The night before Legend Heroes – the predecessor of Honour Of Kings – was set to launch, Li lay on the hardwood floor of a small hotel room next to the office, tossing and turning.
"I was thinking to myself, 'Did I fail again?'" Li wrote in an open letter published in 2017.
Heading the MOBA team for TiMi, Li was feeling the pressure to deliver. In the decade since he had joined Tencent in 2005, he had yet to launch a hit game.
"I used to bring with me to work the mentality that this would be my last day at Tencent," Li told Fast Company in an interview in 2019.
His last big-budget production, a strategy game called Basanguo OL, failed to stand out from competing titles in the same genre. And this time, Legend Heroes was being pitted against a MOBA game by a rival Tencent studio.
Tencent thrives on internal competition, as founder Pony Ma has repeatedly stressed at earning calls. So when Riot declined to make a League Of Legends-style game for mobile, TiMi and another Tencent studio, Lightspeed & Quantum Studios, raced to develop MOBA games that fit the bill.
TiMi's Legend Heroes and Lightspeed & Quantum's We MOBA launched on the same day – Aug 18, 2015.
The results were clear. Just one month later, We MOBA was already the third most-downloaded mobile game on Apple's iOS worldwide, according to app analytics firm App Annie. Legend Heroes was nowhere to be seen.
We MOBA's triumph was at least partially attributed to its use of tried and tested game mechanics, including the five-versus-five gameplay that players were already familiar with through games like League Of Legends. Legend Heroes, for its part, had experimented with a three-versus-three mechanic instead.
"Players who have played League of Legends and Dota 2 can quickly familiarise themselves with We MOBA and enjoy its cutting edge graphics and diverse gameplay, even on the smaller screen of mobile devices," App Annie said in a report.
Legend Heroes, meanwhile, was sent back to the lab for an overhaul. When TiMi relaunched the game in October as Honour Of Kings, it too featured a five-versus-five format.
This time, it took off. By December 2015, Honour Of Kings had amassed more than 7.5 million daily active users and was the most popular mobile MOBA game in all of China, according to TiMi.
Overtaking We MOBA as Tencent's MOBA champion was a crucial victory: while Tencent relishes internal competition, it usually picks just one "winner" in each genre, according to Daniel Ahmad, senior analyst at consultancy firm Niko Partners.
"Once it became clear that players were engaging with Honour Of Kings at a higher level, the company invested additional resources in the game to ensure it became a success," Ahmad said.
Winning recipe
Chundi Zhang, a video games analyst at Ampere Analysis, chalked up the early success of Honour of Kings to rapid iteration due to competition with We MOBA after the initial flop. "They were able to find the users' pain points and made a true return to the essence of the MOBA game," he said.
Half a decade since its launch, the game is doing even better than before despite an increasingly crowded market for MOBAs. Last year, amid a surge in online gaming due to the coronavirus outbreak, Honour Of Kings raked in US$2.6bil (RM10.39bil) in revenue from in-app purchases, according to estimates from app tracking firm Sensor Tower in December.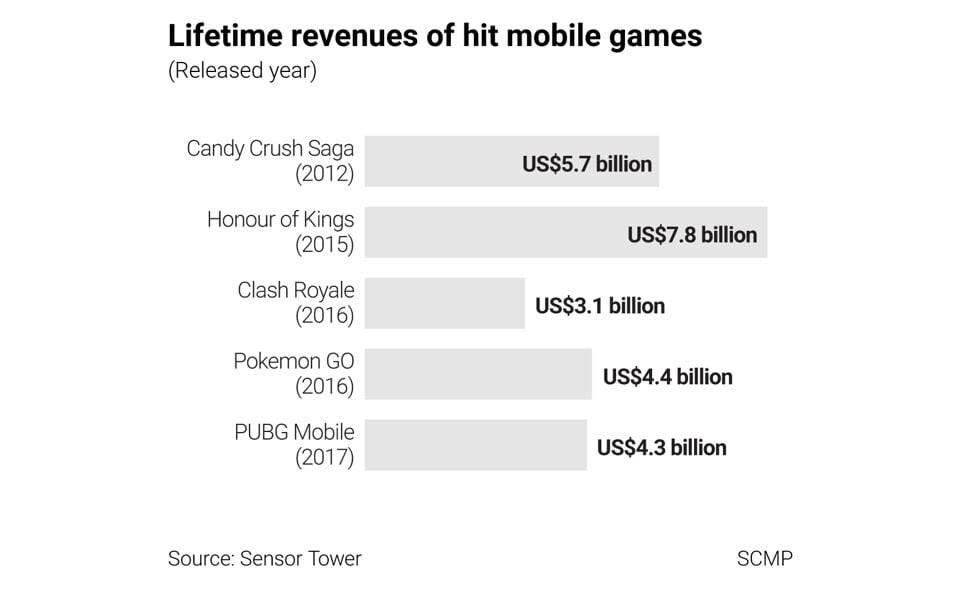 According to experts and players the Post spoke to, its continued popularity can be boiled down to two major factors: its ability to encourage social interactions and its heavy emphasis on Chinese culture.
As a competitive game where two teams of five players battle, Honour Of Kings has become a common way for many people to socialise online.
Liang Zijun, a 26-year-old lab researcher in Guangzhou, said that she picked up the game in university because it was popular among her schoolmates, and now uses it to spend time with her Shenzhen-based boyfriend online after a long day of work.
"Playing Honour Of Kings is also how my boyfriend, a PhD student, managed to endear himself to my 13-year-old brother," she said. "It warms my heart to see that my little brother can talk day and night with him about the game, sometimes to the point of my annoyance."
Li said that Honour of Kings has broad appeal at a time when many people struggle to socialise. "Today's youth have a more introverted social culture, which allows Honour Of Kings to become a vehicle for social interaction," he said.
Ahmad said that Honour Of Kings was designed to be accessible to both traditional hardcore MOBA fans and newer players. It has also attracted a sizeable number of female players – an under-represented demographic in the gaming industry.
"The number of female players for the game is very high, and we note that mobile eSports tournaments for the game have a high female attendance rate," the senior analyst said.
The game's strategy of promoting classical Chinese culture at a time when Beijing has been stressing the importance of games in imparting traditional values has also paid off, according to Ahmad and Zhang.
Playable characters on Honour Of Kings include Genghis Khan, the mythological Monkey King, famous poet Li Bai and the famed "Four Beauties" of ancient China.
"Focusing on historical Chinese figures with their own unique stories in the game also helped players feel familiar with the characters and game," Ahmad said.
The use of historical Chinese figures provides a "natural connection" for new users, Zhang said. "Unlike most Western games, where characters are set in a virtual world at the design stage, in Honour Of Kings most of the heroes are drawn from Chinese history, mythology, or fiction."
Mounting pressure
Although it has achieved success unforeseen by its own creators, Honour Of Kings still has plenty of challenges.
TiMi launched an international variant, Arena Of Valour, in November 2016 but the response has been muted outside Asia. In November, 96.4% of the game's revenue was from China, according to Sensor Tower.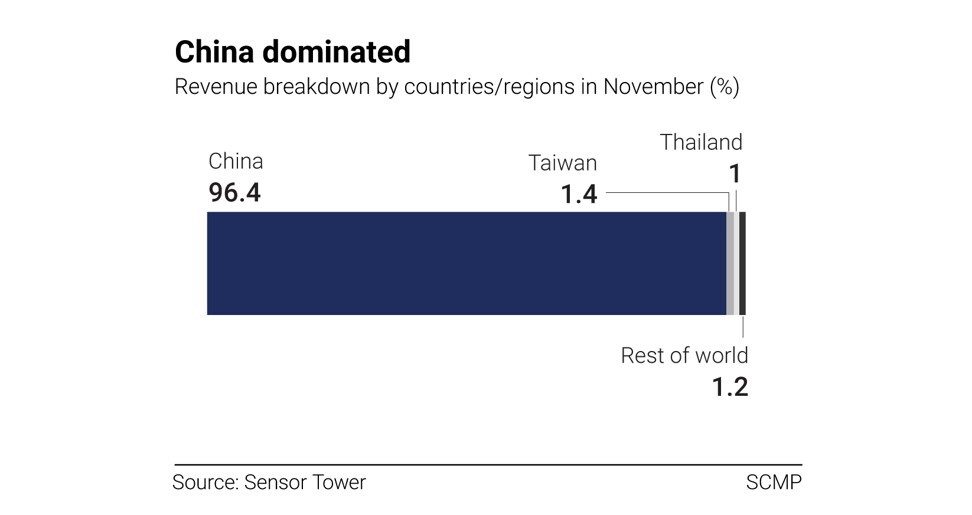 Meanwhile, Tencent's Lightspeed & Quantum is still hot on TiMi's heels with its own wildly popular game, PUBG Mobile and its China-market variant Peacekeeper Elite. The revenue of the two games combined matched Honour Of Kings' US$2.6bil (RM10.39bil) last year, according to Sensor Tower data.
Riot's League Of Legends: Wild Rift and miHoYo's Genshin Impact are also both shaping up to be formidable titles that may chip away at Honour Of Kings' player base.
In addition, the game's popularity has attracted criticism, notably from Chinese state media outlets that have voiced concerns over game addiction among children. In 2017, People's Daily published two consecutive commentaries calling the game "poison", prompting Tencent to roll out a string of anti-addiction features in the game.
Faced with rising challenges, Li said Honour Of Kings is now looking to extend its lifespan by spinning off new games as well as TV shows and other mediums.
"Everyone's creative career is limited. I hope Honour Of Kings can take on a life of its own and continue to resonate with users," he said. "Hopefully, it can accompany generations of audiences." – South China Morning Post
Upgrade your smartphone at discounted prices using Shopee Voucher to enjoy a seamless mobile gaming experience
Subscribe now to our Premium Plan for an ad-free and unlimited reading experience!