Wearables, 3D-printed prosthesis, genome-mapping – health tech has given the public and doctors an array of new tools to manage and improve the quality of life.
While the average person is now more empowered to take care of themselves, medical institutions still play a large role in upkeeping public health standards.
With the right predictive tools and management software, these institutions are starting to be able to provide more efficient and personalised care.
Measure of health
Many health enthusiasts have gotten into health trackers, whether wearables or apps, to track step counts and calories.
But the question remains – what's the point of tracking beyond making a digital diary? Health management platform Vivant hopes to answer that question.
Its chief executive officer Adrit Raha said there is a massive disconnect between users and the data.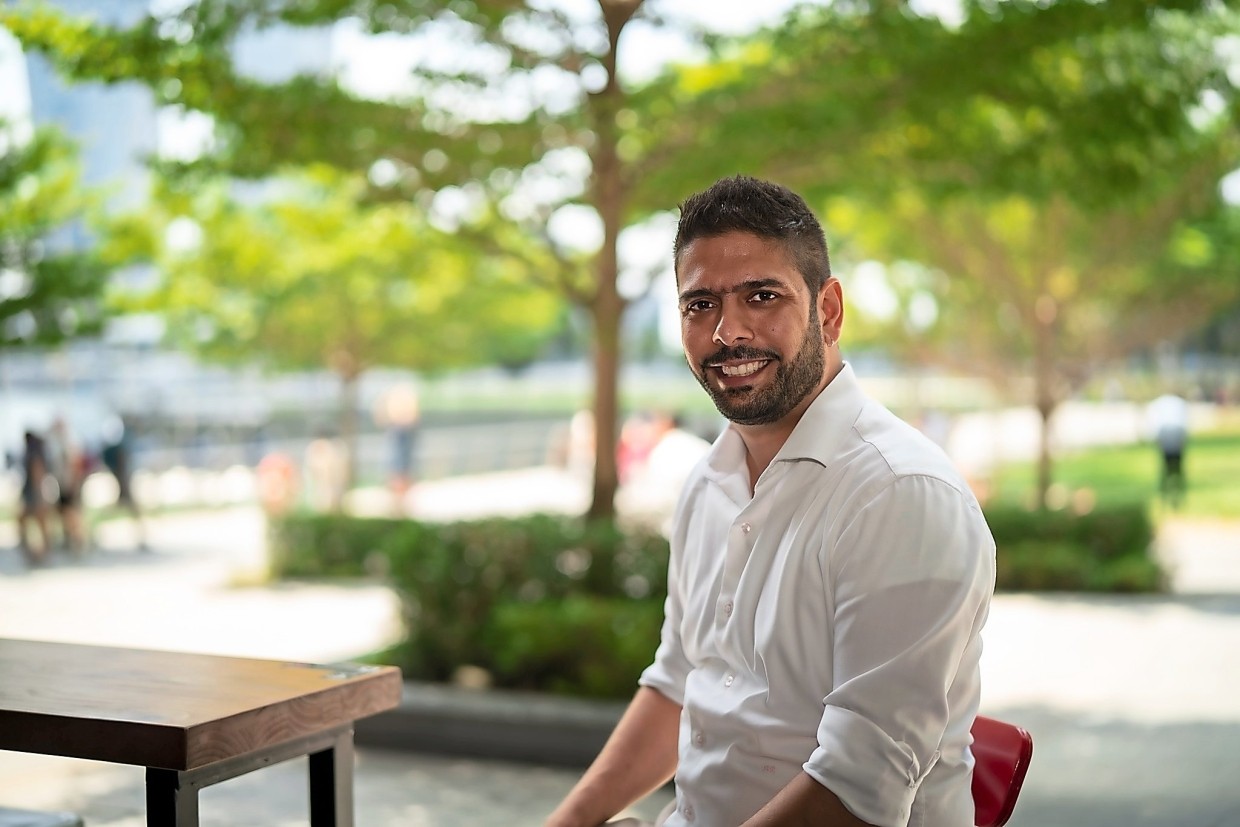 Adrit says lack of personalisation in the healthcare industry could drive customers away. — Elston Photography
The company works with corporations and insurers to track, analyse and manage health data. Currently, Vivant uses an artificial intelligence (AI) engagement engine to devise user profiles and deliver relevant content like articles on exercise and diets to fitness guides.
Adrit added that the end goal is to be able to collect enough data to be able to make disease predictions, though that goal may be five to 10 years away.The company said preventive medicine could result in better long-term health and cost savings for the public.
Vivant's data is based on its corporate wellness programmes – it claimed that every ringgit spent on employee health programmes could result in up to fifteen-fold in savings on medical bills down the line.
In an age of data, health is wealth takes on a new meaning: health and insurance data is as protected by regulators as banking data.
"Personal data is absolutely sacrosanct. Vivant takes a zero tolerance approach to breaches of data privacy and ensures the utilisation of data is in line with PDPA (Personal Data Protection Act)," said Adrit.
One of the challenges with health data tracking is that each user is unique.
He said that it would be wrong to generalise a user's health info, and claimed generally there would be enough meaningful data to make meaningful predictions.
Also, as AI gains access to more data, the solutions would become more personalised.
He said personalisation also encourages customers to keep using its health tracking services.
"Healthcare demands empathy and a personalised approach. If the app is personalised, if it proves to be helpful, then the customer will be driven to use it," he said.
"Making it work passively by linking to Apple Health and Google Fit also encourages users to stick with it," he said.

Personalised prompts
One of Vivant's products that tests this theory is the women's health tracking app, Nyra.
The app will prompt users with relevant health advice based on users' menstrual cycles. Users can also anonymously query doctors via the in-app chat.


Going digital would save time and cost for both the insurance company and its customers by making claims more efficient, says Shieh. — Cyber Village
A father of two girls, Raha says femtech (female health tech) is large enough to become a niche under the umbrella of health tech. Research suggests it will be a US$50bil (RM210bil) industry within the next five to 10 years, he said.
"There are certain diseases that affect women more, like arthritis and autoimmune issues that have to be addressed," he said.
With offices in Malaysia, Singapore and India, Vivant localises the app for each market – for instance, Nyra supports both English and Bahasa Malaysia and localises content to fit Malaysian lifestyles.
Vivant Malaysia country lead and director Vishal Doshi claimed the company is in talks with corporates, hospitals, clinics and insurers.
Asked what are the Malaysian health industry's main concerns, he replied that the big conversation is about rising healthcare costs and non-communicable diseases like hypertension and diabetes.
Vishal says the company is also pushing for healthcare records to be migrated from pen and paper to digital, which would improve record keeping and ensure better patient safety.
Referring to American healthcare regulations which insist on digital record keeping, he predicted it will only be a matter of time before local medical institutions follow suit.
Predicting the future
Singaporean health tech startup Ucare cited another advantage for medical institutions to go digital – they will be able to use the extensive patient data to predict future treatment options and costs.
Unlike older systems that predict hospitalisation bills based on previous bill sizes, Ucare takes into account a patient's health history and calculates changing factors, including disease aggravation and unexpected complications which could result in longer hospitalisation or unplanned surgeries.
The company first implemented its service with healthcare provider Parkway Pantai, and now has nine clients in Singapore, Malaysia and India, with ongoing discussions to expand to Thailand and Indonesia.


Liu believes health tech can help patients make better-informed decisions and offer greater peace of mind when it comes to treatment options. — Ucare
Its founder and chief technology officer Neal Liu said accurate bill assessments empowers patients to make well-informed decisions on available treatments and gives greater peace of mind over healthcare expenditure, so that they can focus on getting well.
While he did not speculate if this would drive down medical costs, he said in the long run it is expected to have a positive impact on insurance premiums.
Cyber Village chief executive officer Shieh Yee Bing agreed that more efficient systems would be able to arrest the increase in insurance cost.
Also, by speeding up the process for insurance payments, users would also be spared from having to use their own cash as up front payment while waiting for reimbursement.
Insurance claims used to have a turnaround time of days to weeks, but now can be completed in minutes, she said.
In pre-digital days, hospitals would call the insurer for verification, but now they can identify the user and coverage purchased in real-time based on the policy number. Users can also do away with physical insurance cards from multiple policies in favour of electronic cards which can be stored on their smartphone.
Cyber Village designs digital solutions for financial and insurance institutions such as online kiosk services, videoguides and chatbots. These services are offered as complete platforms or as components that can be plugged into an institution's system.
Asked about Malaysia's digital readiness, Cyber Village new business director Angie Chong Yuen Wei referred to the WorldBank's adoption index which reports Malaysia is still not a front runner, but in the middle though banks and insurers are widely starting to adopt digital solutions.
She says one cannot look at adoption in silo, as institutions need to work with other industries. Healthcare providers and insurance work hand-in-hand so health tech and insurance tech can only grow in tandem.
Even if an insurer wants to go paperless, it won't work unless its partner hospital is also willing to go digital or there is a middle ground, she said.
Shieh added that the march towards digital is unavoidable due to customer demand.
"Everyone expects mobile apps to do everything, so companies need to get there. We (the industry) are not at full integration yet, but we are heading there," she said.
Rise of eldercare
Humient founder and CEO Azmaan Onies said that when it comes to eldercare, smart digital systems could mean the difference between life and death.
The startup provides a healthcare management system for nursing homes, which equips caregivers with an app to take notes on patients' daily check ups, then centralises the records to be referenced by other caregivers or doctors.


Nurses can key in a patient's data into the Humient app instead of writing on a paper and inputting the info into a computer later. — Humient
In the two years it has been operating, Azmaan found a trend in patient mortality: those recently hospitalised a few times and then experienced a sudden drop in blood pressure are at high risk of complications or death.
He said an automated alert to caretakers to escalate the case to a hospital could save the patient's life.
Humient also has a wound management system for patients. Previously doctors had to be on-site just to check up on wounds, but now nurses can take photos periodically to keep the doctor updated.
Patient will still get more frequent "checks" but doctors would only have to be physically present if the situation warrants it.
Another advantage of digital is scalability. While a small nursing home can afford to stick with pen and paper, as the number of patients and branches grow, it becomes a hindrance to those aiming to become a chain.
And the need for eldercare homes continues to grow along with Malaysia's aged population – those over 65 years old now represent 7% of the population or about two million people.
The Malaysian Statistics Department projects that by 2040, the aged population would triple from two to six million people, with those over 80 years old projected to increase from 0.3 million to nearly 1.4 million.
"Most nursing homes don't have a computerised system and usually note down residences' vital signs on paper for doctors to read later. We've found that many don't even record vital signs daily thinking it's okay. It isn't," he said.
As Humient's digital systems connects to third-party medical devices with Bluetooth like smart thermometers, blood pressure gauges and weighing scales, the process is made easier.
Azmaan said the system has shown to save up to 50% of staffs' time. A standard vital signs check, which includes measuring a patient's blood pressure, carbon dioxide and temperature could take about five minutes.
A connected app not only saves time, especially for larger homes with more residents but also spares the doctors from having to dig through thick binders to get the info.
As eldercare homes are manpower intensive, requiring about a ratio of about one staff to two residents, speeding up work helps reduce the workload.
The centralised information also ensures continuity of care, as the industry faces high turnover of nurses and requires new staff to quickly be ready to serve.
Looking at Singapore, which requires residents' condition to be reported to the Health Ministry regularly, Azmaan says Malaysian eldercare operators will have to go digital in order to file reports, as is the case with the Sales and Service Tax.
"It's not a matter of if, but when the government will update the regulation," he said.
Did you find this article insightful?
% readers found this article insightful