Eighteen-year old David Liu wasn't even born when QQ, the messaging tool developed by Chinese Internet giant Tencent, was first launched in 1999. Its winking penguin icon went on to become a ubiquitous feature of online life in China, dominating the messaging market amid explosive growth in internet use.
A fall occurred as netizens shifted to mobile and new social platforms, but QQ is fighting back with a legion of youthful fans such as Liu, a freshman at Sun Yat-sen University in Guangzhou.
"I do not want to be monitored by my parents (who are WeChat rather than QQ friends) when I start my university life. It is a major reason why I use QQ," said Liu, explaining his allegiance to the 19 year-old messaging service.
Liu's feelings about QQ, which in recent times has added a raft of features aimed at appealing to the country's mercurial Generation Z, were echoed by other users.
"All these entertaining tools make QQ very attractive to me … Communicating in QQ is a lot of fun. I can swap cartoon faces and can change the voice into words when having a video talk with friends," said 15-year-old QQ user William Yi. "But QQ is certainly not my sole entertainment tool, I also watch a lot of Douyin short videos."
Douyin is a short video app offered by Tencent rival Beijing ByteDance Technology, which also operates the popular news aggregation app Jinri Toutiao.
In China's fast-changing technology space where new options pop up almost every day, the ability of platforms to maintain a loyal following and keep up with the competition can often mean life or death for a maturing product. For example, short video apps – where users film and watch seconds-long video clips – quickly caught the attention of young Chinese netizens and today about three in four internet users in China use short-video apps to entertain themselves, according to a report this month from the China Internet Network Information Centre, a state agency.
When QQ was first launched, each user was simply issued with a unique QQ number, user name and profile, which enabled them to chat with other desktop PC users. Rapid development of the service continued over the next 14 years until user numbers began to slow around 2013 amid a rapid migration to alternative mobile internet platforms, such as Tencent's own WeChat.
User numbers peaked at 899 million in 2016, fell to 783 million in the fourth quarter of 2017, and settled at just over 800 million in 2018, according to Tencent data. However, underneath the headline numbers is a shaft of light for QQ.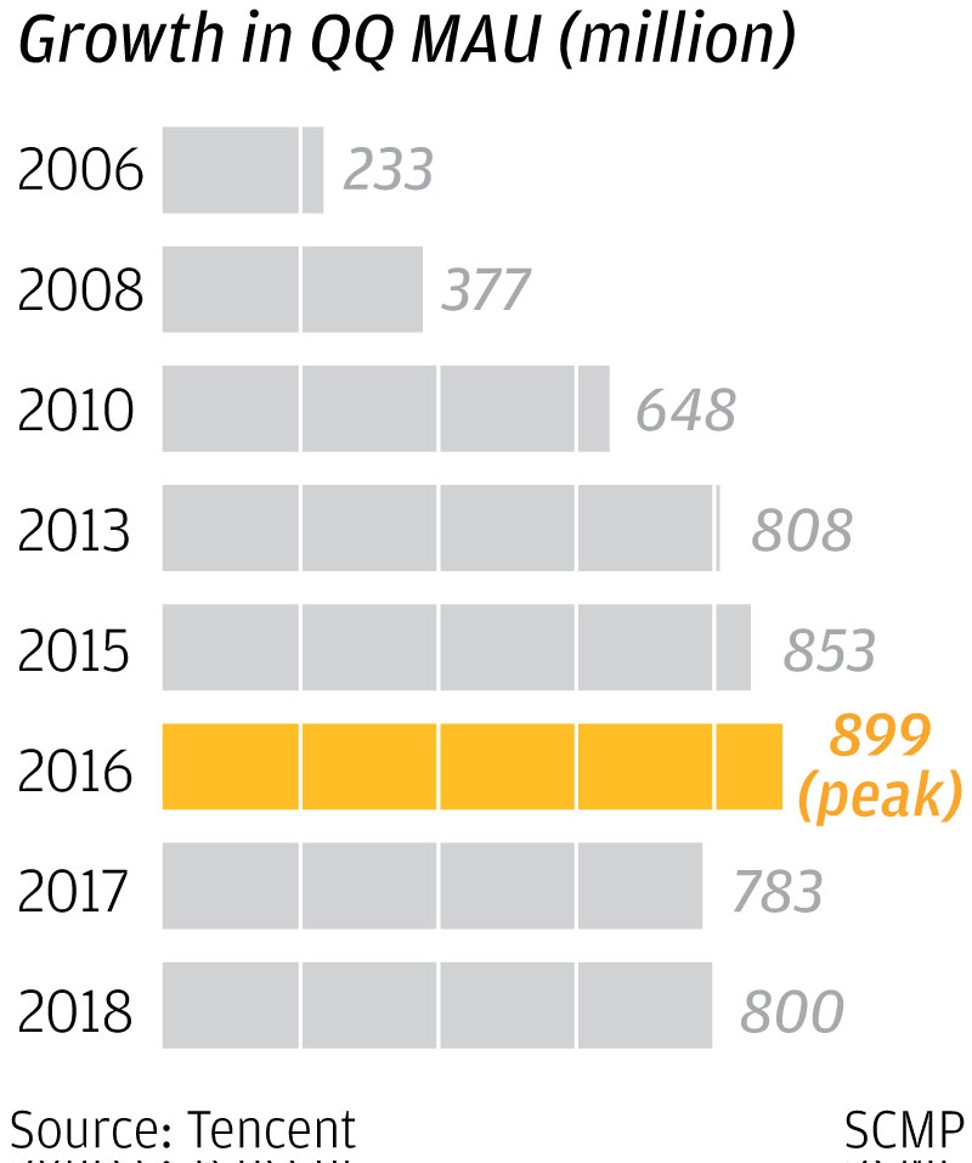 Users of QQ on smart devices aged 21 years old or below achieved double-digit growth in the second quarter of 2018 compared with the same period last year, indicating that Tencent's move in 2016 to target the consumption habits of younger users with innovative new features, such as entertainment-focused news feed Kandian, is bearing fruit. Short videos, personalisation features, gaming, anime content and celebrity news all seem to be breathing new life into the grandaddy of China's ever-changing social media landscape.
Analysts say QQ's youth focus could drive a new period of growth, just as platforms such as Snapchat and Instagram have appealed to a younger generation in Western markets.
"The increase in QQ users who are under 21 indicates the long term user base for QQ," Wang Hao, analyst at SBI China Capital wrote in a January note. In a similar vein, JP Morgan analyst Alex Yao said in a research note in 2017 that "we are positive on the increased average time spent on Kandian, the news feed on mobile QQ, which has rich monetisation potential."
Daily active users of QQ Kandian, the algorithm-driven entertainment news feed within QQ, surpassed 80 million in the first quarter of 2018, according to a first-time release of data from Tencent. And 70% of those users belong to the generation born after 1990. Kandian targets the entertainment-oriented information needs of young users by aggregating rich content related to anime, comics and games, pop stars, extreme sports, fashion, beauty and technology.
"The success of Kandian does not necessarily get QQ users going up, but the time spent on QQ has increased," said Matthew Brennan, who tracks Tencent at China Channel, a Shenzhen-based marketing agency.
Integrating engaging entertainment content into its social platforms is a key focus for Tencent.
"Social networks and entertainment correspond with each other, as entertainment brings dynamic content into social interactions, while social networks provide a platform for experiencing, sharing, discussing and re-creating entertainment content," said Mel Yin, corporate vice-president of Tencent at the 2016 Tencent Global Partner Conference, when Tencent QQ officially unveiled its "entertainment social ecosystem" concept.
But Kandian is only one of several features aimed at increasing engagement with younger users at QQ.
QQ also incorporates Now Live, a Tencent-powered mobile live-streaming service, which serves up original user-generated content and WeiShi, a mini video app, where users showcase their talents and life moments via short videos – incorporating themes such as music, gaming, sports and variety shows.
Although messaging remains the dominant activity on mobile, China users have more than tripled the amount of time they spend watching short videos in the last year, according to the China Internet Report. The number of monthly active users for short video apps in China doubled in 2017 to 414 million, according to the report.
QQ also offers access to Penguin eSports, Tencent's mobile eSports live streaming platform, which hosts gaming competitions such as QGC and TGA with professional anchors. Penguin eSports said in 2017 it would invest 200mil yuan (RM120mil) to support 1,000 gaming anchors, hosts and video creators.
While similar entertainment tools can be found on competitor platforms, products like Interest Tribe, an interest-based social networking platform, are exclusive to QQ users.
Interest Tribe was launched in 2014 to appeal to teenagers who want to link up with others who share their hobbies and interests. Recently it has focused more on linking up celebrities – including Angelababy, Yang Mi, Tiffany Tang, and Jia Nailiang – with their fans. It currently has a user base in excess of 100 million.
Meanwhile, CM Show offers tailor-made interactive experiences for youngsters by integrating personalities, looks, chat actions, stickers and more. Registered users now exceed 200 million.
Aside individual products, QQ has also introduced a series of features such as facial beautifying tools, painting-styled photos, animated video stickers, face swap effects and video chat filters designed to make interaction and communication on its social platform more fun and entertaining. For example, QQ users can create video GIFs of themselves, decorate the GIFs with animated stickers and share them with friends.
"If you use QQ mobile messenger, it feels very colourful and lively … and I think that's the right strategy," said China Channel's Brennan. "Live-streaming, e-sports and short-videos … whatever is popular among young people you can find in QQ."
But it's not just the colourful features that appeal to young people – it's that sense of using something their elders don't. What's childish for mature internet users can be cool for teenagers.
"I can reach my son by WeChat, but he seldom shares his life in WeChat Moments," said 42-year old Wang Xuehong whose son is 14-years old. "I know he shares more things in QQ. I also have a QQ account but will not add him as a QQ friend … I respect that he keeps his own space for communicating with friends." – South China Morning Post