TO enhance employment and entrepreneurship opportunities for the B40 community, the Economy Ministry has launched the Pusat Program Inisiatif Pendapatan Rakyat (IPR) Inisiatif Usahawan Tani (INTAN) – starting with a collaboration with Universiti Putra Malaysia (UPM).
The government invested RM34.75mil in this programme which involves developing crop and fish farming infrastructure that will be based at UPM's 26.3ha Pusat Kecemerlangan Industri Pertanian IPR-INTAN@UPM in Ladang Puchong, Selangor.
Here, agropreneurs will be trained in modern farming before going on to start their own farms or manage existing ones across the country through the application of agricultural technology to improve yield and profitability.
While this paves the way for the advancement of the agriculture sector, IPR-INTAN's long-term aim is to increase food production in the country, thereby addressing the rising threat to food security.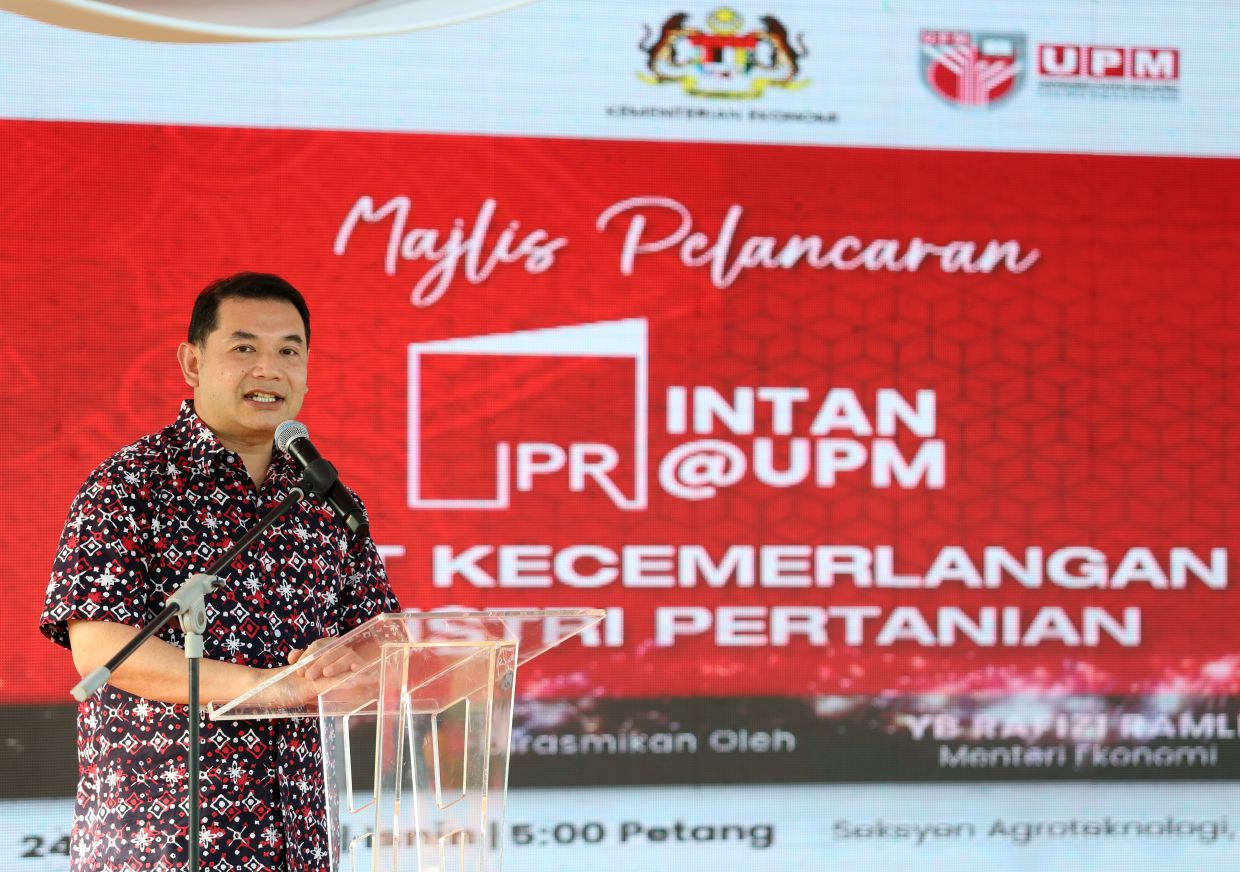 Rafizi Ramli said the Economy Ministry has been working on building asustainable, modern agriculture sector in this country.
IPR-INTAN@UPM kicks off with the first batch of 130 agropreneurs comprising graduates of the university as well as IPR and eKasih participants under the ministry, who will undergo rigorous technology-based training for a period of up to 18 months in agricultural and aquaculture sectors.
Following this, the government will continue to support the participants by providing an operating capital of RM3.2mil per round, and guiding them to earn a net income of RM2,000 to RM2,500 per month.
Programme participant Irham Sauti from Puchong, Selangor, was previously an administration assistant before deciding to venture into agriculture to "try something different".
The Pusat Kecemerlangan Industri Pertanian IPR-INTAN@UPM provides agropreneurs training in modern farming.
The 31-year-old has his sights set on learning as much as he can on agropreneurship and agricultural technology and apply them at his parents' farm in Kedah.
"My hope for the agricultural sector is that we can expand fertigation farming to all over the country to a point where we no longer need to import agricultural products because we can produce our own, and Malaysians can get them at a lower price," he says.
Echoing him is fellow participant Alif Aiman, also from Puchong. The 25-year-old hopes that one day, "all farmers will be able to learn and apply IoT (Internet of Things) in agriculture as it is beneficial to deliver efficiency and productivity."
At the launch, Economy Minister Rafizi Ramli said the ministry has been working on building a sustainable, modern agriculture in this country.
"It requires working with many sectors, and therefore the planning is very important to ensure we don't repeat mistakes of the past.
"It is a lot more complicated, and requires building an ecosystem. We have to make sure that all components are in place."
Rafizi added that to-date, the ministry has managed to acquire 404.6ha of land bank all over the country, for modern farming facilities and is progressing to the next level of building the infrastructure.
"But the focus today is to get the first cohort of modern farming professionals started, and that heavy task has been given to UPM.
"We understand we need to train agro professionals. It not only requires technical knowledge and business skills, but also mental agility because they need to go through a few harvests to eventually succeed," he said.
In addition, failure also stems from marketing and downstream risk. Therefore, marketing and sales mechanisms need to be in place as well.
"Otherwise, they will be subjected to a price crash, and that burns their morale and motivation. As a result, they will withdraw. This kind of attrition over and over again is very costly to the economy. So we want to make sure we have an ecosystem in place.
"It will take some time but I am extremely encouraged because we have a lot of support from local and international companies."
A total of 26 strategic partners have been onboarded the programme, and will contribute to the programme across the supply chain process – from insuring the crops to marketing and offtaking.
"The ecosystem has been designed to be sustainable and economically viable, but we will continue to study, evaluate, review and make improvements along the way," said Rafizi, who reminded UPM that his team will check on their progress every two months.
The Pusat Kecemerlangan Industri Pertanian IPR-INTAN@UPM is expected to lead and be the main point of reference for the agricultural industry in terms of innovation, knowledge and training as the ministry continues to acquire land bank for more IPR-INTAN initiatives.
Present at the launch was Deputy Economy Minister Datuk Hanifah Hajar Taib, ministry secretary general Datuk Nor Azmie Diron as well as UPM vice chancellor Datuk Prof Dr Mohd Roslan Sulaiman, who said that the programme is in line with UPM's Strategic Plan 2021-2025.
"The plan is to make the university a reference centre for the development of tropical agriculture by mobilising agricultural experts to intensify agricultural development activities for the community."
He urged all participants to embrace this opportunity with enthusiasm and dedication.
"With persistent efforts and never giving up, we will be able to shape a better and brighter future for the agricultural industry in our country."
Subscribe now to our Premium Plan for an ad-free and unlimited reading experience!