Australia is renowned across the world for its fresh seafood.
The Tasmanian Seafood Seduction is a full-day tour where guests get to savour delectable freshly caught seafood prepared on the vessel. – Tourism Australia
FOOD is usually one of the main reasons people travel to foreign lands. Sure, exploring new places, embracing different cultures and understanding history are important, but an authentic dining experience lets you connect with the places you visit - and this is especially so for Australia.
Good food is not just about how well it is cooked or how skilled a chef is, it is also about the quality of ingredients and produce, and boy, does Australia deliver in this respect.
In fact, it is hard to think of the land Down Under and not picture the delectable seafood offerings available there.
If you're looking to savour some of the freshest seafood you can find in Australia, here are some suggestions for you.
Tasmanian Seafood Seduction, Tasmania
Ever heard of the term, "ocean-to-plate"? Well, its meaning is actually quite literal: Freshly caught seafood is quickly prepared and goes straight on the serving plate for diners to try.
The Tasmanian Seafood Seduction tour is run by the Pennicott Wilderness Journeys, departing from Hobart and cruising around Bruny Island.
Guests board a custom-built vessel for a full-day cruise of the island and Hobart coastline, while the local guides dive for abalone and sea urchin.
Creamy Freycinet oysters are harvested and freshly shucked on the boat in front of guests, who get to savour them, alongside the abalone, sea urchin, rock lobster and other freshly-caught seafood.
Local wines, beer, cider and a selection of gourmet food are also served onboard.
While guests dine, the guides will provide interesting insights into the surrounding area, from the history of the place, to the variety of seafood that can be found there.
To know more about the tour, click here. You can also get more recommendations on other seafood experiences in Tasmania here.
Try Ben Collison's Coral Trout for Two at Petermen in Sydney. – Josh Niland
Peterman, New South Wales
Dubbed by many Australians as the "king of seafood", chef and restaurateur Josh Niland, together with his wife Julie, recently opened a new 60-seat restaurant and bar in Sydney. Called Petermen, the restaurant is the couple's fifth establishment, joining the growing seafood empire which includes Saint Peter, Fish Butchery & Charcoal Fish.
Although it just opened in January this year, the restaurant has already received plenty of rave reviews.
Here's something interesting about the restaurant's name: "Petermen" was what fishermen were known as in the 1400s, after their patron, Saint Peter.
With this new outlet, the Nilands are determined to work together with like-minded growers and producers who champion sustainable practices, highlighting the very best of Australian seafood and produce. Niland is no stranger to sustainable cooking, and is said to be well regarded as the pioneer of the "fin-to-tail seafood" movement, where every part of the fish is used for consumption.
To check out the menu or to make a reservation, click here.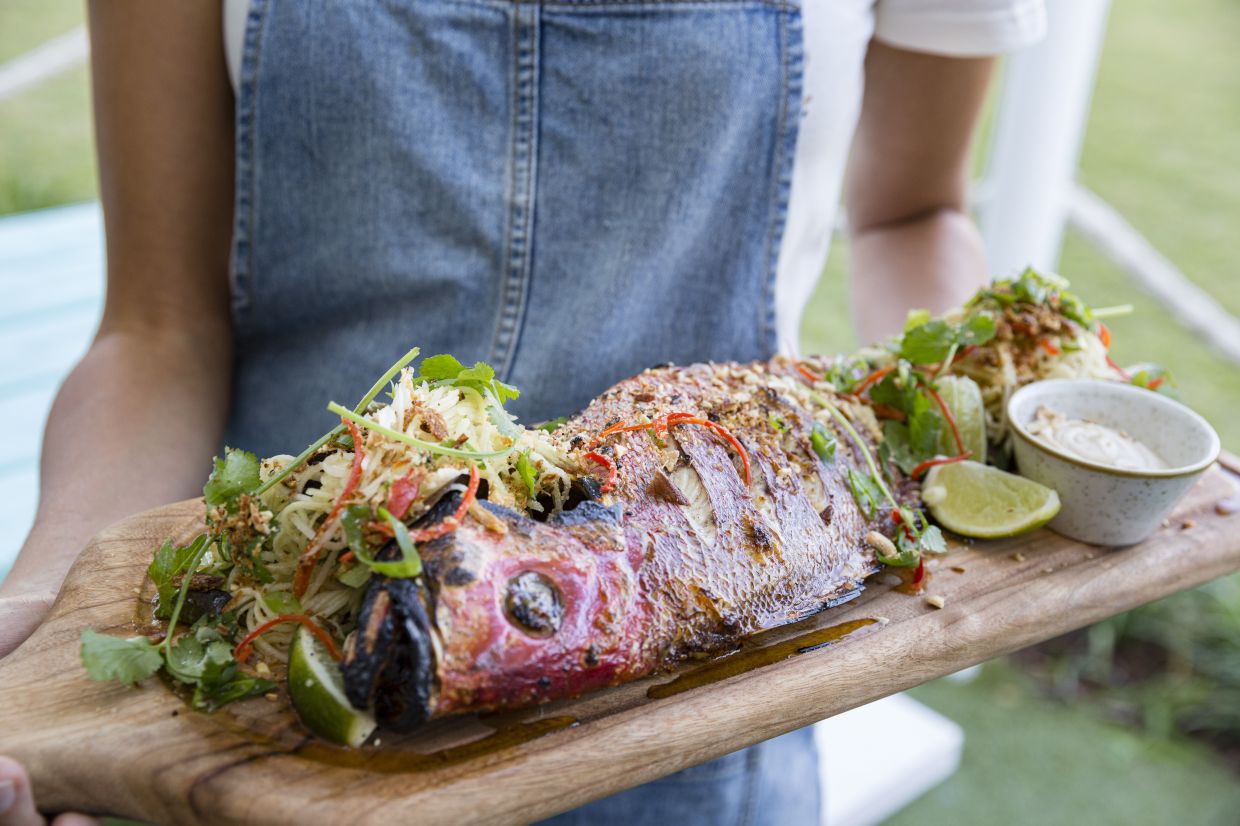 Snapper Rocks is a multi-award-winning restaurant in Darwin. – Tourism NT
Snapper Rocks, Northern Territory
This multiple award-winning seafood restaurant in Northern Territory's Darwin serves casual and modern Australian "beachside cuisine", with a focus on showcasing some of the most amazing produce and freshest seafood around.
This eatery was the winner of the Best Tourism Restaurant NT and Best Contemporary Restaurant NT awards in past years. It prides itself on being consistent with not just top-quality food, but with its top-quality service, too.
Some of the dishes Snapper Rocks serves include fresh oysters, wild caught barramundi, as well as local squid and prawns. But if you're looking to try something that you may not be too familiar with, check out the house-cured crocodile jerky and salt and pepper crocodile boa buns.
Click here to check out the menu or to make reservations.
For more suggestions on where to eat in NT, click here.
The Oyster Farm & Tasting Tour is a memorable food tour experience in Coffin Bay. – South Australian Tourism Commission
Oyster Farm & Tasting Tour, South Australia
Here's another must-try culinary experience: the Oyster Farm & Tasting Tour in South Australia. This hands-on tour, where guests don waterproof waders, takes place at Coffin Bay in South Australia's Eyre Peninsula and is available all year-round, even in winter.
Visitors wade in the shallow waters of a commercial oyster farm and sit on a semi-submerged deck while learning all about the shellfish from oyster farmer Ben Catterall, who started the business with his partner Kim in 2015. Ben talks about how the oysters are grown and about the history of Coffin Bay, and teaches visitors how to properly and safely shuck oysters, after which they can taste them, right in the water!
The tour is very popular so it is best to book a spot in advance from the website.
For other travel ideas in Coffin Bay, go here, and for more amazing food tours in Australia, click here.
All meals during the Luxe Island Seafood Cruise are prepared on the boat by a private chef. – Tourism Australia
Luxury seafood cruise around Rottnest Island, Western Australia
Enjoy a decadent sea-to-plate dining experience with unlimited bubbles and fine wines while cruising the turquoise waters of Rottnest Island, just off Perth, with Rottnest Cruises.
The Luxe Island Seafood Cruise provides guests with a progressive seven-course menu of fresh seafood and local delicacies, prepared by a private onboard chef.
The cruise begins with a refreshing welcome cocktail and then sets off in search of the prized western rock lobster. Have a go at pulling up the lobster pots from the ocean, or simply sit back and relax - the choice is yours.
For more suggestions on where to find the best seafood in Australia, click here.
Stokehouse at St Kilda Beach was voted one of the top six seafood experiences in Australia in 2020. – Visit Victoria
Stokehouse, Victoria
Stokehouse is a fine-dining seafood restaurant in St Kilda Beach, Victoria that boasts a lush and beautiful design, with uninterrupted views of the ocean.
The restaurant is famous for its award-winning modern Australian fare, featuring fresh local seafood like snapper, clams, King George whiting, crab and more.
For a more elevated dining experience, try the special "Stokehouse Experience" menu, a five-course meal offering the best of the restaurant's seasonal menu.
In 2020, Stokehouse was voted one of the top six seafood experiences in Australia, as nominated by Tourism Australia.
Check out their menu here. For more gastronomy experiences in Australia, click here.
Costa's Seafood in Brisbane is a family-owned and operated business that is popular with locals and tourists. – Tourism and Events Queensland
Costa's Seafood Café, Queensland
Who doesn't love a family-owned and operated eatery, especially one that has been around for over 30 years? Known for its fish and chips, which was voted the best in Queensland in 2019, Costa's Seafood Cafe in Brisbane is as homely as it gets.
Order from 10 different types of fish for your fish and chips meal - you can have it fried with batter or crumbs, or even grilled - or try their hot and cold seafood platters which come with a variety of fresh seafood. The restaurant has a long list of snacks and burgers too.
For a look at their menu, click here.
Maestral Mediterranean Seafood Restaurant, Australian Capital Territory
This restaurant in Canberra, Australian Capital Territory, offers Croatian-inspired seafood dishes. Fresh Australian seafood, combined with traditional Croatian cooking, make meals at Maestral truly special.
The eatery itself is cosy and inviting, perfect for a casual meal with friends or family. Some items to try include the Croatian-style grilled octopus, whole grilled lemon sole, grilled Moreton Bay Bugs and the seafood platter. You can also get orders of Sydney Rock Oysters.
Check out their menu here.
For more Australian travel recommendations, go to Australia.com.
Subscribe now to our Premium Plan for an ad-free and unlimited reading experience!