The puppets, sculptures and figurines at The World Of Tim Burton at Pavilion Bukit Jalil, KL, are a showstopper. – CHAN TAK KONG/The Star
EXPERIENCE the extraordinary world of whimsical creatures, dark fantasy and macabre humour at The World Of Tim Burton pop-up museum and exhibition in Kuala Lumpur.
Are you a fan of popular films such as The Nightmare Before Christmas, Corpse Bride, Edward Scissorhands and Beetlejuice? Then you are in for a treat, as there is original artwork from several well-loved films that give an insight into the detailed creativity that goes into bringing Burton's iconic characters to life.
This travelling showcase – which gathers over 520 drawings, paintings, puppets, sculptural installations, photographs and storyboards under one roof – is a whirlwind journey through the imaginative mind of the renowned American filmmaker and artist.
For those looking to delve a little deeper into the man behind the fanfare, this exhibition also offers a glimpse into lesser-known works like his Polaroid prints from the 1990s, personal figurative works and in-progress projects – some of which have yet to see the light of day.
Additionally, a part of Burton's studio is replicated in this exhibition. Take a closer look and you just might spot some artwork for his recent hit TV show Wednesday, among the sketches and drawings on the cork boards.
The World Of Tim Burton is organised and presented by Toybox Projects in collaboration with Tim Burton Productions. This is the touring exhibition's debut South-East Asia stop.
"There are 10 different sections which are divided by theme, covering the vast output of Tim Burton's creative process from drawings, paintings to storyboards, scripts and notes," says Brandi Pomfret, collection and exhibitions manager of Tim Burton Productions.
"It is quite a massive undertaking as this pop-up museum exhibition represents the first of its kind of this scale, in this city. We hope everyone is thrilled and ready to see it."
In the section on misunderstood outcasts at the The World Of Tim Burton, you can find the character Stainboy that first appeared in the 1997 poetry book The Melancholy Death of Oyster Boy And Other Stories, created and illustrated by Tim Burton.
The 10 thematic sections of The World Of Tim Burton include:
The Misunderstood Outcasts: One of the most prevalent themes of Burton's art and film is the "misunderstood outcast", as embodied by iconic characters such as Edward Scissorhands, Sparky from Frankenweenie, and Jack Skellington from The Nightmare Before Christmas. These endearing outcast characters also appear in his animation shorts, such as in The World of Stainboy, letting us know that it is okay to be different. Through their struggles and triumphs, they remind us that our unique qualities are what make us special.
The Carnivalesque: In this section, we delve into Burton's carnivalesque world, where he explores the seemingly disparate elements of comedy and horror. Twisting tongues, eyeballs wandering out of their sockets, masks, jesters and poisonous clowns? Humorous deadpan wordplay? It is all fun and games... until it isn't. Whimsical, macabre and surreal, this realm leaves us entertained and just a little unsettled.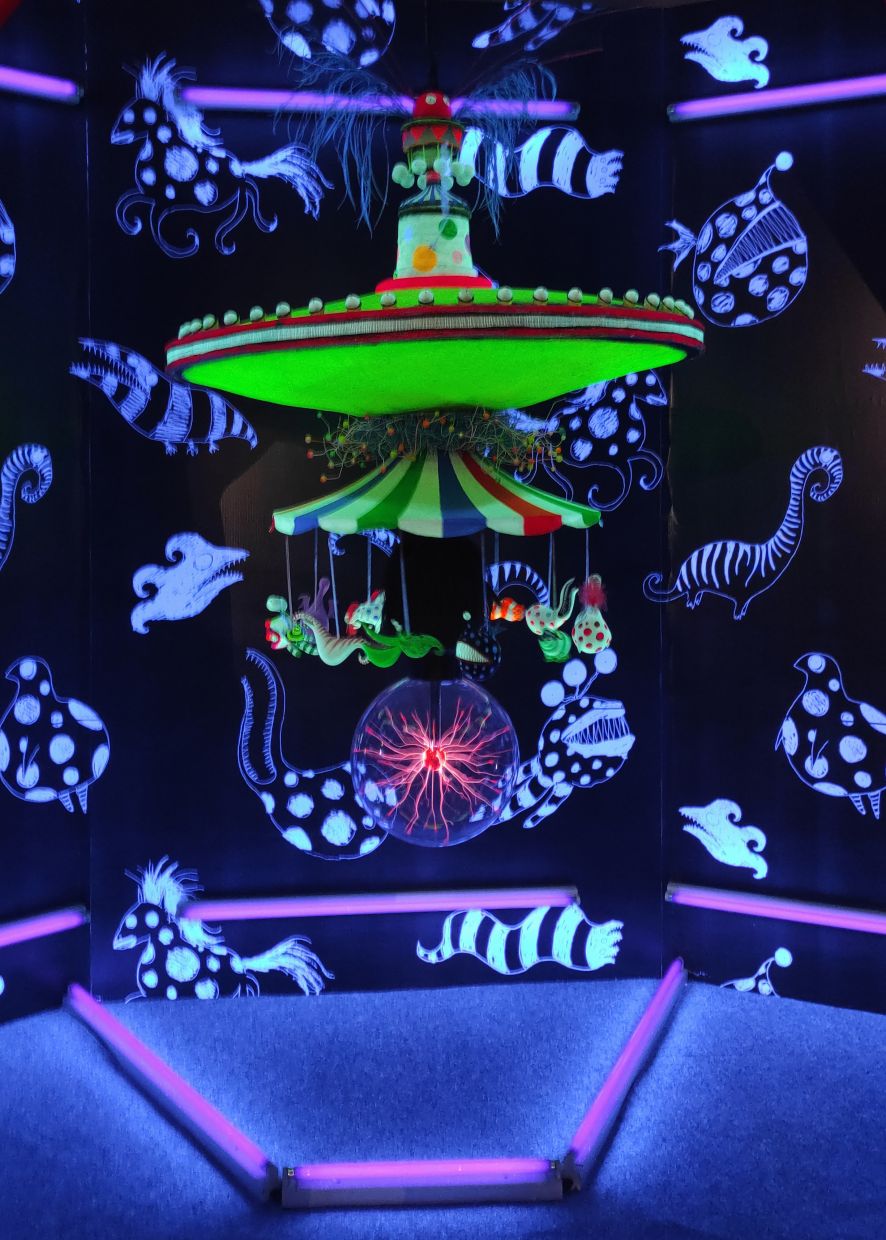 The Carnivalesque vibe of this section of The World Of Tim Burton captures a unique blend of horror and comedy – slightly unnerving, grotesque and a whole lot of fun.
Film Characters: These puppets, maquettes, storyboards and images from Tim Burton's films offer a fascinating look at the creative process of bringing beloved characters to life on the big screen.
Explore the evolution of these characters and get up close and personal with the artistry and craftsmanship that goes into creating some of the most iconic characters in film history.
Unrealised Projects: This section presents works from Tim Burton's film, television and book projects that were halted in various stages of development. Some of these projects never progressed beyond the early ideation stage, while others were fully realised but did not incorporate any of Burton's concepts in the final product. This rare glimpse into stalled endeavours reveals the extensive and prolific nature of Burton's creative output, a testament to his unrelenting passion for pursuing different forms of storytelling.


The World Of Tim Burton is showing at Level 2, Pink Zone, Pavilion Bukit Jalil in Kuala Lumpur. It will run until July 30. Tickets are RM88 (adults), RM68 (children and senior citizens) and RM48 (the disabled). Season passes and VIP bundles are available. For more information, visit www.toyboxprojects.com/timburton
Subscribe now to our Premium Plan for an ad-free and unlimited reading experience!