Even now, buying property in London, particularly those near the city's square mile, is seen to be a safe bet for medium- to long-term investments.
ONE of the hottest topics at every dinner party in London is obviously the property market turmoil.
With reports of buyer confidence muted and house prices in free fall, it is clear the financial crisis has burnt a hole in everyone's pockets.
Well, it's hard not to talk about the depressing market these days; prices are reportedly collapsing at their fastest pace since records began 25 years ago.
While some estate agents have offered to waive commission - usually between 1.5% and 3% - for properties sold, a developer is prepared to "insure" its new houses against a possible 15% drop in value.
Admittedly, the array of freebies and best-buy deals are seen to be a desperate attempt to jumpstart sales in a struggling market.
Yet plummeting house prices are not exactly news any more. The British media has been reporting the fall for months, with no apparent panacea in sight.
The issue now is how long the slide will continue before what is regarded as a hugely-inflated market bottoms out - if it ever will.
And if house owners are horrified with plunging prices, potential buyers are celebrating the downturn as they are spoilt for choice.
As buyers continued to stay away in the hope of better bargains and with sellers reluctant to accept a lower price, a stand-off has been reported in many parts of the country.
Even then, it's hard to predict when the drop will stop. The current trend seems to be driven by public expectations and a frozen mortgage market.
If predictions that prices would fall another 10% - nearly 20% from their peak - before the market finally settled down, it might spell more trouble ahead.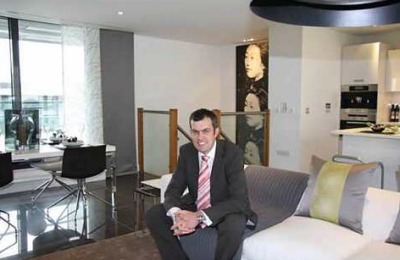 Resilient market
Then again, one of Britain's leading property developers remain confident that it is a good time now for Malaysian purchasers speculating on overseas properties.
The Berkeley Group recently launched one of its flagship properties - Hoopers Yard - in Kuala Lumpur for Malaysians looking for long-term investment opportunities in Britain.
Suffice to say, the developer is also targeting parents who wish to buy property for their children studying in universities in London. With the start of the new academic year last month, many Malaysians have joined some 11,000 of their fellow countrymen in pursuing various courses in universities across the country.
It thus came as no surprise that the developer has tapped into this potential market; the parents can save on expensive rentals for their children and also have a place to stay during their visit to London.
And during their two-day launch, the group bucked the trend when it sold six units "on the spot" while three other potential buyers even flew to London to view the show apartments.
Mind you, these high-specification apartments with award-winning designs do not come cheap. Prices start from £375,000 (RM2.395mil) for one-room units and from £549,500 (RM3.335mil) for those with two rooms. So, despite falling prices, London is seen to be a safe bet in terms of a resilient market for medium- to long-term investments, particularly properties near the bustle of the city's square mile.
"As far as London properties are concerned, it's all about location, location and location," said Piers Clanford, managing director of Berkeley Homes.
He believed the market's long-term prospect was sound, particularly in London where there was an enduring demand for houses as not enough new homes were being built.
While the market was taking a dip at present, there was no reason it should not recover and continue to rise, he noted.
Clanford also felt the market was cyclical in nature and high quality homes in central London would always be sought after.
He added that their properties would be in demand by purchasers as they were developed in well-chosen locations with good access to transport and infrastructure.
Good buy
He also described the Malaysians' response towards Hoopers Yard as overwhelming, saying they had more visitors during their two days in Kuala Lumpur than the three in Hong Kong.
"It was fantastic. We sold six properties at the launch," he said, adding that he was surprised at the level of interest despite the challenging times.
The fact that all six were two-room units was another interesting point as most people usually purchased one-room apartments in overseas exhibitions for investment purposes.
Clanford said the Malaysians had deliberately bought two-room properties for their children studying in London and for themselves to put up in while visiting them.
As an extra incentive, he said, they also offered Malaysian purchasers full furniture packs and additional interior finishes at no extra cost.
"For overseas purchasers, this also cuts out the hassle of buying furniture as they can just move straight in," he added.
He said Berkeley Homes prided itself not only on the excellent location of its properties but also the quality of the products and its high standards of customer service to attract purchasers.
Being close to the city's square mile, major landmarks and educational institutions such as City University and London Metropolitan University's city campus, Hoopers Yard may well be a cut above the rest.
With its prime location and extra incentives thrown in, the property is seen to be a good buy as a long-term investment. After all, whatever goes down will eventually climb up.
Choi Tuck Wo is Editor, European Union Bureau, based in London