ONE of my favourite places in Singapore to visit on a day trip is Haji Lane, mainly because of the street food there and Instagrammable surroundings.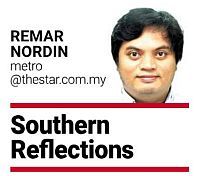 There was a time where I went there from around 10am until 3pm just to play Pokemon Go because of the short walking distance between each Pokemon Gym.
I remember my first time going there and discovering how the place is somewhat similar to Jalan Dhoby and Jalan Tan Hiok Nee in Johor Baru.
I have tried doing similar activities by walking from Amari Hotel towards Hiap Joo Bakery, which took about 15 minutes, and found myself out of breath because of the uneven pavement.
Walking from the hotel in Johor Baru towards the bakery in the current hot weather is not fun either and the rain will not make it better.
In my recent interview with Johor Baru mayor Datuk Noorazam Osman, I was asked about my views on the city, to which I replied that I found the city to be "stagnant".
Despite all of the road developments and expensive projects, what I really wanted to see was the city being the first to be friendly to personal electric vehicles (PEVs) and pedestrians.
If it took about 15 minutes on foot from Amari Hotel to Hiap Joo Bakery, just imagine how quick the trip would be using a PEV.
Johor Baru City Council has done a great job repainting and rejuvenating the state capital, but it will be better if we somehow find a way to remove all vehicles from using Jalan Trus, Jalan Wong Ah Fook, Jalan Gereja, Jalan Ayer Molek, Jalan Yahya Awal and Jalan Gertak Merah.
We already have a car-free day programme every first Sunday of the month, so we may as well make it permanent through full enforcement eventually.
Imagine the amount of carbon emissions we can reduce, passing through Jalan Yahya Awal without traffic jam during school hours and effortlessly going to R&F Mall from DoubleTree Hilton on an electric scooter.
So the question now is how do we get there?
The answer is by providing the needed infrastructure first, especially parking lots outside the designated area.
We can turn the old buildings such as Lot 1 Waterfront City and Danga City Mall into parking lots.
The next step is mass transportation. There was once the idea of building an LRT line in Johor Baru, which in my humble opinion is a huge waste of money.
First of all, where do we place the project? If it is in Jalan Wong Ah Fook, does that mean we need to reclaim land from Sungai Segget just to have a solid soil structure?
Why can't we go for the cheaper and more futuristic option of building a line for autonomous trams? Instead of the high cost of building elevated permanent tracks, we could build a tram line, which would be more modular.
If we can place more trams with a frequency of every one minute or less, we can kiss traffic jams in the city goodbye.
I can imagine a tram plying between Persada International Convention Centre and Pan Pacific Hotel, ferrying passengers around the city centre so they could take photos of houses of worship and murals in the city and enjoy street food along the way.
You can even play Pokemon Go while riding the tram.
It can also solve parking problems and the traffic jam in places such as Sultanah Aminah Hospital and Bangunan Sultan Iskandar Customs, Immigration and Quarantine Complex.
With ample parking space, frequent mass transportation and the freedom to use PEV, we can make Johor Baru a lively city.
At present, the usage of PEVs is limited – there is rental PEV provided at Dataran Bandaraya Johor Baru, Educity Iskandar Puteri and Puteri Harbour, which to me are all baby steps.
The rental fee is about RM20 for 30 minutes, which is quite expensive, knowing that you can buy a decent electric scooter for RM140.
But if we can make Johor Baru a PEV-friendly city, we can provide parking or storage space for bicycles and PEVs.
The city council can also upgrade its apps to receive payment for rental PEVs and enable activation by app to avoid misuse.
Subscribe now to our Premium Plan for an ad-free and unlimited reading experience!