The summer fruit season has returned to Hong Kong with cheaper but fewer cherries from the United States for a disturbing reason.
The US – primarily the northwest region, which is the biggest supplier of cherries in the city – saw farmers complaining about soured consumer confidence in the juicy produce after a viral video on social media showed maggots in the fruit.
A key Hong Kong importer of American cherries said on Wednesday wholesale prices were broadly weaker this time than last year due to confidence issues even though the produce was about 30 per cent lower in volume and its quality fared better than that of the last season.
"It is a pity the video turned off some shoppers," said Leo Lai, the 27-year-old heir to a family-owned fruit import firm in Hong Kong.
"Retailers – such as supermarkets – and some wholesalers have hesitated to import more cherries this year, fearing the stock will be hard to sell."
Lai, whose family has been into the business in Hong Kong for the past 40 years, is travelling to Washington to source the fruit from the farms. Ironically, he found the demand for cherries on mainland China to be stronger than in Hong Kong, despite the US-China trade war.
"I have sold more cherries to Shanghai and Guangzhou than to Hong Kong so far this month, even with the 63.5 per cent tariffs and taxes," he told the Post.
He added the Washington cherries he sourced for Hong Kong were less than half a container – a 20-feet equivalent unit – every day so far this month, while the cherries sourced for China were as many as two containers a day.
The video showing maggots moving inside cherries went viral on Facebook and was viewed about 41 million times. The shocking clip did not mention where the cherries came from nor when was it shot.
Northwest Cherry Growers, an industry group consisting of 2,500 growers in the northwest of the US, said it approached the person who posted the video for more information, but in vain.
"The video was posted in Montreal, Canada. But cherries can be grown in someone's backyard. Harvest is [also] going on in Europe, China and Iran, and the video could have originated in any of those regions," it said.
It added the US authorities had stringent food safety protocols in place and packaging facilities were equipped with optical scanners that could show even the interiors of fruit and keep damaged ones out of the finished box before putting them on market.
Hong Kong's food safety watchdog said it had received only one complaint of maggot-infested cherries since 2017, which was still under investigation.
The Centre for Food Safety had tested 120 cherry samples between January 2017 and June 2019 and found the results satisfactory.
It said maggots were larvae of fruit flies, which laid eggs in citrus fruits such as cherries, oranges and figs.
Consumers should avoid buying bruised or rotten fruits, and should wash them thoroughly before consumption, it added.
Dr Lau Fei-lung of United Christian Hospital said live maggots were high in proteins and even if consumers mistakenly consumed them, they did not pose any significant health hazard.
"The gastric acid of a human being can kill some organisms," he said.
In Hong Kong, the summer cherry season commonly starts in late May, peaks in July and finishes in August. The winter season will have supplies from the southern hemisphere.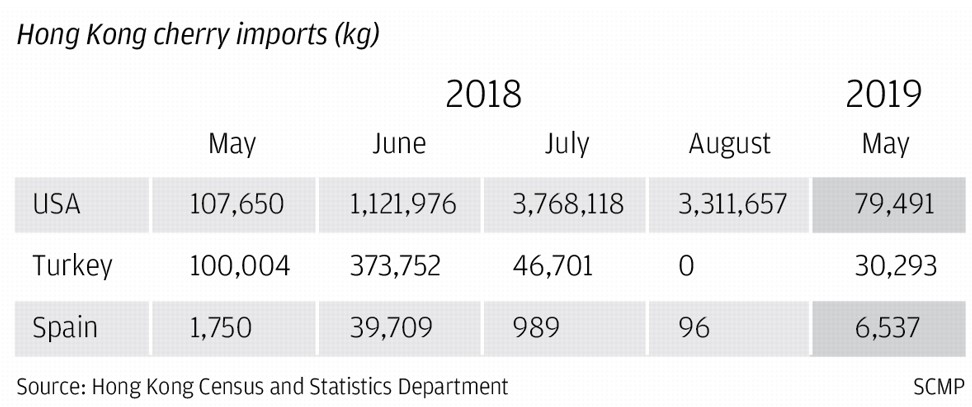 Hong Kong government statistics showed the US and Turkey were the top exporters of the fruit to the city in summer, with imports from the US dropping 26 per cent to 79,491kg in May year on year and that from Turkey tumbling about 70 per cent to 30,293kg.
In the wet markets in Wan Chai and Causeway Bay, Washington cherries were being sold for around HK$70-80 (US$9-10) for two pounds, which was about 20 per cent lower than the same time last year.
A spokeswoman for AS Watson's , which owns about 260 supermarkets in Hong Kong, including ParknShop said they conducted quality checks and tasting on cherries and other fruits before putting them on the shelves.
She said the supermarket chain normally sourced cherries from California, but the rainy spring had delayed the harvest a little. Therefore, it turned to Turkey in June for the fruit before returning to the American state later this month.
"We have not found any maggots in our stock so far," she said.
Angel Lee On-kee, co-owner of fruit retailer Joy Garden in Wan Chai, said sales were more or less the same compared with last year. The store sold Washington cherries at HK$40 per pound.
Edward Chan, boss of retailer Market Choice at Yau Ma Tei fruit market, said a couple of customers had raised questions on food safety, but sales remained normal.
"This is probably because the quality is better this year and the prices cheaper," he said.
A stay-at-home mother, who did not want to be identified, was found buying two pounds of American cherries for HK$70 from a fruit hawker in Causeway Bay on Wednesday. She said she was not too worried about the worms and always inspected fruit "one by one" before consuming them.
For the latest news from the South China Morning Post download our mobile app. Copyright 2019.